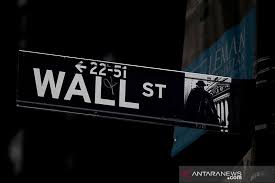 Wall Street was set for a subdued open on Wednesday as investors worried about a potential recession after comments from Federal Reserve Chair Jerome Powell a day earlier fueled bets of aggressive monetary policy tightening.
Ahead of the crucial non-farm payrolls report on Friday, data showed U.S. private payrolls increased more than expected in February, pointing to continued labor market strength.
Powell told U.S. lawmakers on Tuesday the Fed would likely need to raise interest rates more than expected as it seeks to tame inflation, sending key U.S. stock indexes down more than 1%, with the benchmark S&P 500 logging its biggest percentage decline in two weeks.
Traders sharply increased their bets that the U.S. central bank will raise rates by 50 basis points later this month, with money market futures pricing in a 70% chance of such a move.
BlackRock's chief investment officer of global fixed income, Rick Rieder, said the Fed could raise rates to 6% and keep them there for an extended period of time to fight inflation. Traders currently see the Fed funds rate peaking at 5.66% by September.
Powell will testify again before the House Financial Services Committee at 10:00 a.m. ET.
A closely watched part of the U.S. Treasury yield curve saw its deepest inversion in more than 40 years on Tuesday. Such an inversion is seen as a reliable recession indicator.
"The yield on the two year is really showing you that the Treasury curve is taking the Fed seriously about where interest rates are heading, whereas the 10-year is really trying to get behind that hard landing narrative," said Art Hogan, chief market strategist at B Riley Wealth.
"Unless we get some data over the course of the next two weeks, we really don't know which way we should be landing. Unfortunately the most important piece of the data doesn't come until Friday, that's why we've got a market that's meandering a bit."
Labor Department data at 10:00 a.m. ET is likely to show U.S. job openings increased to 10.5 million in January after an unexpected rise to 11 million in the previous month.
At 8:42 a.m. ET, Dow e-minis were up 33 points, or 0.1%, S&P 500 e-minis were up 4.25 points, or 0.11%, and Nasdaq 100 e-minis were up 19.75 points, or 0.16%.
Tesla Inc slipped 1.1% in premarket trading after U.S. auto safety regulator said it was opening a preliminary investigation into 120,000 Model Y 2023 vehicles following reports about steering wheels falling off while driving.
Occidental Petroleum Corp gained 2.8% after Warren Buffett's Berkshire Hathaway Inc increased its stake in the oil company to about 22.2%.
WeWork Inc climbed 7.1% after the New York Times reported the flexible workspace provider was in talks to restructure its outstanding debt of more than $3 billion and raise more cash.
Source: Reuters