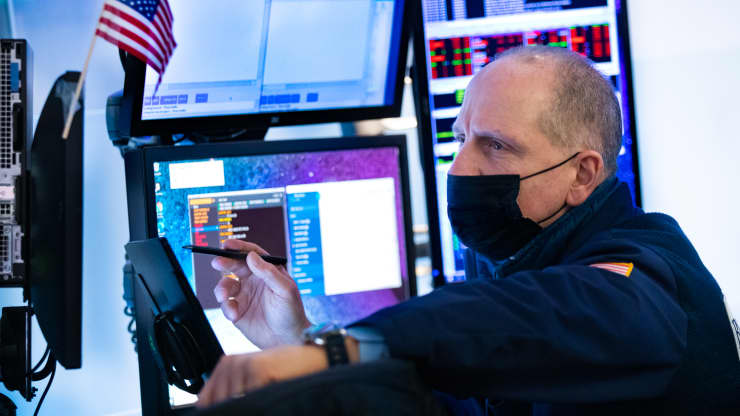 Stock futures rose in early morning trading Friday as investors digested a slew of corporate earnings reports after the Nasdaq Composite posted its worst day in more than a year.
Futures on the Dow Jones Industrial Average gained 205 points, or 0.59%. S&P 500 futures added 1.19%, and Nasdaq 100 futures rallied 2%.
Several technology stocks posted huge after-hours gains following strong quarterly results. Amazon jumped more than 14%, Pinterest surged more than 20% and Snap rocketed up around 59% after reporting earnings.
The moves come after a disappointing earnings report from Faceboo parent Meta sent the mega-cap tech stock lower and weighed on equity markets.
After Facebook's quarterly results, "everyone just gave up and sold the whole sector. That was clearly the wrong read," Rich Greenfield of Lightshed Partners told CNBC's "Closing Bell" on Thursday. "What's going to be really interesting is how investors start to look at these companies more individually versus … this whole sector."
On Thursday, the tech-heavy Nasdaq Composite fell 3.7% for its worst daily performance since September 2020. The S&P 500 had its worst day in nearly a year, sliding 2.4%. The Dow Jones Industrial Average fell 518.17 points.
"The sharp drop in FB market cap today and the accompanying drag on the S&P500 index is … a stark reminder of the high concentration of mega-cap Tech stocks in the S&P 500 — and the vulnerabilities that such concentration brings," Goldman Sachs' Chris Hussey said in a note Thursday.
Meanwhile, U.S. prices topped $90 per barrel or the first time since 2014, heightening inflation concerns.
Investors also eyed economic data. U.S. jobless claims came in at 238,000 last week, the Labor Department reported Thursday, slightly fewer than expected.
The focus now turns to the January jobs report set for release Friday morning. Economists surveyed by Dow Jones expect a gain of 150,000 jobs, but some losses as large as 400,000.
Source: CNBC