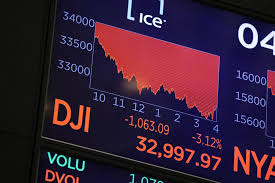 Stocks were flat Monday, as traders pored over the latest batch of corporate earnings results, looking for clues on the health of corporate America.
The Dow Jones Industrial Average rose just 32 points, or 0.1%. The S&P 500 and Nasdaq Composite fell marginally.
Earnings season continued with results from State Street, M&T Bank and Charles Schwab. Schwab shares, which have been under pressure recently as traders feared the brokerage may suffer a similar fate to regional banks Silicon Valley Bank and Signature Bank, fell 1.8%. Despite broader banking concerns, the company's defended its financial position, noting last month it has a low Loan-to-deposit ratio.
Investors have been eyeing the overall health of the financial sector after the collapse of Silicon Valley Bank last month spurred a liquidity crisis.
Corporate earnings got off to a positive start last week as banking giants Wells Fargo and JPMorgan Chase beat expectations, seeming to suggest that larger banks are faring better than expected despite mounting recession fears.
But discouraging retail sales data showed a slowdown in consumer spending by 1% in March pulled markets lower Friday. For the week, however, stocks remained resilient, with the Dow posting its fourth straight positive week. The S&P 500 and Nasdaq Composite both notched their fourth positive week in five.
As companies grapple with sticky inflation and higher rates, many investors have braced for a downbeat earnings season, but data from Bank of America suggests that this earnings reporting season may already show companies hanging on. Of the companies that reported during the first week, 90% topped EPS estimates. That marks the best beat rate to start earnings season since at least 2012, the Wall Street firm said.
The reporting period for financial companies and banks presses on with reports from Bank of America, Goldman Sachs and Morgan Stanley. Outside of financials, results from electric vehicle heavyweight Tesla, IBM and Netflix are also due out.
Source: CNBC