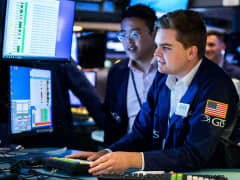 Stock futures were lower early Tuesday morning after a new month of trading kicked off for the markets.
Shares of Pinterest soared more than 21% in extended trading despite disappointing results after Elliot Management revealed it's the largest investor in the social media company.
Futures tied to the Dow Jones Industrial Average were 0.28%, or 93 points lower, while S&P 500 futures and Nasdaq 100 futures dipped 0.38% and 0.39%, respectively.
The after-hours moves came as stocks slipped during the first regular trading day of August after all the major averages finished their best month since 2020. The S&P 500 shed 0.28% to end at 4,118.63 while the Nasdaq Composite inched 0.18% lower and closed at 12,368.98. The Dow Jones Industrial Average slipped 46.73 points, or 0.14%, to end at 32,798.40.
Seven S&P sectors ended Monday's session in the negative, led by energy which dropped more than 2% as oil prices dipped. Consumer staples closed up 1.2% higher on the day.
Despite a strong market bounce in July, to be sure, not all investors are convinced the pain is over.
"I think for sure it remains a bear market bounce," Kevin Simpson of Capital Wealth Planning told CNBC's "Closing Bell: Overtime" on Monday. "… I think it was awesome the way the markets traded in July, but I think we're not through any type of capitulation. The headwinds are just too rampant.
On the economic data front, investors this week are awaiting the July nonfarm payroll report slated for release Friday for further clues into the state of the economy and the job market. More earnings data is due out Tuesday with reports from Starbucks, PayPal, Caterpillar, Advanced Micro Devices and more.
Source: CNBC