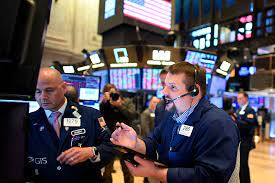 Stock futures were slightly lower in premarket trading Thursday as investors awaited a key inflation report to assess the outlook for the Federal Reserve's rate-hiking campaign.
Futures linked to the Dow Jones Industrial Average slipped 34 points. S&P 500 futures were fractionally lower and Nasdaq 100 futures z
All eyes are on December's consumer price index reading with the consensus forecast calling for a slight easing in price pressures.
Economists expect the consumer price index to dip 0.1% for December but rise 6.5% year-over-year, compared to a 0.1% monthly gain in November and an annual pace of 7.1%, according to Dow Jones. The CPI is well off the 9.1% peak rate in June.
Excluding food and energy prices, economists expect the CPI for December will be 0.3% higher than the prior month and 5.7% higher than a year ago.
"Inflation should continue to decline, leading to an end to Fed rate hikes this spring, keeping interest rates in check, and buoying corporate profits," Jeff Buchbinder, chief equity strategist at LPL Financial, said in a note.
Stocks rallied Wednesday ahead of the inflation report as investors bet that the Fed could slow down its rate hikes in light of tamer prices. The Dow climbed more than 260 points, while the S&P 500 gained 1.3% with all 11 sectors ending the day higher. The tech-heavy Nasdaq Composite advanced 1.8% Wednesday, notching a four-day streak. 
Source: CNBC