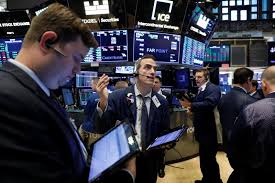 U.S. stock futures traded slightly higher early Wednesday morning.
Futures tied to the Dow Jones Industrial Average gained 37 points, or 0.11%. S&P 500 and Nasdaq 100 futures added 0.28% and 0.22%, respectively.
Shares of United Airlines rose more tha 1% in extended trading after the company beat Wall Street's estimates in the latest quarter, propelled by strong travel demand.
Meanwhile, shares of Moderna jump more than 6% in extended trading after the pharmaceutical company said its vaccine targeting respiratory syncytial virus can prevent the disease in older adults.
During the regular session Tuesday, the Dow declined about 391 points, or 1.14%. Shares of Goldman Sachs tumbled —and dragged on the 30-stock index — after the bank posted an earnings miss. The S&P 500 dipped 0.20%. Meanwhile, the tech-heavy Nasdaq Composite was the only one among the major averages to buck the trend, rising 0.14%.
Those moves follow earnings results from big banks that suggested diverging paths ahead even for names within the same sector. Goldman Sachs' shares fell more than 6% following a drop in investment banking and asset management revenues. Meanwhile, Morgan Stanley gained 5.9%, boosted by better-than-expected wealth management revenue.
"This is a really pivotal earnings season to find out whether or not companies can weather the storm and how long they can weather it for," SoFi's Liz Young said Tuesday on CNBC's "Closing Bell: Overtime."
"I still think we're in a space where the market tends to rally on bad news. And it's expecting that that means that the Fed will slow down, the Fed will pause, the Fed will pivot, the Fed stops sooner than they say they will. And I think we're over indexing at this point to the Fed. It's no longer just about the Fed," Young added.
Traders are anticipating a slew of economic reports Wednesday, including the latest data for the producer price index and retail sales.
Economists polled by the Dow Jones are expecting the producer price index to have declined 0.1% in December, compared to a 0.3% rise the previous month.
Meanwhile, retail sales in December are expected to dip 1%, according to consensus estimates. The prior reading showed a decline of 0.6%.
Corporate earnings season will continue with earnings from J.B. Hunt Transport Services, Charles Schwab, PNC Financial Services Group and Discover on deck for Wednesday.
Source: CNBC