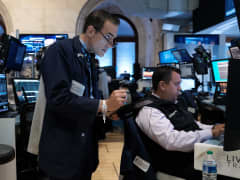 Stock futures rose early on Tuesday after the major averages capped their third straight week of losses.
Futures tied to the Dow Jones Industrial Average gained 228 points, or 0.73%. Nasdaq 100 futures rose 0.91% and S&P 500 futures added 0.81%.
CVS Health said Monday it's buying Signify Health for roughly $8 billion, while Volkswagen shared its plan to float Posche for an initial public offering.
On Friday, the major averages closed out their third negative week in a row. The Nasdaq Composite posted its first six-day losing streak since 2019, ending the session 1.3% lower, while the Dow erased a 370-point gain on Friday to close about 1.1% lower. The S&P shed 1.1% to its lowest close since July.
In the holiday-shortened week, investors are looking ahead to speeches from Federal Reserve presidents and a fresh rate hike decision from the European Central bank due out later this week. August PMI services and ISM services data are slated for Tuesday.
"This is the week where everyone's back," said Ed Moya, senior market analyst at Oanda. "Everyone's back to school, back to trading, a lot of people are back into the office. There's still a lot of pessimism here that we could continue to see inflation rear its ugly head and that should warrant more aggressive rate hikes by the Fed."
European markets closed lower on Monday as investors weighed energy concerns following news that Russia's state-owned Gazprom would halt gas supplies to Europe through its Nord Stream 1 pipeline .
Source: CNBC