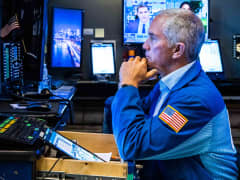 Stock futures inched higher in early morning trading on Monday after the major averages notched their first big rally of the new trading year.
Futures tied to the Dow Jones Industrial Average ticked up 56 points, or 0.17%, while S&P 500 and Nasdaq 100 futures added 0.31% and 0.51%, respectively.
The overnight moves followed Friday's first major market rally of 2023. The Dow surged 700 points, or 2.13%, while the S&P 500 and Nasdaq Composite added 2.28% and 2.56%, respectively, after the December jobs report signaled that inflation may be easing.
Nonfarm payrolls came in slightly higher than expectations, but wages increased at a slower pace than expected. That, and data showing a contraction in the services sector, heightened hopes that the central bank's rate hikes are accomplishing their goal.
Friday's payrolls report and news of layoffs across industries suggest that the labor market is softening, but the economy may have more work to do, according to Rick Rieder, BlackRock's chief investment officer of global fixed income.
"We believe that the moderation in employment conditions will continue, as parts of today's report show, but we think there is still a stickiness to the labor demand in services, which will persist for a while," he said in a note Friday.
All the major averages finished Friday's session with weekly gains, with the Dow and S&P posting their best week since November. The Dow and S&P capped their best day since Nov. 30, while the Nasdaq on Friday ended its best session since Dec. 29.
Monday kicks off a big week for economic data. December's consumer price index report is due out Thursday, followed by big bank earnings on Friday. Nearer term, the New York Fed Survey of Consumer Expectations along with consumer credit data are due out Monday. Wall Street will also hear commentary from Atlanta Fed President Raphael Bostic.
Source: CNBC