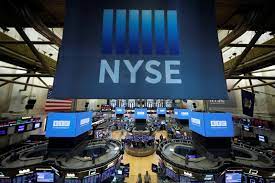 U.S. equity futures slipped on Wednesday, the first day of March, as traders struggled to recover their footing following a losing month and bond yields continued their climb.
Futures tied to Dow Jones Industrial Averages dipped 60 points, or 0.1%. S&P 500 futures added 0.2%, and nasdaq-100 futures fell by 0.1%.
Futures pared early gains as bond yields extended their gains. The 1-year yield rose above 5%. On Tuesday the benchmark 10-year yield reached its highest level since November.
Sentiment initially got a boost after the release of much stronger-than-expected data out of China. The country's National Bureau of Statistics said its official manufacturing PMI rose to 52.6 in February — a high not seen since April 2012.
The moves come after Wall Street closed out a losing February for stocks on Tuesday. The Dow led the averages down, closing the month down 4.19%. The S&P 500 and Nasdaq Composite shed 2.61% and 1.11%, respectively.
February's slide dragged the Dow into negative territory for the year, while the other two indexes are still holding onto their gains.
The decline marked a turn from January's rally and was prompted in part by the bomshell jobs data that came in the first week of the month, according to Keith Buchanan, senior portfolio manager at Globalt Investments. Nonfarm payrolls increased by 517,000 in January, according to the report, which crushed the 187,000 estimated by economists polled by Dow Jones.
"There was a turning point that we can all point to," Buchanan said. "The market had a moment where participants realized that perhaps the labor market is tight enough to continue to set the stage for increasing hawkishness."
Investors will watch for economic data on construction and manufacturing coming after the market opens Wednesday.
Source: CNBC