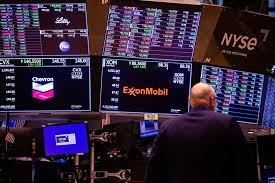 Stock futures fell Tuesday after a key debt ceiling meeting between President Joe Biden and House Speaker Kevin McCarthy.
Futures tied to the Dow Jones Industrial Average fell 85 points, or 0.25%. S&P 500 futures and Nasdaq -100 futures pulled back by 0.3% each.
McCarthy and Biden met at the White House Monday Evening, in a discussion that the House speaker described as "productive" and "professional." The latest hourlong talk – occurring just days before the earliest data that the U.S. could default – seemed to echo a more positive tone.
"The president and I know the deadline, so I think we're going to talk every day… until we get this done," McCarthy said, noting that both teams would "come back together and work through the night" on a compromise.
Investors have been closely eyeing debt-limit negotiations in Washington, hoping for more certainty as the so-called X-date of June 1 draws closer.
"We are sending a very negative signal about our ability to run our economy, let alone be a anchor for the rest of the world, and the market so far has actually dealt with it very well," Mohamed El-Erian told CNBC's "Squawk Box" on Tuesday.
Despite this headwind, and uncertainty surrounding the Federal Reserve's next rate move, the chief economic advisor said he's "very impressed" by the market's stability so far. El-Erian also views the S&P 500 as fairly priced.
Stocks are coming off a mixed session that saw the Dow lose about 0.4%. The S&P 500 finished little changed, while the Nasdaq Composite advanced 0.5% to touched its highest intraday level and highest close since August.
Source: CNBC