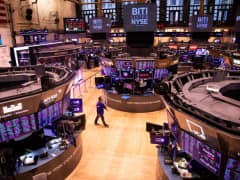 U.S. stock futures fell on Thursday morning after the major averages closed out August with losses and investors considered the Federal Reserve's fight against inflation.
Dow Jones Industrial Average futures fell by 196 points, or 0.62%. S&P 500 and Nasdaq 100 futures declined 0.8% and 1.16%, respectively.
Those moves follow four straight days of losses in the major averages. On the final day of August, the Dow Jones Industrial Average slid nearly 0.9%. The S&P 500 lost about 0.8%, and the Nasdaq Composite fell roughly 0.6%.
The Dow closed the month down about 4.1%, while the S&P and Nasdaq recorded losses of 4.2% and 4.6%, respectively.
Investors are debating whether stocks will again challenge the June lows in September, a historically poor month for markets, after weighing recent hawkish comments from Fed officials who show no signs of easing up on interest rate hikes.
On Wednesday, Cleveland Federal Reserve President Loretta Mester said she expects interest rates to rise above 4% before the central bank can start pulling back. The current fed funds rate is 2.25%-2.50.
"If we retest the lows, I think it happens in September," SoFi's Liz Young said Wednesday on CNBC's "Closing Bell: Overtime."
However, she added, "I think in order to do so, something would have to get materially worse than it was on June 16," when stocks bottomed, such as earnings revisions that come in worse than investors are expecting.
Source: CNBC