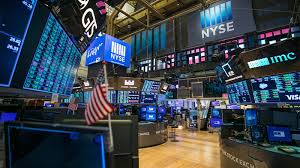 U.S equity futures held steady Monday, as investors looked ahead to key inflation data and the start of first-quarter earnings season.
Futures tied to the broad market S&P 500 were little changed, and Dow Jones Industrial Average futures rose 29 points, or 0.09%. Nasdaq 100 futures shed 0.37%.
On Thursday, the major averages rose to end a holiday-shortened trading week. However, only the Dow notched a weekly gain of 0.6% while the S&P 500 and Nasdaq Composite posted weekly losses, ending lower by 0.1% and 1.1%, respectively.
The market was volatile as economic data showed signs of a weakening labor market. The March jobs report on Friday showed a resilient economy and moderate inflation, however, which pushed stock futures and Treasur yields higher. The New York Stock Exchange was closed for Good Friday.
Nonfarm payrolls grew by 236,000 for the month, about in line with the Dow Jones estimate of 238,000, the Labor Department reported. The unemployment fell to 3.5%, against expectations that it would hold from the previous month at 3.6%.
The data is consistent with expectations of a slow-moving recession unfolding in the U.S. – one that doesn't point to the immediate resolution of inflation concerns, according to Jason Pride, chief investment officer of Private Wealth at Glenmede.
"As such, the odds of another quarter-point rate hike in May should go higher as the data does not appear to justify a Fed pause," he added.
Yung-Yu Ma, chief investment strategist at BMO, said the level of job creation in March "reflects a considerable buffer in the economy to help cushion the impact of an economic slowdown."
"The report is directionally favorable, but not enough to shift the Fed's thinking," he added. "It's still probably a toss-up as to whether the Fed hikes by another 25 basis points at its next meeting and stands pat; the next set of inflation data will probably be the deciding factor."
Investors are in for a busy week of economic data, including the latest consumer price index and producer price index data – due out Wednesday and Thursday, respectively – which will be key in determining if or when the Fed will pause or put an end to its rate hiking campaign.
They'll also get the first batch of companies reporting first-quarter financial results. Tilray Brands kicks things off Monday. The major banks – JPMorgan Chase, Wells Fargo and Citigroup – will report on Friday.
Source: CNBC