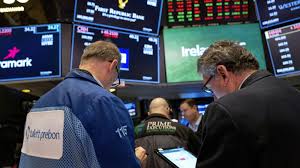 Stocks rose slightly Wednesday as investors looked ahead to the Federal Reserve's latest policy decision.
The Dow Jones Industrial Average traded 30 points lower, or 0.1%. Meanwhile, the S&P 500 and Nasdaq Composite gained 0.1% and 0.3%, respectively.
Ford Motors beat analysts' expectations on the top and bottom line in its latest quarter, as did coffee chain Starbucks. Shares of Ford rose 1.1%, but Starbucks dropped 5%.
Payroll processing firm ADP reported private payrolls data on Wednesday, which showed that hiring at private companies unexpectedly swelled in April by more than double of what economists had expected. The surge suggests that the labor market remains hot despite the Fed's attempts to cool hiring and wage growth.
The Fed is scheduled to release its latest policy announcement at 2 p.m. ET. Chair Jerome Powell is also set to hold a news conference at 2:30 p.m. ET.
Data from the CME Group's FedWatch tool shows traders are pricing in an 86% chance the Fed raises rates by 25 basis points. Wall Street will also look for clues on whether the central bank will continue its rate hiking campaign, or if it will pause increases.
The announcement will come after a rough session for the market. The Dow, S&P 500 and Nasdaq all fell more than 1% on Tuesday. Ongoing concerns of contagion in the regional banking sector weighed on markets following the First Republic Bank's collapse and subsequent takeover by JPMorgan.
"There's still pain throughout the sector," iCapital's Anastasia Amoroso said Tuesday on CNBC's "Closing Bell: Overtime. " "And the reason why I think the bank action should really matter to the Fed is because, remember, in the last FOMC meeting, Fed Chair Powell really gave us new metrics to watch in terms of whether they're going to be raising rates or not. And that is the extent of the credit tightening that's happening in the economy."
The April ISM non-manufacturing PMI data is also due and it's forecasted to show 51.8, according to Dow Jones consensus estimates. That's higher than the 51.2 reading from the previous month.
Source: CNBC