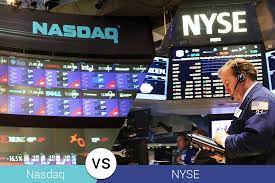 The S&P 500 fell for the first day in three as companies like Netflix and Morgan Stanley traded lower following their first-quarter results.
The benchmark index lost 0.4%, while the Nasdaq Composite dropped 0.66%. The Dow Jones Industrial Average lost 28 points, or about 0.1%.
While many of the companies reporting in the last 24 hours topped analysts' low-bar estimates, traders found something wrong within the results to send the stocks lower. A lack of forecasts from the major companies also left investors on edge with the Federal Reserve set to raise interest rates again in a couple weeks and recession fears swirling,
Netflix shares fell slightly in the premarket as the streaming giant dissapointed investors by pushing back plans to more strictly clamp down on password sharing. In its latest quarter, the company beat analysts' expectations on earnings per share, but fell short of estimates on revenue. Netflix added 1.75 million subscribers last quarter, more than the Street expected.
Elsewhere, earnings reports from major banking institutions wrapped up with Morgan Stanley. The investment bank stocks fell 3% premarket despite seemingly strong results as margins for its investment banking, wealth and asset management businesses were weaker than expected, according to Wells Fargo Analyst Mike Mayo. The analyst also noted if you normalized Morgan Stanley's tax rate, its earnings for the quarter were weaker than expected.
Investors have been closely monitoring the industry after bank failures last month rattled the sector. Across the board, Wall Street's on the hunt this season for signs of weakening demand and conditions likely to put a damper on profitability into the back half of 2023, noted Barclay's Emmanuel Cau in a note to clients.
"Overall, Q1 earnings may not move the needle much, in our view," he said. "However, stocks have rallied, but positioning remains cautious, so more earnings-driven upside would extend the pain trade."
So far this week trading has been choppy as investors evaluate a rush of earnings. On Tuesday, the S&P 500 ticked higher by 0.09%, while the Dow shed 0.03%, or 10.55 points. The Nasdaq Composite closed slightly lower by 0.04%.
Electric vehicle giant Tesla will report after the closing bell.
Source: CNBC