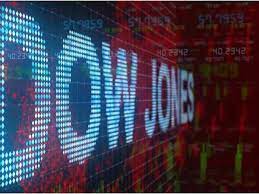 Stock futures fell slightly on Friday morning as Wall Street attempted to cap off a winning week for markets that saw better-than-expected economic growth and a pop in market-darling Tesla.
S&P 500 futures shed 0.26%, while Nasdaq 100 futures were down 0.4%. Futures tied to the Dow Jones Industrial Average traded flat.
Earnings season continued, with Intel slumping more than 9% premarket following a dismal earnings report that missed on the top and bottom lines. Strong guidance boosted American Express despite a top-and bottom-line miss.
Stocks rose during regular trading Thursday, cheering a better-than-expected fourth quarter gross domestic product report that stoked hopes that the U.S. economy can experience a soft landing as the Federal Reserve hikes rates to tame inflation.
The Dow Jones Industrial Average gained more than 205 points, or 0.61%, notching its fifth consecutive winning session, the first streak of that length since October. The S&P 500 rose 1.10% and the tech-heavy Nasdaq Composite jumped 1.76%.
All three indexes are positive for the week and month. The Dow and the S&P 500 have gained 1.7% and 2.2% this week, respectively. The Nasdaq is up 3.3% on the week and is set to notch its best monthly performance since July. The Nasdaq has gained the last four weeks.
"This year's stock market rally is impressive and shouldn't be ignored," Chris Zaccarelli, chief investment officer for the Independent Advisor Alliance said in a Thursday note. "Unfortunately, the Fed is likely to start talking down the market again, as early as next week, so prepare for volatility again this year; we may be in the eye of the hurricane and not completely out of the woods yet."
The personal consumption expenditures price index released Friday, a preferred inflation measurement from the Federal Reserve, showed prices rise 4.4% from a year ago, the Commerce Department said. That was in line with the Dow Jones estimate.
It's some of the last data that will be released ahead of the Fed's interest-rate decision next week. Investors are currently expecting a 25 basis point hike from the central bank.
Source: CNBC