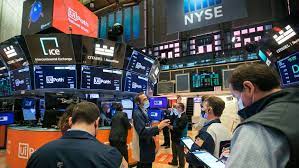 S&P 500 futures slid Thursday, as traders fretted over a continued rise in interest rates.
Futures tied to the S&P 500 fell 0.5%, while Nasdaq-100 futures dropped 0.8%. Dow Jones Industrial Average futures bucked the trend, eking out a small gain as Salesforce shares popped on a strong quarter and forward guidance.
Along with Salesforce, Okta shares jumped in overnight trading on solid earnings and guidance. Silvergate Capital, meanwhile, shares plunged more than 30%, after the company delayed its 10-K annual report.
Tesla shares, popular with retail investors, lost 5% after the company failed to unveil details of any next-generation vehicles during its much-anticipated investor day Wednesday. The decline put pressure on S&P 500 and Nasdaq-100 futures.
Rates, meanwhile, pressed higher, with the benchmark 10-year note yield trading above 4%. The 2-year note yield reached levels not seen in more than a decade.
Wall Street is coming off a mixed session, with the S&P 500 and Nasdaq Composite falling Wednesday, while the Dow posted a small gain. The S&P 500 and the Nasdaq are on pace for their second consecutive losing week for the first time since December. The Dow, meanwhile, is on track for its fifth consecutive negative week, a first since May 2022.
The rise in bond yields and concerns of a potentially larger-than-expected hike from the Federal Reserve have fueled investor concern in recent days, putting a dent in the early 2023 rally.
"You have a situation where if rates stay high, multiples need to come in, and it likely leads to a further downfall down the line in the economy because there is a lag effect to these rate hikes," Cantor Fitzgerald's Eric Johnston said on CNBC's "Closing Bell: Overtime" on Wednesday. "And then once the economy falls, then earnings would have a fairly long way to go to the downside."
On the economic front, investors await jobless claims, and unit labor costs and productivity data. A speech from Fed Governor Christopher Waller is also slated for Thursday afternoon.
Source: CNBC