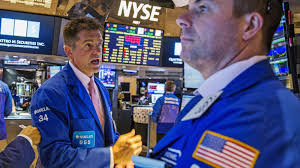 S&P 500 futures ticked lower Friday morning as investors awaited signs of progress on debt ceiling negotiations and a batch of economic data that can provide insight into the path of inflation.
Futures connected to the broad index slipped 0.2%, while Nasdaq-100 futures were also 0.16% lower. Futures tied to the Dow Jones Industrial Average lost 35 points, or 0.1%.
Corporate earnings season is drawing to a close, but a handful of stocks were moving in response to their reports after the bell. Retailer Gap and semiconductor stock Marvell Technology rose more than 14% and 16%, respectively, in extended trading, while Ulta Beauty tumbled about 8%.
The Nasdaq Composite surged 1.7% in Thursday's session after stonger-than-expected revenue guidance and earnings beat from Nvidia fueled a rally in semiconductor and artificial intelligence stocks as well as other technology names. Nvidia shares jumped 24.4% in the session to finish at an all-time high.
The S&P 500 ended 0.9% higher, while the Dow slipped 0.1% due in part to an approximately 5.5% drop in Intel. Elsewhere, Best Buy shares rose more than 3% as investors cheered earnings that came in stronger tha Wall Street expected, despite warnings from management that shoppers are showing recessionary behaviors.
On a weekly basis, the Dow and the S&P 500 are on pace for losses, down nearly 2% and about 1%, respectively. The Nasdaq has a small gain of 0.3%.
Investors continue to watch for updates on the state of debt ceiling negotiations, with the potential for default as early as June 1, according to statements from Treasury Secretary Janet Yellen. Progress was made between congressional leaders and President Joe Biden on Thursday, a repoort from Reuters said, with stakeholders needing to agree on just $70 billion in spending.
"With the market rejoicing in Nvidia's earnings report and guidance, plus a positive report from Main Street's iconic Best Buy, headlines pointing to a debt ceiling resolution could finally help lift a broader underpinning of the market," said Quincy Krosby, chief global strategist of LPL Financial.
Investors will watch Friday for a crop of new economic data, with specific attention on personal consumer expenditures given its association with the path of inflation. Data on personal income, consumer spending and sentiment and durable goods is also due in the morning.
Source: CNBC