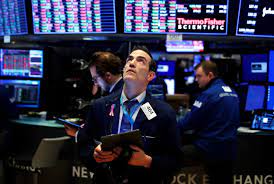 Stock futures were flat Thursday morning as investors considered what the latest data suggested about the health of the broader economy.
Futures tied to the Dow Jones Industrial Average gained 13 points, trading near flat. S&P 500 futures were little changed, and Nasdaq-100 futures declined 0.2%.
Those moves come as investors digest new data that shows signs of a potentially weakening labor market. The ADP private payroll report released Wednesday showed job growth slowed in March. Meanwhile, a Tuesday report showed that the number of available positions fell below 10 million in February— a first in almost two years.
Over the past several months, investors had cheered signs of economic cooling on the hope that it could push the Federal Reserve to change course on its interest rate hiking campaign. But they are now wondering if the central bank has gone too far in its bid to cool inflation, tightening the economy to the point of an economic slowdown or recession, said Rob Haworth, senior vice president and senior investment strategist at U.S. Bank Wealth Management.
"The market is now becoming more concerned about the ensuing data as opposed to the Fed and trying to pick where the Fed is going to hit peak interest rates," Haworth said. "Plenty of the Street is thinking, 'Recession, right?' The market has to start to price for that, because that's not where we're priced, so bad news definitely has to be bad news."
Investors will watch Thursday for jobless claims data for more insights into the strength of the labor market. St. Louis Fed President James Bullard is also slated to speak in the morning in Arkansas.
Thursday will cap off a shortened trading week with the market closed for Good Friday, but investors will still closely monitor March jobs report Friday morning. The labor market has remained hot despite layoffs across tech and financial sectors, making the Fed's job to combat inflation harder.
Source: CNBC