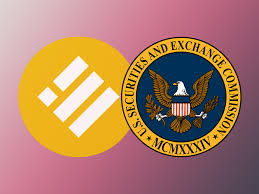 The U.S. Securities and Exchange Commission and New York's top financial regulator have opposed Binance.US's $1 billion deal to buy defunct crypto lender Voyager, according to court filings, the latest in a string of regulatory moves against crypto firms.
The proposed deal may violate laws on the unregistered offer and sale of securities, the SEC said in a filing on Wednesday. It also cited news reports of U.S. investigations into the global Binance crypto exchange, of which Binance.US is a purportedly independent partner, that mean the deal could become "impossible to consummate."
New York's top financial regulator and New York Attorney General Letitia James also objected to the deal in filings on Wednesday. The New York Department of Financial Services said that Voyager "illegally operated a virtual currency business within the state without a license."
Binance.US and a lawyer representing Voyager Digital did not immediately respond to Reuters requests for comment.
The objections come as the SEC targets companies offering a range of crypto services, from stablecoins to "satking." It told the issuer of Binance's stablecoin, Paxos Trust Company, that it should have registered the product as a security and is considering taking action against it, Paxos said last week.
The U.S. Justice Department is investigating the global Binance exchange for possible money laundering and sanctions violations, Reuters reported in December. A top Binance executive last week told the Wall Street journalthat Binance expected to pay penalties to resolve the investigations.
Voyager filed for bankruptcy in July, one of a string of crypto companies caught in the 2022 collapse in token prices.
Voyager received initial court approval for the deal last month. A U.S. national security review could delay or block the deal, the U.S. Committee on Foreign Investment in the United States said in a court filing in December.
Source: Reuters