Jihye Lee & Lim Hui Jie
Asia-Pacific markets fell on Monday as U.S. regulators announced plans to backstop both depositors and financial institutions associated with Silicon Valley Bank, seen as a move to stem further systemic risk.
Silicon Valley Bank last week was shuttered by regulators, after customers withdrew a staggering $42 billion of deposits by the end of Thursday.
In Japan, the Topix fell 2.02%, leading losses in the region as shares of Softbank saw a drop of more than 2% as investors continued to assess contagion fears. The Nikkei 225 fell 1.56%.
In Australia, the S&P/ASX 200 fell 0.22%, with banks continuing to see declines.
The Kospi dropped marginally and the Kosdaq was 0.8% lower as South Korean officials over the weekend reportedly voiced concerns of greater market volatility ahead from the collapse of Silicon Valley Bank.
| TICKER | COMPANY | NAME | PRICE | CHANGE | %CHANGE |
| --- | --- | --- | --- | --- | --- |
| .N225 | Nikkei 225 Index | *NIKKEI | 27706.07 | -437.9 | -1.56 |
| .HSI | Hang Seng Index | *HSI | 19643.19 | 323.27 | 1.67 |
| .AXJO | S&P/ASX 200 | *ASX 200 | 7132.7 | -12 | -0.17 |
| .SSEC | Shanghai | *SHANGHAI | 3247.49 | 17.41 | 0.54 |
| .KS11 | KOSPI Index | *KOSPI | 2400.98 | 6.39 | 0.27 |
| .FTFCNBCA | CNBC 100 ASIA IDX | *CNBC 100 | 8019.55 | 99.29 | 1.25 |
Meanwhile, Hong Kong's Hang Seng index was up 1.35% and the Hang Seng Tech index rose 2.59%. In mainland China, the Shenzhen Component fell 0.1% and the Shanghai Composite was up 0.4%.
The National People's Congress is slated to conclude with a scheduled press conference by newly appointed Premier Li Qiang.
Overnight, stock futures of the major US indexes jumped on Sunday evening after the backstop announcement, with the S&P 500 futures gaining 1.18% and Nasdaq 100 futures up 1.35%. Futures tied to the Dow Jones Industrial Average were also up by 277 points.
—CNBC's Jeff Cox, Tanaya Macheel, and Yun Li contributed to this report.
SM Entertainment shares tumble almost 20% after Hybe drops takeover bid
Shares of South Korean entertainment company SM Entertainment slid by almost 20% after rival Hybe announced it will withdraw its takeover bid over the weekend.
In a statement on Sunday, Hybe – the company behind K-pop sensation BTS – said it made the decision "after observing that the market has been showing signs of overheating due to competition with both Kakao and Kakao Entertainment."
It added that "this acquisition, along with the tender offer, may harm shareholder value, and fuel overheating of the market, in making the decision."
This is the latest move in a highly public battle between Kakao and Hybe over SM Entertainment which started in February.
Meanwhile, shares of Hybe rose 1.91%, and Kakao's shares climbed 1.38% Monday morning.
— Lim Hui Jie
Goldman Sachs no longer sees case for Fed to hike rates in March
Goldman Sachs no longer sees a case for the Federal Reserve to deliver a rate hike at the Federal Open Market Committee meeting next week, economist Jan Hatzius said in a Sunday note.
"In light of the stress in the banking system, we no longer expect the FOMC to deliver a rate hike at its next meeting on March 22," Goldman Sachs said in a note.
Hatzius and a team of economists added they still expect to see 25 basis point hikes in May, June and July, reiterating their terminal rate expectation of 5.25% to 5.5%.
— Jihye Lee
SVB fallout won't hurt Asian banks as their deposits are in loans, Moody's says
Asian banks won't be affected by the collapse of Silicon Valley Bank since most of their deposits are in loans — not in Treasurys, according to Moody's Investors Service.
"If you look at the typical loan to deposit ratio in Asia, it's about 90%, so most deposits are invested in loans," Eugene Tarzimanov, a vice president at Moody's told CNBC's "Squawk Box Asia."
"Banks obviously do invest in government securities — local bonds, foreign bonds, but that share is not that significant."
Tarzimanov also noted that Asian banks are resilient because of their "strong capital, good quality of loan books, and most importantly, good funding and liquidity."
— Sumathi Bala
Silicon Valley Bank's China venture says balance sheet is 'independent'
The China joint venture of shuttered bank Silicon Valley Bank said its operations have been "independent and stable" amid the collapse of its U.S. parent last week
SPD Silicon Valley Bank is a 50-50 joint venture between Silicon Valley Bank and Shanghai Pudong Development Bank.
The bank said in a statement on its website that it "has always operated in a stable manner in accordance with Chinese laws and regulations, with a standard governance framework and independent balance sheet."
"As China's first technology bank, SPD Silicon Valley is committed to serving Chinese science and technology companies, and always follows Chinese regulations for stable operations," the bank added.
— Lim Hui Jie
Biden tweets regulators reached 'solution' that protects' U.S. financial system
President Joe Biden tweeted that U.S. regulators have reached a "solution" regarding issues related to Silicon Valley Bank and Signature Bank.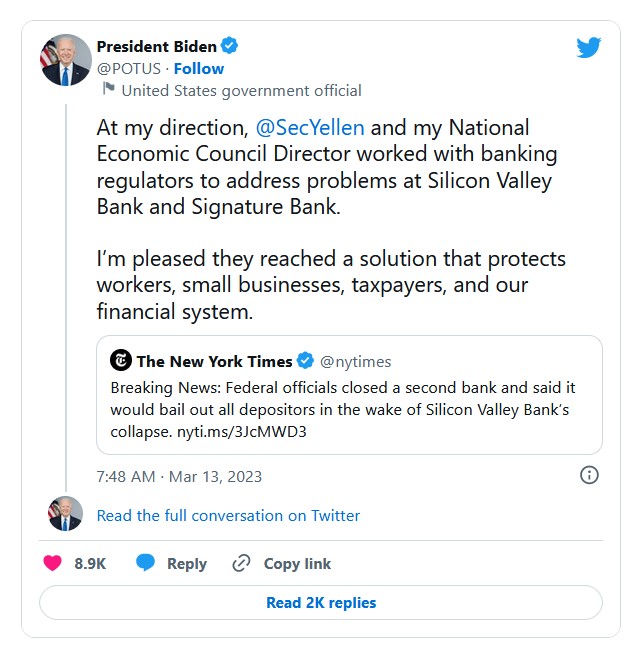 "The American people and American businesses can have confidence that their bank deposits will be there when they need them," he said in a Twitter thread.
"I'm firmly committed to holding those responsible for this mess fully accountable and to continuing our efforts to strengthen oversight and regulation of larger banks so that we are not in this position again," Biden wrote in a tweet.
— Jihye Lee
CNBC Pro: Shares of this little-known global chip firm are set to rise by 50%, Barclays says
Shares of a U.K.-based technology company that designs custom chips and semiconductors are expected to rise by more than 50% over the next 12 months, according to Barclays Equity Research.
The investment bank said a rapidly growing data center space would "drive sales and profit growth faster than other company in our coverage."
— Ganesh Rao
CNBC Pro: 'Unprecedented growth': Citi reveals its 4 top stocks in renewables right now
The world is going through a "rapid and transformational change" when it comes to energy, said Citi, naming four buy-rated stocks as "top picks" in the space.
— Weizhen Tan
Silicon Valley Bank fallout unlikely to impact Asia growth outlook: Goldman Sachs
Goldman Sachs' chief Asia-Pacific economist Andrew Tilton said the region's economic outlook is unlikely to be affected from the fallout of Silicon Valley Bank's collapse.
"To the degree that this is addressed relatively quickly by regulators and doesn't spread to additional entities beyond the ones that have been noted so far, then we're less likely to see a significant impact on Asia growth outlook," Tilton told CNBC's "Squawk Box Asia."
He reiterated the firm's forecast for China's economy and emphasized that it will be mostly driven by the reopening after its zero-Covid policy.
"We continue to expect 5.5% growth for China this year, mostly driven by the reopening and probably less sensitive to this particular issue," Tilton said.
— Jihye Lee
Dick Bove says depositors have lost faith in American banks
Veteran bank analyst Dick Bove said American banks have lost credibility with average investors due to what he described as "accounting tricks," he told CNBC's "Squawk Box Asia."
"The accounting of banking in the United States is garbage," he said. Banks are using "accounting gimmickry to avoid indicating what the true equity is in these banks," he added.
Bove further noted that the problems around Silicon Valley Bank's collapse was led by Federal Direct Loans.
"They have $110 billion of investments in U.S. government-backed securities, the treasuries, the mortgage-backed securities," he said. "It isn't the loans that created the problem, it is the U.S.-backed securities that created the problem."
— Jihye Lee
Regulatory backstop for SVB failure aimed at protecting the economy, officials say
Treasury Secretary Janet Yellen, Federal Reserve Chair Jerome Powell and FDIC Chairman Martin J. Gruenberg issued a joint statement Sunday night explaining their reasoning for devising a plan to backstop depositors and protect financial institutions with money at Silicon Valley Bank.
"We are taking decisive actions to protect the U.S. economy by strengthening public confidence in our banking system," the statement said. "This step will ensure that the U.S. banking system continues to perform its vital roles of protecting deposits and providing access to credit to households and businesses in a manner that promotes strong and sustainable economic growth."
Silicon Valley Bank failed Friday, marking the biggest bank failure since the 2008 financial crisis. This then raised concern over other banks that could be seeing similar risks.
"The U.S. banking system remains resilient and on a solid foundation, in large part due to reforms that were made after the financial crisis that ensured better safeguards for the banking industry," the officials said in a statement.
"Those reforms combined with today's actions demonstrate our commitment to take the necessary steps to ensure that depositors' savings remain safe," they added.
— Fred Imbert
Cryptocurrencies jump with stock futures, even after closure of Signature Bank
Crypto climbed with stocks as U.S. regulators unveiled a plan to assure depositors at Silicon Valley Bank would get their money after the bank's spectacular collapse Friday.
Bitcoin and ether each jumped about 7% after 6:30 p.m. ET, according to Coin Metrics.
The moves came even as New York's Signature Bank was closed by the New York State Department of Financial Services Sunday, according to a joint statement by the Treasury, Federal Reserve, and FDIC.
Signature Bank was another famously crypto-friendly institution and the next biggest one next to Silvergate, which announced its impending liquidation last week.
Its closure adds to fears by crypto investors and entrepreneurs that the industry is being de-risked from the U.S. banking system, leaving it without "on-ramps" that allow fiat money to flow into crypto assets. Silvergate and Signature helped solve this problem by creating easy banking services and payment platforms for crypto companies.
Wall Street analysts Friday had maintained buy ratings on Signature Bank, despite the bad news about its peers earlier in the week.
— Tanaya Macheel
Futures jump after regulators announce backstop of SVB depositors
Futures extended their gains just before 6:30 p.m. ET after U.S. regulators unveiled a plan to stem the damage from Silicon Valley Bank's collapse.
Dow futures were last higher by 297 points, or 0.9%. S&P 500 futures jumped 1.1% and Nasdaq Composite futures advanced 1.2%.
— Tanaya Macheel
Source : cnbc