Jihye Lee & Lim Hui Jie
Asia-Pacific markets dropped on Thursday as turmoil around Credit Suisse added onto banking fears in the region. Shares of Credit Suisse plunged to a new all-time low for the second consecutive day after its top investor ruled out further assistance.
In Japan, the Topix fell 2.27% on Thursday morning, leading declines in the wider region and as the country saw its trade data for February come in lower than expected. The Nikkei 225 fell 1.93%. In Australia, the S&P/ASX 200 fell 1.83%, dragged by miners and the banking sector. Investors will further digest unemployment numbers from the economy. South Korea's Kospi also fell 1.06% and the Kosdaq fell 1.05%.
Overnight in the US, major indexes ended largely lower, with the Dow Jones Industrial Average falling 0.9% and the S&P 500 shedding 0.7%. The Nasdaq Composite eked out a small gain, rising 0.05%.
| TICKER | COMPANY | NAME | PRICE | CHANGE | %CHANGE |
| --- | --- | --- | --- | --- | --- |
| .N225 | Nikkei 225 Index | *NIKKEI | 26915.19 | -314.29 | -1.15 |
| .HSI | Hang Seng Index | *HSI | 19539.87 | 0 | 0 |
| .AXJO | S&P/ASX 200 | *ASX 200 | 6962.9 | -106 | -1.5 |
| .SSEC | Shanghai | *SHANGHAI | 3263.31 | 0 | 0 |
| .KS11 | KOSPI Index | *KOSPI | 2371.88 | -7.84 | -0.33 |
| .FTFCNBCA | CNBC 100 ASIA IDX | *CNBC 100 | 7862.08 | -34.93 | -0.44 |
—CNBC's Alex Harring, John Melloy and Samantha Subin contributed to this report.
Japan trade deficit widens in February; export and imports growth below expectations
Japan's trade deficit has widened to 897.7 billion yen ($6.76 million) in February, up 26.2% compared to the same period a year ago.
According to government data, exports in February came in 6.5% higher, while imports grew 8.3%. These were lower than forecasts put forward by economists, who expected export and import growth of 7.1% and 12.2% respectively.
Notably, Japan's exports to Europe and the U.S. grew 18.6% and 14.9% respectively on an annualized basis, while exports to China dipped 10.9%.
— Lim Hui Jie
Japan wage negotiations end, workers get largest pay rises in decades: Reuters
Japan's shunto wage negotiations concluded Wednesday, Reuters reported – marking the biggest pay rises not seen in decades as inflation levels rise.
Analysts polled by Reuters expected to see a boost of roughly 3% in overall wages for the economy, marking the largest increment since 1997.
Prime Minister Fumio Kishida has called for better pay for workers in Japan, citing a weakened currency and higher levels of commodity prices leading to raised import costs in an overall high inflation environment, the report said.
– Jihye Lee
First republic bank considering options, including sale: Bloomberg
First Republic Bank is considering options to shore up liquidity including a sale of the lender, Bloomberg reported, citing people with knowledge of the matter.
The bank is expected to draw interest from its rivals and no decision has been made, the report said.
Shares of the bank rose 3.92% in after hour trading in U.S. Wednesday evening – after seeing a rise of more than 20% earlier in the week alongside regional banks.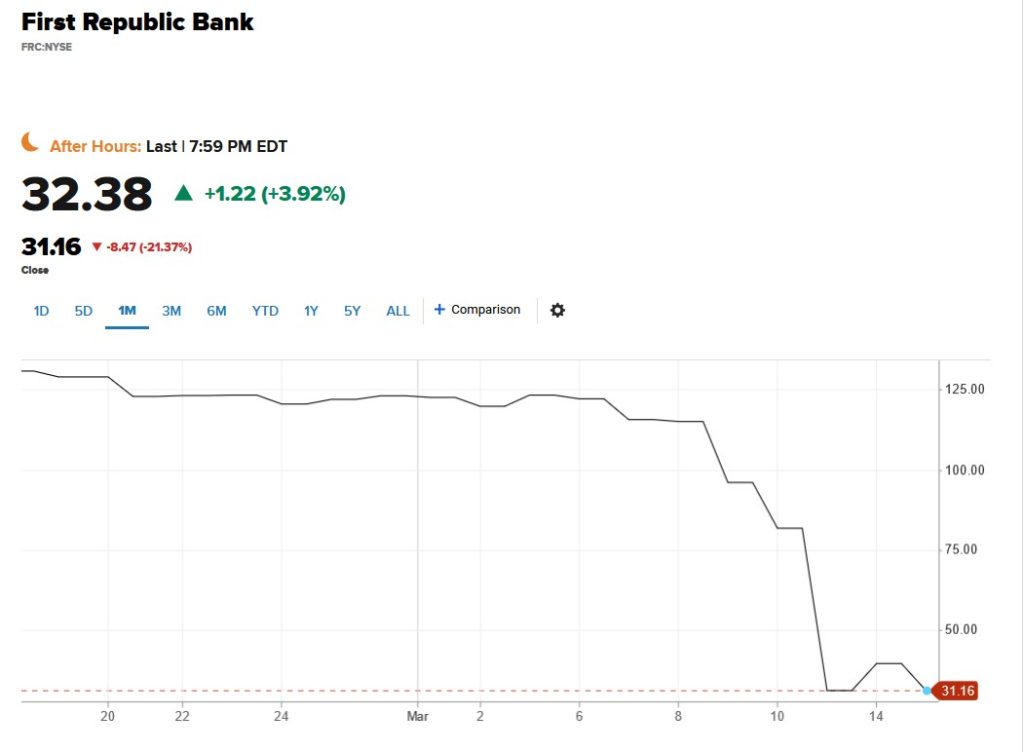 – Jihye Lee
Goldman Sachs cuts GDP forecast because of stress on small banks
Goldman Sachs on Wednesday lowered its 2023 economic growth forecast by 0.3 percentage points to 1.2%, citing a pullback in lending from small- and medium-sized banks amid turmoil in the broader financial system.
Analysts expect that small banks will attempt to preserve liquidity in case they need to meet depositor withdrawals, leading to a substantial tightening in bank lending standards that could weigh on aggregate demand. "Small and medium-sized banks play an important role in the US economy," they wrote.
Banks with less than $250 billion in assets comprise about 50% of U.S. commercial and industrial lending, the firm noted.
— Pia Singh
SNB: Will provide liquidity to Credit Suisse if needed
The Swiss National Bank said Wednesday that it will provide banking giant Credit Suisse with liquidity if needed.
In a joint statement, the SNB and Swiss Financial Market Supervisory Authority said: "FINMA confirms that Credit Suisse meets the higher capital and liquidity requirements applicable to systemically important banks. In addition, the SNB will provide liquidity to the globally active bank if necessary."
Credit Suisse shares were under pressure Wednesday after the bank's largest investor said it wouldn't provide more financial assistance. U.S.-listed shares of Credit Suisse were last down more than 18%.
— Fred Imbert
Credit Suisse shares open down more than 23% in heavy volume
Credit Suisse shares fell more than 23% in heavy volume as the market opened. Shares sank to a fresh all-time low of $1.75.
Troubles at the Swiss bank have reignited the turmoil among financial stocks, with pressure especially acute for mid-size U.S. banks. The bank's largest investor, Saudi National Bank, said it can't provide the company with further financial assistance.
—Christina Cheddar Berk
Credit Suisse shares tumble
ADR shares of Swiss lender Credit Suisse tumbled 21% in premarket trading.
Saudi National Bank said it could not provide more funding, Reuters reported. "We cannot because we would go above 10%. It's a regulatory issue," Saudi National Bank Chairman Ammar Al Khudairy told Reuters Wednesday.
The troubled Swiss bank said earlier this week it had found "material weaknesses" in its financial reporting for 2022 and 2021.
-John Melloy
Several European banking stocks halted after in swift selloff
Several European banking names were halted Wednesday, as a sharp drop in Credit Suisse shares dragged down the sector — along with the broader market.
Shares of Societe Generale, along with Italy's Monte dei Paschi and UniCredit, have been halted. Credit Suisse, meanwhile, fell 20% after its largest investor said it would not provide further assistance for the embattled bank.
These moves come as traders around the world grapple with the fallout from Silicon Valley Bank's failure.
"The failure of Silicon Valley Bank has spilled into the European equity market," wrote Citi strategist Beata Manthey. "While US authorities have stepped in to limit contagion risks, ongoing volatility in bank shares means broader spillovers may still be in play."
Manthey noted that conditions were already ripe for profit taking in European markets. "However, investors remain net long on European Banks, despite cutting their position from max longs only one month ago. This means positioning could still unwind further."
— Fred Imbert, Michael Bloom
Source : cnbc