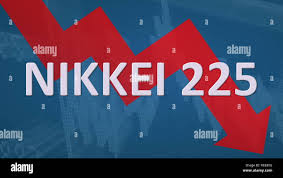 Lim Hui Jie
Asia-Pacific markets fell across the board as investors prepared for signals on U.S. monetary policy from central bankers' comments at the Jackson Hole meeting on Friday, including a speech by U.S. Federal Reserve chair Jerome Powell.
In Asia, the core inflation rate for Japan's capital Tokyo came in at 2.8% for August, slightly below the 2.9% expected by economists polled by Reuters. The core inflation rate strips out prices of fresh food.
Overall inflation for Tokyo was recorded at 2.9%, lower than the 3.2% seen in July.
Get more from CNBC. Breaking news and updates on Telegram.
Japan's Nikkei 225 tumbled 1.74% and led losses in Asia, while the Topix was down 0.78%.
Elsewhere, South Korea's Kospi fell 0.57% and the Kosdaq hovered just below the flatline. In Australia, the S&P/ASX 200 also lost 0.95%.
Hong Kong's Hang Seng index was 0.92% down, while mainland Chinese markets saw a smaller loss, with the CSI 300 falling 0.46%.
| TICKER | COMPANY | NAME | PRICE | CHANGE | %CHANGE |
| --- | --- | --- | --- | --- | --- |
| .N225 | Nikkei 225 Index | *NIKKEI | 31682.73 | -604.48 | -1.87 |
| .HSI | Hang Seng Index | *HSI | 18024.75 | -187.42 | -1.03 |
| .AXJO | S&P/ASX 200 | *ASX 200 | 7110.9 | -71.2 | -0.99 |
| .SSEC | Shanghai | *SHANGHAI | 3068.31 | -13.94 | -0.45 |
| .KS11 | KOSPI Index | *KOSPI | 2519.12 | -18.56 | -0.73 |
| .FTFCNBCA | CNBC 100 ASIA IDX | *CNBC 100 | 8137.14 | -122.01 | -1.48 |
On Thursday in the U.S., all three major indexes fell as the tech fueled rally ended, with the Dow Jones Industrial Average seeing its worst day since March, while the S&P 500 and the Nasdaq Composite saw their biggest one-day loss since Aug. 2.
The Dow closed 1.08% lower and the S&P 500 lost 1.35%. The Nasdaq saw the largest loss, shedding 1.87%.
— CNBC's Sarah Min and Alex Harring contributed to this report
Malaysia inflation at 2% in July, lowest in almost two years
Malaysia's consumer price index rose 2% in July compared to a year ago. It was the slowest rate of increase since August 2021 and below the 2.1% expected by economists polled by Reuters.
CPI in July was lower than the 2.4% recorded in June, and marked five straight months that the inflation rate has slowed.
On a month-on-month basis, the consumer price index in Malaysia fell 0.1%, a smaller decline compared to the 0.2% decrease in June.
— Lim Hui Jie
Nikkei falls nearly 2%, dragged by tech and retail stocks
Japan's Nikkei 225 led losses in Asia on Friday, down 1.82% and on pace to snap a four day winning streak.
The biggest losers were tech and retail stocks, as well as a 3.79% loss in heavyweight Softbank Group.
Industrial equipment manufacturer Advantest was the largest loser on the index, falling as much as 9.97%, followed by electronics and semiconductor company Tokyo Electron, which lost 5.61%.
Tokyo Electron is the second largest weighted company on the Nikkei, and Advantest is the fourth largest.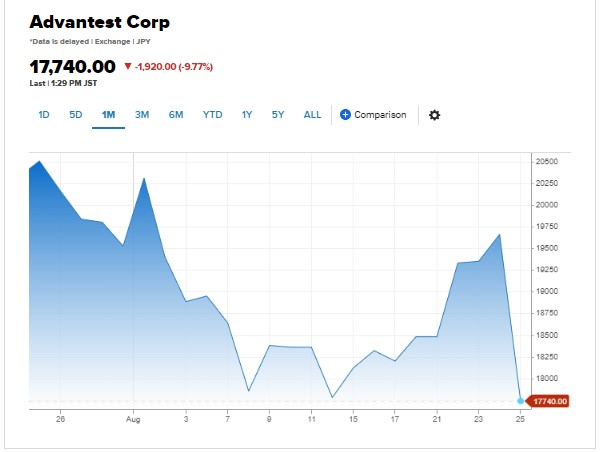 — Lim Hui Jie
Tokyo core inflation for August at 2.8%, lowest in 12 months
The core inflation rate for Japan's capital city of Tokyo came in at 2.8%, lower than the 3% in July and below the 2.9% expected from economists polled by Reuters.
This is the lowest growth rate seen in Tokyo's core inflation since September 2022. Core inflation rate strips out prices of fresh food from the consumer price index.
Overall inflation for Tokyo came in at 2.9%, lower than the 3.2% seen in July.
— Lim Hui Jie
CNBC Pro: AI, EVs and more: Goldman names 5 'compelling' stocks to play major themes — giving one 60% upside
Analysts at Goldman Sachs named five stocks to play themes including artificial intelligence, electric vehicles and energy-efficiency, with two on its conviction list.
Its picks are buy-rated names "whose exposure to enduring themes complements a compelling equity story," according to a research note published Aug. 21.
— Lucy Handley
Fed's Harker indicates rate hikes can cease
Philadelphia Federal Reserve President Patrick Harker said Thursday he doesn't see the need for further interest rate hikes and could see cuts happening in 2024 depending on data.
Speaking at the central bank's annual retreat in Jackson Hole, Wyo., Harker told CNBC the Fed "has to deal with inflation, and we are. We have a restrictive stance in my view, and we should keep it there for a while."
He added that he has heard from multiple business leaders in his district that they would like to see the Fed stand pat for a while and let the string of 11 rate increases work their way through the economy.
"What I heard loud and clear through my summer travels is, 'Please you've gone up very rapidly, we need to absorb that,'" Harker told CNBC's Steve Liesman during a "Squawk on the Street" interview.
—Jeff Cox
CNBC Pro: This U.S. stock is a 'formidable business' with a 'really exciting runway' for growth, analyst says
Hannah Gooch-Peters of Sanlam Investments UK tells CNBC Pro Talks about a company that has an "amazing, diversified business" which helps earnings growth be consistent.
It's a stock with consistent earnings growth, recurring revenue and high barriers to entry, according to the global equity investment analyst.
The stock is up nearly 12% this year, and analysts covering it give it potential further upside of about 16%, according to FactSet.
— Weizhen Tan
Tech is the worst-performing sector on Thursday
All of the S&P sectors were in the red on Thursday, with information technology, consumer discretionary and communication services being the biggest laggards of the market. Financials made a short-lived recovery in the afternoon, rising just above flat.
The tech sector lost 2.15% on Thursday. Chipmaker Advanced Micro Devices was the most-declining company of the group, down 7.4% as of Thursday afternoon. Solar companies Enphase Energy and SolarEdge Technologies also dragged the sector lower, losing 6.1% and 5.3%, respectively.
Bath & Body Works, down 4.4%, and cosmetics chain Ulta Beauty, down 3.6%, were the biggest laggards in consumer discretionary. Cruise companies Norwegian Cruise Line Holdings and Carnival Corp, also in the sector, followed with declines of more than 3%. 
Major tech companies, including Amazon, Apple and Netflix, also weighed on the broader index. Netflix was the biggest loser of communication services, dropping 4.8%. 
The broader index shaved off 1.2% on Thursday. Its biggest loser was Dollar Tree, which plunged 12.6%, while Clorox Company and Autodesk were its winners.
— Pia Singh
Nvidia on pace for third best year ever
After another blowout quarterly print and guidance, Nvidia shares are adding to their show-stopping year and on pace for their third best yearly performance on record.
Shares were last up about 1%, giving up some earlier gains. Even so, the stock's up more than 226% in 2023. If Nvidia finishes at these levels, the semiconductor company would cap off its best year on record since 2001, when shares surged more than 308%.
Nvidia snagged its second best year in 1999, when the chipmaker went public and rallied more than 291%.
— Samantha Subin, Gina Francolla
Jobless claims come in under the estimate
Initial jobless claims last week fell more than expected, the Labor Department reported Thursday.
First-time filings for unemployment benefits totaled 230,000 for the period ended Aug. 19, a decrease of 10,000 from the previous week and less than the Dow Jones estimate for 240,000.
Continuing claims, data for which runs a week behind, totaled 1.702 million, a slight decrease but a bit higher than the FactSet estimate for 1.69 million.
—Jeff Cox
Source : cnbc