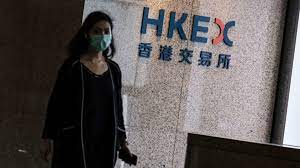 Lim Hui Jie
Asia-Pacific markets rose across the board Thursday after the U.S. inflation rate for June came in lower than expected at 3%, the smallest year-over-year increase in two years.
The figure was lower than the 3.1% expected by economists polled by Dow Jones.
Month over month, the inflation rate rose 0.2%, less than forecast. Core CPI — which strips out volatile food and energy prices — also rose less than expected.
In Asia, Hong Kong's Hang Seng index gained 2.54% in its final hour of trade and led gains in the region, while the Hang Seng Tech index surged over 3%.
Mainland Chinese markets were also all up, with the Shanghai Composite gaining 1.26% to close at 3,236.48 and the Shenzhen Component higher at 1.61% to end 11,095,44.
China's June trade data came in below expectations in June, with exports recording its biggest decline in more than three years.
South Korea's Kospi rose 0.64% to end the day at 2,591.23. The Kosdaq saw a 1.5% gain to close at 1.22% as the Bank of Korea held its key policy rate unchanged at 3.5%, in line with expectations.
Australia's S&P/ASX 200 was up 1.56% and closed at 7,246.9 to record a three day winning streak, while in Japan, the Nikkei 225 climbed 1.49% to end at 32,419 and the Topix was 0.97% higher at 2,242.99.
| TICKER | COMPANY | NAME | PRICE | CHANGE | %CHANGE |
| --- | --- | --- | --- | --- | --- |
| .N225 | Nikkei 225 Index | *NIKKEI | 32419.33 | 475.4 | 1.49 |
| .HSI | Hang Seng Index | *HSI | 19350.62 | 489.67 | 2.6 |
| .AXJO | S&P/ASX 200 | *ASX 200 | 7246.9 | 111.2 | 1.56 |
| .SSEC | Shanghai | *SHANGHAI | 3236.48 | 40.35 | 1.26 |
| .KS11 | KOSPI Index | *KOSPI | 2591.23 | 16.51 | 0.64 |
| .FTFCNBCA | CNBC 100 ASIA IDX | *CNBC 100 | 8671.32 | 210.3 | 2.49 |
Overnight in the U.S., all three major indexes climbed, with the S&P 500 climbing 0.74% to hit a new high for 2023 and the Nasdaq Composite seeing a 1.15% gain. Both indexes closed at their highest levels since April 2022. Meanwhile, the Dow Jones Industrial Average rose 0.25%.
— CNBC's Hakyung Kim and Alex Harring contributed to this report
China trade surplus lower than expected in June, both imports and exports fall
China's trade surplus for June came in at $70.62 billion in June, higher than the $65.81 billion recorded in May, but lower than the $74.8 billion expected by economists polled by Reuters.
Exports and imports also fell more than expected, with exports dropping 12.4% from a year ago and imports 6.8% lower compared with the same period last year.
Lu Daliang, a spokesperson for China's customs bureau, said at a press conference Thursday that China's trade still faces rather great pressure in the second half of the year, partly due to high inflation in developed countries and geopolitics.
— Lim Hui Jie
Wuxi Biologics leads Hang Seng as Hong Kong stocks surge over 2%
Hong Kong's Hang Seng Index was the best performing Asian benchmark index on Thursday, gaining about 2.5% and led by health-care and basic materials stocks.
R&D company Wuxi Biologics was the top gainer on the index, surging 8.67%, while other companies leading the index also include online healthcare platform JD Health and Alibaba Health Information Technology, a subsidiary of the larger Alibaba Group.
Both stocks gained 8.66% and 6.70% respectively on Thursday.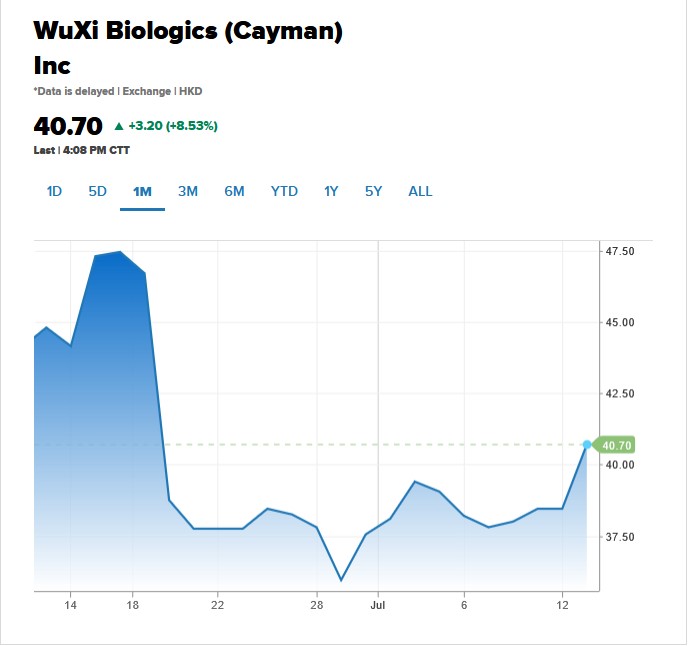 — Lim Hui Jie
South Korea holds rates at 3.5%, in line with expectations
South Korea's central bank held its benchmark interest rate unchanged at 3.5%, the fourth straight meeting the Bank of Korea has done so after last hiking rates in January.
The bank wrote that although the country's inflation rate continues to slow down, it is expected to rise above the BOK's target level of 2% "for a considerable period of time."
The BOK also forecasts that inflation will rise to around 3% after August, and added the need for an additional hike will be judged "while assessing the changes in domestic and external policy conditions."
South Korea's inflation rate came in at 2.7% for June, and is at its lowest level since September 2021.
— Lim Hui Jie
New Zealand factory sees steeper contraction in June
New Zealand's factory activity saw a steeper contraction in June, with the manufacturing purchasing managers index standing at 47.6, lower than the 48.9 recorded in May.
The reading means that New Zealand's manufacturing sector has stayed in contraction territory for the fourth straight month, and is at the lowest level of activity since November 2022.
A PMI reading above 50 indicates expansion in the sector, while a reading below 50 indicates contraction.
— Lim Hui Jie
CPI rises less than expected in June
The consumer price index rose 0.2% in June and 3% from a year ago, the Labor Department said Wednesday. Economists polled by Dow Jones had expected a monthly increase of 0.3% and 3.1% on an annualized basis.
Core CPI, which excludes volatile food and energy prices, also increased less than anticipated.
— Samantha Subin
CNBC Pro: UBS upgrades big pharma stock after shares drop on poor drug results
UBS has upgraded a big pharma stock to a buy rating after the drug maker's trial of a lung cancer medication delivered poor results.
The Swiss bank believes investors should overlook the results of the trial as the pharmaceutical giant's 30-drug-trial pipeline makes it a "leading player in this field" and expects shares to rise by nearly 30% in a year.
— Ganesh Rao
CNBC Pro: Tesla's push into humanoid robots is set to benefit these 5 global stocks in the supply chain, HSBC says
HSBC identified key stocks in the supply chain that may benefit from Tesla's push into humanoid robots.
Tesla launched its human-shaped robot, called "Tesla Bot," last September. The company claims it will eventually be capable of "performing unsafe, repetitive or boring tasks."
In May, the company showed off a significantly improved version. It highlighted progress in walking posture, control of joint actuators, environmental sensing capabilities, and artificial intelligence training.
The bank identified the companies behind key components for humanoid robots, such as machine vision systems, control systems and servo motors.
— Ganesh Rao
Odds of more Fed rate hikes in 2H fade after June inflation report
The odds that the Federal Reserve will raise rates again, after its next meeting on July 26, have faded on the back of Wednesday's weaker-than-expected consumer price report for June.
According to the CME FedWatch tool, interest rate traders still see a 95% certainty that the central bank lifts its benchmark fed funds rates a quarter point, to 5.25%-5.50%, on July 26. But after that, things get dicey.
The chance that the Fed will go another quarter point at its September meeting (it skips August), has fallen to 13.3%, down from 22.3% on Tuesday and 18.1% a week ago. Odds that fed funds will stand a half point higher by the end of the Fed's Nov. 1 meeting are now 26.5% compared with 36.2% yesterday and 31.6% one week ago.
By the time of the Fed's last policy meeting of the year, on Dec. 13, odds that rates will be a half point higher than today's 5.00%-5.25%, have slumped to 20.8% now from 32.4% on Tuesday and 28% one week back.
Meanwhile, the odds that the Fed will have reversed this month's rate increase by yearend have risen to 14.9% from 10.2% yesterday and 12.6% last week.
— Scott Schnipper
Dollar index sinks to two-month low
The dollar index fell Wednesday after the consumer price index's increase came in lighter than expected and at its lowest level since March 2021.
The dollar hit a session low of 101.049. That's the lowest level since May 8, when the index hit a low of 101.041. The dollar index measures the greenback against a basket of six currencies.
— Gina Francolla, Michelle Fox
S&P 500, Nasdaq Composite and Dow Transports touch highest levels since April 2022
Stocks rode a wave of optimism after June's inflation report, lifting three key indexes to their highest levels in more than a year.
The S&P 500 notched a 52-week high, as did the Nasdaq Composite and the Dow Jones Transportation Average on Wednesday. These were the highest levels for the three averages since April 2022.
The Dow Jones Industrial Average, S&P 500 and the Nasdaq are all on pace for three-day win streaks.
–Darla Mercado, Chris Hayes
Source : cnbc