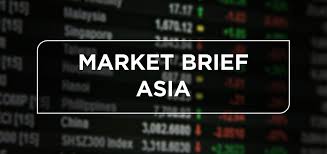 Lee Ying Shan
Asia-Pacific shares traded higher on the optimism on Wall Street as stocks saw a boost from upbeat earnings and a strong consumer confidence reading.
Hong Kong's Hang Seng index rose 2.7%, with property and technology stocks leading gains. In mainland China, Shanghai Composite shed 0.46% and the Shenzhen Component was down 0.33%.
| TICKER | COMPANY | NAME | PRICE | CHANGE | %CHANGE |
| --- | --- | --- | --- | --- | --- |
| .N225 | Nikkei 225 Index | *NIKKEI | 26507.87 | 120.15 | 0.46 |
| .HSI | Hang Seng Index | *HSI | 19676.24 | 515.75 | 2.69 |
| .AXJO | S&P/ASX 200 | *ASX 200 | 7152.5 | 37.4 | 0.53 |
| .SSEC | Shanghai | *SHANGHAI | 3054.43 | -13.98 | -0.46 |
| .KS11 | KOSPI Index | *KOSPI | 2356.73 | 27.78 | 1.19 |
| .FTFCNBCA | CNBC 100 ASIA IDX | *CNBC 100 | 7960.65 | 132.05 | 1.69 |
The S&P/ASX 200 was up 0.53% to 7,152.5 as Australia's foreign minister Penny Wong met her Chinese counterpart Wang Yi on Wednesday, and the two agreed to "restart dialogue" on trade and economic issues.
Japan's Nikkei 225 added 0.46% to 26,507.87, while the Topix gained 0.78% 1,908.17. The Japanese yen strengthened further to stand at 131.94 against the U.S. dollar.
The Kospi in South Korea gained 1.19% 2,356.73 as the nation's annualized producer price index for November reached its lowest reading in 19 months.
Cryptocurrencies inch up after FTX's co-founder, Alameda's co-CEO pleads guilty
Cryptocurrencies inched higher after co-founder of embattled FTX Gary Wang and Alameda Research co-CEO Caroline Ellison pleaded guilty to federal charges.
Bitcoin last added 0.15% in the past 24 hours to trade at $16,826, according to Coin Metrics. Ether rose 0.34% to $1,210.72.
Other digital coins like Cronos and Cardano also climbed.
Former FTX CEO Sam Bankman-Fried, who currently faces eight federal criminal charges was arrested last week.
—Lee Ying Shan
Oil prices rise on tight heating oil and jet fuel stocks
Oil prices rose as the U.S. is expecting what its National Weather Service described as "dangerous cold" over the next few days.
Brent crude futures rose 0.52% to $82.63 a barrel, while U.S. marker West Texas Intermediate futures traded up 0.64% at $78.79 a barrel.
On a wider scale, year-end holiday trips is also expected to drive up jet fuel consumption.
– Lee Ying Shan
Australia and China agree to resume talks on trade issues
Australia's foreign minister Penny Wong and Chinese counterpart Wang Yi agreed to resume talks on trade and bilateral relations, according to a joint outcomes statement released by Australia.
The meeting comes after a prolonged halt in dialogue as China introduced trade sanctions on Australian barley in May 2020 wine in March 2021.
The two also discussed international security, trade blockages, climate change and human rights, the statement said.
—Lee Ying Shan
Hong Kong stocks rise as authorities pledge support for real estate industry
Shares of Chinese property developers listed in Hong Kong saw gains as China Securities Regulatory Commission pledged more support for the real estate industry the day before.
The CSRC vowed to implement bond financing plans and provide credit support for the sector.
Logan Group jumped 7.38% in the morning session, Country Garden traded 0.75% higher, while CIFI Holdings added 4.55%. Longfor Group gained 3.35% while
China's central bank will also guide financial institutions to support the industry's deals and restructuring, the PBOC said in a statement.
— Lee Ying Shan
IMF calls latest Bank of Japan move 'sensible'
The International Monetary Fund voiced support for the Bank of Japan's latest decision to widen its band of yield curve control tolerance.
"With uncertainty around the inflation outlook, the Bank of Japan's adjustment of yield curve control settings is a sensible step including given concerns about bond market functioning," Ranil Salgado, the mission chief to Japan at the IMF, said.
Salgado added clearer communications around modifications of the central bank's monetary policy could improve the BOJ's credibility and "help anchor market expectations," he said.
– Jihye Lee
CNBC Pro: Investing pro recommends 6 big-cap stocks for another rocky year ahead
Destination Wealth CEO Michael Yoshikami said he expects "tremendous" market volatility in 2023, but investors need not stay on the sidelines.
"Boring. That's the key," he said. "The alternative is you pull the money out of the market, you put it in cash till the market comes back. So, this is a way for you to safely still be in the market in more defensive names while still being able to participate in the market if it rises."
He named six big-cap stocks that investors can take shelter in.
— Zavier Ong
South Korea's production price sees lowest growth since April 2021
South Korea's producer price index for November grew 6.3% compared to a year ago, marking the slowest growth since April 2021 and seeing fifth consecutive month of declines.
Compared to a month ago, the index fell 0.2%, driven by a decline in agricultural product prices.
The producer price index is a measure of what companies get for their products in the pipeline.
—Lee Ying Shan
Consumer confidence beats expectations
The Conference Board's consumer confidence index jumped to 108.3 in December from 101.4 in November, topping a StreetAccount consensus estimate of 100.5. The number was also the index's highest since April.
"Inflation expectations retreated in December to their lowest level since September 2021, with recent declines in gas prices a major impetus. Vacation intentions improved but plans to purchase homes and big-ticket appliances cooled further," Lynn Franco, senior director of economic indicators at The Conference Board, said in a statement.
"This shift in consumers' preference from big-ticket items to services will continue in 2023, as will headwinds from inflation and interest rate hikes," Franco added.
— Fred Imbert
Stocks jump for a second day
Stocks rose for a second day on Wednesday following upbeat earnings results from Nike and FedEx.
The Dow Jones Industrial Average gained 526.74 points, or 1.6%, to finish at 33,376.48. The S&P 500 surged 1.49% to settle at 3,878.44, while the Nasdaq Composite jumped 1.54% to end at 10,709.37.
— Samantha Subin