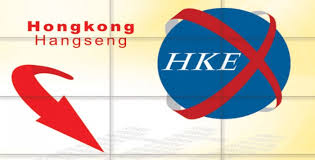 Jihye Lee
Stocks in the Asia-Pacific fell on Friday, as investors await the closely watched February non-farm payrolls report from the U.S. that could further determine the direction on the Federal Reserve's rate hikes ahead.
The Hang Seng index in Hong Kong fell 2.5%, leading losses in the region.
In mainland China, the Shenzhen Component shed 1% and the Shanghai Composite fell 0.7% as China's Xi Jinping is set to formally secure an unprecedented third term as president.
In Australia, the S&P/ASX 200 tumbled 1.8% — continuing the selloff on Wall Street that saw declines led by bank stocks on contagion worries related to Silicon Valley Bank. South Korea's Kospi lost 1.12% and the Kosdaq fell 2%.
The Nikkei 225 in Japan shed 1.2% and the Topix lost 1.3% as Bank of Japan held its interest rates at -0.1%, widely in line with expectations in a Reuters poll.
| TICKER | COMPANY | NAME | PRICE | CHANGE | %CHANGE |
| --- | --- | --- | --- | --- | --- |
| .N225 | Nikkei 225 Index | *NIKKEI | 28271.58 | -351.57 | -1.23 |
| .HSI | Hang Seng Index | *HSI | 19486.62 | -439.12 | -2.2 |
| .AXJO | S&P/ASX 200 | *ASX 200 | 7177.7 | -133.4 | -1.82 |
| .SSEC | Shanghai | *SHANGHAI | 3249.12 | -26.97 | -0.82 |
| .KS11 | KOSPI Index | *KOSPI | 2392.16 | -26.93 | -1.11 |
| .FTFCNBCA | CNBC 100 ASIA IDX | *CNBC 100 | 7961.97 | -160.27 | -1.97 |
Japan's parliament approved Kazuo Ueda as the next Bank of Japan governor, Kyodo reported — current governor Haruhiko Kuroda chaired his last policy meeting before his term ends on April 8.
Overnight in the U.S., stocks tumbled Thursday, with the S&P 500 closing 1.8% lower and the Dow Jones Industrial Average shed more than 500 points as investors braced for a key payroll report Friday that could shape the direction of interest rates.
— CNBC's Evelyn Cheng, Samantha Subin, Hakyung Kim contributed to this report
Bank of Japan leaves policy unchanged in line with expectations
Bank of Japan left its monetary policy unchanged, widely in line with expectations.
The central bank kept its negative interest rate at -0.1% and reiterated its target to keep the yield on the 10-year Japanese Government Bond around 0%.
"Japan's economy, despite being affected by factors such as high commodity prices, has picked up as the resumption of economic activity has progressed," Bank of Japan said in its policy statement on Friday, concluding governor Haruhiko Kuroda's final meeting in his term.
— Jihye Lee
Bitcoin briefly dips below $20,000 in Asia's morning trade
Bitcoin dipped below the $20,000 mark in Asia morning trade for the first time since mid-January, reaching $19,840 before recovering back above the psychological threshold.
The cryptocurrency fell 7.36% in the past 24 hours, according to CoinMetrics and last stood at $20,115.53.
Ethereum also fell 6.92% in the past 24 hours and last traded at $1,431.81.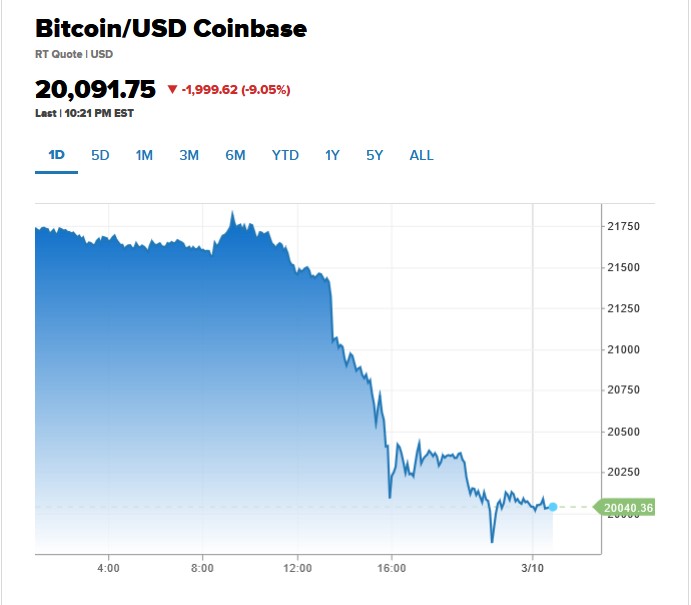 — Jihye Lee
Hang Seng index losses led by consumer cyclicals, healthcare, technology stocks
The Hang Seng index in Hong Kong saw sharp losses on Friday morning, led by consumer cyclicals that fell 3.77%, healthcare stocks shed nearly 3% and technology stocks dropped 1.56%.
JD.com fell 11.04% while Geely Automobile shed 5.49%. BYD lost 5.2% and Baidu shed 4.94%.
Property stocks such as Country Garden also saw huge losses down 2.73%.
Alibaba was among the leading bottom movers, falling 2.96%.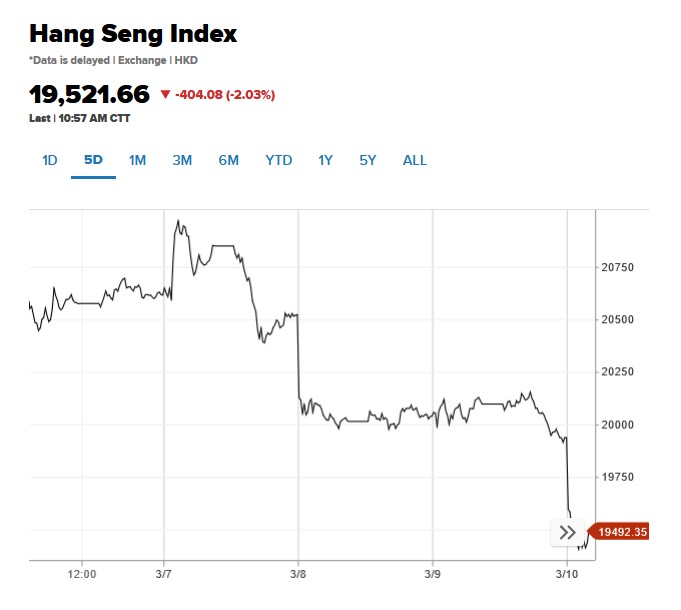 — Jihye Lee
Japan approves Kazuo Ueda's appointment as next Bank of Japan governor: Kyodo
Japan approved the appointment of Kazuo Ueda as the next governor of the Bank of Japan, Kyodo reported.
The approval by the House of Councillors sets the stage for the government to formally appoint Ueda, Kyodo reported.
The parliament also approved Shinichi Uchida and Ryozo Himino as the next Bank of Japan deputy governors, Kyodo said.
The yield on 10-year Japanese government bonds slightly fell to the upper ceiling of the central bank's tolerance range at 0.5%.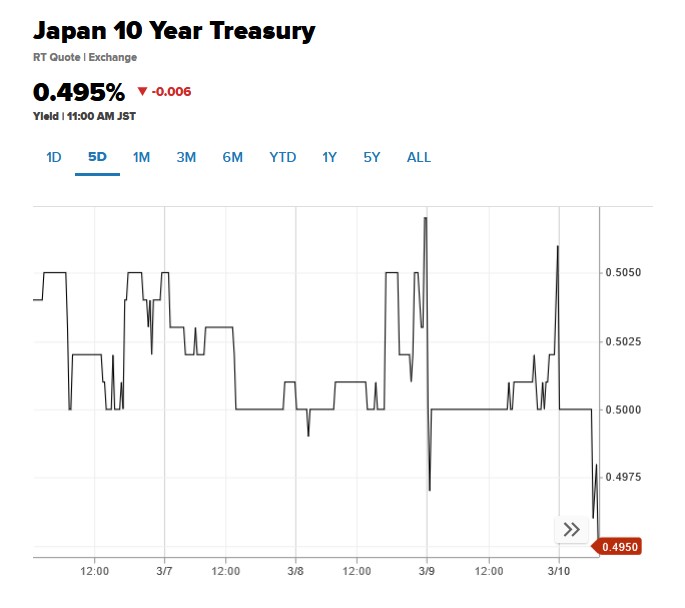 — Jihye Lee
CNBC Pro: Forget chips — UBS says to load up on this global sector instead
UBS' equity strategist Gerry Fowler says that interest rate rises in Europe should push up stock prices in one sector by 20%.
Fowler also revealed that several stocks in the sector were trading below an overlooked metric since "no one has really acknowledged" this phenomenon, despite a "structurally higher" earnings potential.
— Ganesh Rao
CNBC Pro: As Treasury yields surge, these global stocks yield over 5%
Bond yields are surging, as markets get jittery on reignited fears that the U.S. Federal Reserve will keep interest rates higher for longer. The 2-year Treasury topped 5% for the first time since 2007 earlier this week
As rates surge, it becomes harder to find stocks that can compete on a yield basis — but some do exist. CNBC Pro used FactSet to screen for global stocks on the MSCI World index with yields above 5%.
— Weizhen Tan
Bank of Japan expected to make no changes in Kuroda's final meeting
Bank of Japan is unlikely to make any changes to its monetary policy in the upcoming meeting, according to a Reuters poll.
The central is expected to maintain its ultra-dovish stance and hold its benchmark interest rate at -0.1% during the two-day meeting which would mark governor Haruhiko Kuroda's final one before his term ends in April.
Goldman Sachs cited three key drivers to Kuroda making no changes: The meeting's proximity to the end of the fiscal year, wage negotiations underway, and "Kuroda's long-held view that premature rate hikes have delayed Japan's exit from deflation."
Goldman analysts wrote "Some sliver of heed should still be taken," adding that they think "caution should be warranted in case Governor Kuroda takes responsibility for cleaning up his legacy Yield Curve Control policy."
Kazuo Ueda is nominated to become the next BOJ governor.
— Lee Ying Shan
Japan's household spending fell 0.3% in January
Japan's household spending fell 0.3% in January on an annualized basis, government data showed.
That's further below expectations from economists polled by Reuters to see a drop of 0.1% for the month compared to a year ago. Household spending in December fell 1.3%.
— Jihye Lee
South Korea's current account balance returns to deficit in January
South Korea's current account balance returned to a deficit of $4.52 billion in January, Bank of Korea data showed.
This comes after the print saw a surplus of $2.68 billion in current account balance in December.
January's report marks the first time South Korea's current account balance fell into deficit territory since August 2022.
The Korean won stood at 1,323.92 against the U.S. dollar.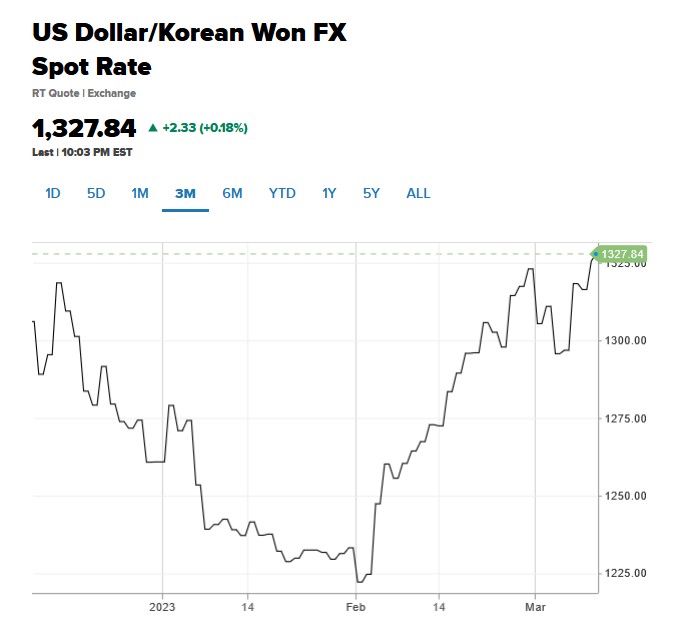 — Jihye Lee
Major banks shed tens of billions in market cap on Thursday
It is not just regional and tech-focused banks that are under pressure on Thursday.
The four biggest U.S. banks — JPMorgan, Bank of America, Wells Fargo and Citigroup are all underperforming the broader market. Shares of Wells Fargo and Bank of America have dropped more than 6%.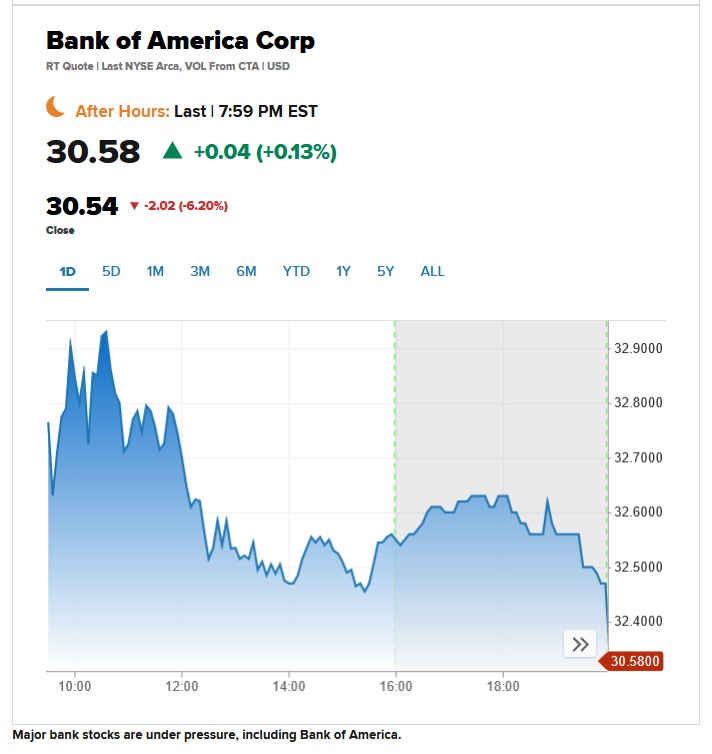 Major bank stocks are under pressure, including Bank of America.
Combined, the declines for the four banks represent a loss of roughly $56 billion in market value for the day.
— Jesse Pound, Christopher Hayes
Stocks tumble, Dow finishes more than 543 points lower
Stock tumbled Thursday, accelerating losses into the final hour of trading.
The S&P 500 slid 1.85% to end at 3,918.32, while the Dow Jones Industrial Average dove 543.54 points, or 1.66%, to settle at 32,254.86. The Nasdaq Composite shed 2.05% to finish at 11,338.35.
— Samantha Subin
Bank of America raises price target for Taiwan Semiconductor Manufacturing
Bank of America analyst Brad Lin raised his price objective on Taiwan Semiconductor Manufacturing's U.S.-listed shares to $115 from $105. The new target implies upside of 26.6% from Wednesday's close.
"Taiwan Semiconductor Manufacturing Co. (TSMC) is a key beneficiary and among our 20 global AI stock picks owing to the rising and widening applications of large language models (LLMs) and generative AI, led by ChatGPT," Lin wrote.
"We think the generative AI should act as one of the greatest drivers, thanks to the substantial computational requirements for running and training the AI models."
— Sarah Min
Initial, continuing jobless claims hit highest level for 2023
Initial jobs claims hit 211,000 for the week ended March 4, the highest level of the year and since Dec. 24.
Continuing claims also hit a yearly high, coming in at 1.718M for the week of Feb. 25. That also marked the highest level dating back to Dec.17.
— Samantha Subin, Gina Francolla
Source : cnbc