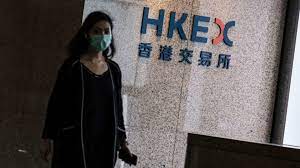 Lee Ying Shan
Asia-Pacific markets climbed as investors shrug off the U.S. Federal Reserve's commitment to higher interest rates in tackling inflation.
Hong Kong's Hang Seng index jumped 2.42% in early trade as investors digested an improved reading in China's Caixin services Purchasing Managers' Index for December. Hong Kong's S&P Purchasing Managers' Index indicated an ease in private sector contraction.
Mainland China's Shanghai Composite rose 0.3% and the Shenzhen Component was up 0.42%.
Australia's S&P/ASX 200 rose 0.669%. In Japan, the Nikkei 225 was up 0.68% in its first hour of trade, while the Topix added 0.16%. The Kospi rose 0.49%, and the Kosdaq inched up fractionally.
| TICKER | COMPANY | NAME | PRICE | CHANGE | %CHANGE |
| --- | --- | --- | --- | --- | --- |
| .N225 | Nikkei 225 Index | *NIKKEI | 25804.12 | 87.26 | 0.34 |
| .HSI | Hang Seng Index | *HSI | 21173.05 | 379.94 | 1.83 |
| .AXJO | S&P/ASX 200 | *ASX 200 | 7058 | -1.2 | -0.02 |
| .SSEC | Shanghai | *SHANGHAI | 3149.59 | 26.07 | 0.83 |
| .KS11 | KOSPI Index | *KOSPI | 2262.04 | 6.06 | 0.27 |
| .FTFCNBCA | CNBC 100 ASIA IDX | *CNBC 100 | 8088.35 | 36.78 | 0.46 |
Singapore's retail sales for November is slated for release later in the day.
Overnight on Wall Street, stocks snapped a two-day losing streak as Fed minutes released Wednesday from the December meeting showed higher interest rates are to remain as long as inflation stays high.
CNBC's Jeff Cox contributed to this report.
China's Caixin services data shows improvement, remains in contraction territory
The Caixin China general services purchasing manager's index showed easing of pressure on the sector for the month of December, with a reading of 48, maintaining in contraction territory.
The print rose from seeing a six-month low in the previous month with a reading of 46.7.
The 50-point mark separates growth from contraction. PMI readings are sequential and represent month-on-month expansion or contraction.
"Optimism improved significantly," Caixin Insight Group's senior economist Wang Zhe said, adding that the gauge for expectations for future activity rose nearly 4 points compared to a month ago.
"Service providers expressed strong confidence in an economic recovery following the easing of Covid containment measures," said Wang.
– Jihye Lee
Hong Kong's S&P Global PMI indicates ease in private sector contraction
Hong Kong's S&P Purchasing Managers' Index ticked higher to 49.6 in December from 48.7 in November despite remaining in contraction territory for the fourth consecutive month.
S&P said a slower contraction seen in the city's private sector was due to a pickup in business activity in the final month of 2022, buoyed by easing of Covid restrictions.
Demand in the city still remains subdued, S&P said, adding that overall new orders are shrinking on the back of deteriorating economic conditions.
— Lee Ying Shan
Fed officials expect higher rates for "some time," minutes show
The Federal Reserve released the minutes from its Dec. 13-14 meeting, which showed central bank officials expect rates to be higher for "some time."
"Participants generally observed that a restrictive policy stance would need to be maintained until the incoming data provided confidence that inflation was on a sustained downward path to 2 percent, which was likely to take some time," the meeting summary stated. "In view of the persistent and unacceptably high level of inflation, several participants commented that historical experience cautioned against prematurely loosening monetary policy."
"A number of participants emphasized that it would be important to clearly communicate that a slowing in the pace of rate increases was not an indication of any weakening of the Committee's resolve to achieve its price-stability goal or a judgment that inflation was already on a persistent downward path," the minutes said.
— Jeff Cox
November JOLTS better than expected
Job openings in November were 10.5 million, according to the latest Job Openings and Labor Turnover Survey, or JOLTS.
The report came in slightly better than expected even though it was little changed from the previous month. Analysts expected JOLTS to be about 10 million in November.
The number of hires and total separations were also little changed at 6.1 million and 5.9 million, respectively. There were also 4.2 million quits and 1.4 million layoffs and discharges during the month.
—Carmen Reinicke
Chinese ADRs rise in premarket trading
Chinese ADRs climbed in premarket trading after Ant Group received approval to increase its registered capital, a sign that Chinese regulators may be loosening their grip on the country's tech sector.
Shares of JD.com and Alibaba each rose more than 6%. NetEase, Baidu and Trip.com were other stocks making notable moves higher.
Ant Group, which previously had its own IPO plans scuttled by regulatory concerns, was allowed to double its registered capital as part of the new plan.
— Jesse Pound