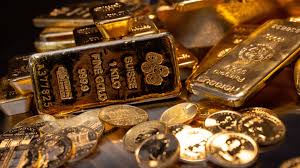 Gold prices dropped to a more than one-month low on Wednesday, beaten down by an assurgent U.S. dollar as markets made adjustments to a rising interest rate scenario.
Spot gold was down 0.2% to $1,896.43 per ounce by 0505 GMT, hitting its lowest level since Aug. 22. U.S. gold futures eased 0.3% to $1,914.40.
The dollar stood strong at a 10-month high against its major peers as Treasury yields stayed elevated on the prospect of higher-for-longer U.S. rates.
There is a 40% chance that the Federal Reserve will need to raise rates "meaningfully" to beat inflation, Minneapolis Fed Bank President Neel Kashkari said on Tuesday.
Higher interest rates raise the opportunity cost of holding bullion, which is priced in dollars and does not yield any interest.
The prevailing higher-for-longer rate narrative seems to be overriding safe-haven flows for the yellow metal, IG market strategist Yeap Jun Rong said.
"It may have to take a series of data ahead, more notably the upcoming inflation and job report, to provide some justification that the Fed may not follow through with its last rate hike and have more policy flexibility for rate cuts if needed."
The U.S. personal consumption expenditures index, Fed's preferred inflation measure, is due on Friday. The Labor Department will release the monthly employment report on Oct. 6 followed by the CPI report on Oct. 12.
U.S. consumer confidence dropped to a four-month low in September, weighed down by persistent worries about higher prices and rising fears of a recession.
SPDR Gold Trust, the world's largest gold-backed exchange-traded fund, said its holdings touched a more than four-year low.
Spot silver dropped 0.8% to a 12-day low of $22.69 per ounce, while platinum was up 0.1% to $904.87.
Palladium snapped a four-session losing streak, gaining 1% to $1,236.14.
Source : cnbc