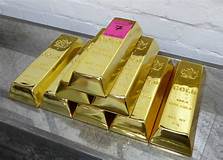 Gold prices edged higher on Tuesday, supported by a softer greenback, though firmer U.S. Treasury yields and expectations that the Federal Reserve could tighten policy more aggressively capped gains of the non-yielding asset.
Spot gold was up 0.1% at $1,780.60 per ounce, as of 0644 GMT. U.S. gold futures gained 0.2% to $1,782.40.
The dollar index <.DXY> weakened 0.1%, reducing gold's cost to buyers holding other currencies.
Partially offsetting a weaker greenback, benchmark U.S. 10-year Treasury extended their overnight gains. Higher yields generally increase the opportunity cost of holding the non-interest-bearing metal.
Fed policymakers are likely to accelerate the tapering of their stimulus measures at its policy meeting next week after data showed unemployment plunged last month, suggesting the labour market was tightening. 
Gold is often considered an inflation hedge, though reduced stimulus and interest rate hikes tend to push government bond yields up, dimming bullion's appeal.
Friday's U.S. Consumer Price Index report could be crucial in gauging the Fed's next move.
"Gold should slowly tread lower on the prospect of tighter policy and if CPI comes out hotter than expected, that's only going to lead to a more aggressive Fed being priced in," said IG Markets analyst Kyle Rodda.
But, "real yields are still negative and so investors could look to diversify from bonds into some other store of value, which could support gold," Rodda said, cautioning that this would depend on how hawkish the Fed is next week and how the Omicron variant affects inflation expectations.
Platinum rose 0.3% to $940.50 an ounce and palladium fell 0.6% to $1,844.01.
"Platinum group metal (PGM) markets are expected to tighten next year, but the unknown impact of the Omicron variant may dampen price upside if auto part supply-chain hold-ups slow the post-chip crisis recovery," analysts at Heraeus precious metals wrote in a note.
Platinum and palladium are used to curb emissions in vehicle exhaust systems.
Silver rose 0.2% to $22.40 per ounce.
Source: Reuters