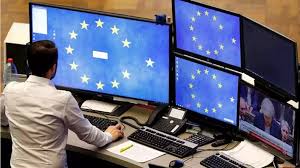 Holly Ellyatt
European markets are heading for a higher open Tuesday as investors continue to gauge the health of the global economy.
Asia-Pacific markets were mixed as China's economy grew more than expected at 4.5% year on year, beating estimates to see growth of 4% in a Reuters poll. The onshore Chinese yuan slightly strengthened following the report.
U.S. stock futures were flat on Monday night after the major averages rose to kick off a stacked week of corporate earnings. Johnson & Johnson, Bank of America and Goldman Sachs are reporting Tuesday before the bell.
China's economy expanded 4.5% in the first quarter of 2023
China's gross domestic product rose by 4.5% in the first quarter of 2023, the National Bureau of Statistics said Tuesday.
That was compared with the 4% forecast in a Reuters poll and marks the fastest growth seen since the first quarter of last year. The economy expanded 2.9% in the fourth quarter of 2022.
Retail sales jumped by 10.6% in March, higher than Reuters' expectations to see 7.4% growth – industrial output rose 3.9% for the month, lower than the forecast of 4% by Reuters.
The Chinese yuan strengthened 0.1% to 6.8712 against the U.S. dollar after the report.
– Jihye Lee
CNBC Pro: Citi says it's time to reconsider ESG, naming 3 stocks that could soar by 30%
Investments in Environmental, Social, and Governance stocks underperformed the broader market in 2022, but strategists at the Wall Street bank Citi think the theme is set to rebound this year.
The investment bank identified several ESG stocks that are expected to rebound this year, with at least three stocks poised for a 30% upside potential.
— Ganesh Rao
Earnings season off to best start since at least 2012, according to Bank of America
Despite persistent inflation, higher rates and fears of an impending recession, earnings season is off to one of its best starts in a little over a decade, according to data from Bank of America.
Of the 30 companies that have reported so far, 90% have beat earnings per share expectations, marking the best beat rate after week one since at least 2012, wrote Savita Subramanian in a Monday note to clients.
She added that 73% of companies that reported last week surpassed sales expectations, while 67% beat on both measures. Last quarter's week one results showed just 46% of companies beat on both EPS and sales, while the historical average sits at just 48%.
"Fueled by bank beats, 1Q EPS is tracking a 30bp surprise," the equity and quant strategist said. "We forecast an in-line quarter but expect more downward guidance and some commentary around changes in cash use if credit conditions deteriorate."
Overall, consensus expectations are calling for a more than 7% decline in first-quarter earnings for the S&P 500 year over year, she noted.
Big bank earnings may have offered some relief, but the market isn't out of the woods just yet as credit impacts emerge in areas like industrials.
"A massive, systemic financial confidence shock appears to have been averted, but tighter credit is manifesting in the real economy," she said.
— Samantha Subin
CNBC Pro: Goldman names 4 stocks to play $5 trillion e-commerce opportunity — including one with 70% upside
The e-commerce sector has seen growth slow after two years of pandemic-fueled growth. But the industry is far from being in a decline, according to Goldman Sachs.
The bank says e-commerce will benefit from secular growth tailwinds, and sees global sales reaching $4.8 trillion by 2026.
— Zavier Ong
European markets: Here are the opening calls
European markets are heading for a higher open Tuesday.
The U.K.'s FTSE 100 index is expected to open 17 points higher at 7,899, Germany's DAX 30 points higher at 15,821, France's CAC up 14 points at 7,516 and Italy's FTSE MIB 116 points higher at 27,303, according to data from IG.
Earnings come from Easyjet and data releases include Germany's ZEW survey of economic sentiment for April.
— Holly Ellyatt
Source : cnbc