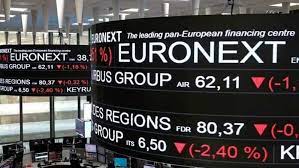 Holly Ellyatt
This is CNBC's live blog covering European markets.
European stocks are heading for a mixed open Tuesday, echoing similar downbeat sentiment in other global markets.
Asia-Pacific markets were largely lower overnight, tracking moves on Wall Street after the S&P 500 erased gains Monday that brought the benchmark index to trade at its highest level on an intraday basis in nine months.
CNBC Pro: Here's what to buy — and avoid — after the U.S. debt ceiling deal, according to analysts
There are opportunities for investors — but also potential minefields — when the debt ceiling is lifted, such as an influx of Treasurys, according to some analysts.
In a June 4 report, Citi said it expects a net increase of about $400 billion in U.S. Treasury bill issuance in the near term — the bulk of it in short-duration bills.
— Weizhen Tan
CNBC Pro: Ark Invest's flagship fund sold Nvidia before its big rally. Here's why
Tech giant Nvidia has been the darling of Wall Street this year due to a relentless rally in its stock driven by surging demand for artificial intelligence.
However, Ark Invest's flagship Ark Innovation ETF exited Nvidia entirely in early January before the chipmaker enjoyed a powerful rally that propelled it to a $1 trillion market capitalization.
Frank Downing, a research director at Ark Invest, spoke to CNBC about the investment house's decision to exit its Nvidia position from its flagship fund.
— Ganesh Rao
European markets: Here are the opening calls
European markets are expected to open mixed Tuesday.
The U.K.'s FTSE 100 index is expected to open 8 points lower at 7,591, Germany's DAX 15 points lower at 15,947, France's CAC flat at 7,196 and Italy's FTSE MIB 21 points higher at 26,848, according to data from IG.
Data releases include euro zone retail sales for April. There are no major earnings releases.
— Holly Ellyatt
Source: cnbc