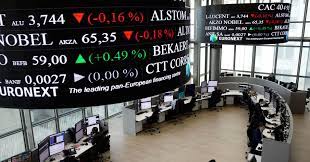 Holly Ellyatt
European stock markets are expected to open higher Tuesday, building on the previous session's positive momentum, as we get into a busy week for economic data.
U.S. inflation data is the main one to watch, with the latest consumer price index figures due Wednesday and producer price index Thursday.
China will also release a slew of data Friday, including on house prices, industrial production, retail sales and unemployment.
Investor sentiment in the U.S. got a boost yesterday after a report in The Wall Street Journal on Sunday said there was consensus among Federal Reserve officials not to raise rates at this week's meeting.
The European Central Bank's next rate decision is due Thursday. The market is pricing in a roughly 40% chance the central bank will hike 25 basis points to 4.00%, but economists predict it will be a close call, Reuters reported.
UK employment dips, in line with expectations
The U.K. employment rate fell 0.5 percentage points to 75.5% in the May to June period, official figures showed Tuesday, in line with expectations.
The dip was largely in full-time self-employed workers, the Office for National Statistics said. Economic activity rose 0.1 percentage points, to 21.1%, driven by 16-24 year olds. The number of people inactive owing to long-term sickness hit another record high.
In news that will be closely watched by the Bank of England, annual growth in pay excluding bonuses remained steady at 7.8%, the highest on record.
— Jenni Reid
CNBC Pro: Apple bear says he's not shorting the stock just yet despite China concerns. Here's why
Apple shares fell sharply last week on reports that China is restricting government employees from using iPhones and other Apple devices for work purposes.
Itau BBA analyst Thiago Kapulskis, an Apple bear, said in a note to clients that China concerns were proving to be a catalyst that could bring down Apple's "hard-to-understand valuation" to more reasonable levels.
However, Kapulskis said he was holding off on shorting the stock for now.
— Ganesh Rao
Arm IPO's price could top $51 per share: Reuters
Chip designer Arm is reportedly "getting close" to securing enough investor support to attain the fully diluted valuation of $54.5 billion it seeks in its initial public offering, Reuters reported, citing sources familiar with the matter.
This means Arm will likely be able to price the IPO "at the top or above" the $47-to-$51-per-share range, the report said.
The sources said Arm is also discussing the possibility of raising the price range and seeking a valuation of more than $54.5 billion, in light of strong investor interest.
However, Arm will not offer more shares, as SoftBank wants to retain a 90.6% stake in Arm following the IPO, the sources said.
— Lim Hui Jie, Reuters
CNBC Pro: Top tech investor Paul Meeks says he'd buy these tech stocks once the dip runs its course
Tech investor Paul Meeks said he's looking to buy into the weakness surrounding tech stocks — once the correction has run its course.
The S&P 500 has rallied hard for most of this year on the strength of tech stocks. But in August, the Wall Street index fell 1.8%, snapping a five-month winning streak. The tech-heavy Nasdaq Composite fell more than 2%.
He names nine tech stocks — including his favorite mega-cap U.S. tech stock — as well as some smaller, "contrarian" picks.
— Weizhen Tan
Fed officials feeling less urgency for another rate hike, WSJ report says
Federal Reserve officials are growing less certain about the need for more interest rate hikes, marking a significant shift in their inflation-fighting policy, according to a Wall Street Journal report.
The central bank's rate-setting Federal Open Market Committee is still likely to pass on an increase at its meeting next week while indicating that one more move is likely before the end of the year.
However, as inflation data has improved, the willingness of committee members to do too much to fight inflation as opposed to too little is beginning to shift, the report states. In recent statements, a number of officials say the balance of risks has shifted and they are now feeling less urgency to tighten.
Market pricing points to a 44.6% chance of a final rate hike at the November meeting, according to CME Group data.
—Jeff Cox
CNBC Pro: HSBC names its 'must see stocks' in the UK with substantial upside
British bank HSBC has revealed a bucket list of "must see stocks," in the U.K. regardless of how market conditions pan out over the rest of the year.
The stocks were selected based on factors such as price, growth prospects and value.
— Amala Balakrishner
European markets: Here are the opening calls
European markets are expected to open higher Tuesday.
The U.K.'s FTSE 100 index is expected to open 10 points higher at 7,512, Germany's DAX up 20 points at 15,825, France's CAC 18 points higher at 7,297 and Italy's FTSE MIB up 30 points at 28,551, according to data from IG.
Data releases include the ILO unemployment rate for July.
— Holly Ellyatt
Source : cnbc