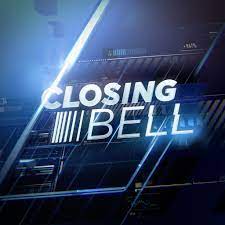 Jenni Reid, Hannah Ward-Glenton, Holly Ellyatt
European stock markets closed higher after a choppy session during which the European Central Bank said it would hike interest rates by 50 basis points despite recent volatility in the region's banks.
The Stoxx 600 index closed up 1.26% provisionally, having flipped between losses and gains following the ECB's announcement at 1:15 p.m. London time.
European markets
| TICKER | COMPANY | PRICE | CHANGE | %CHANGE |
| --- | --- | --- | --- | --- |
| .FTSE | FTSE 100 | 7410.03 | 65.58 | 0.89 |
| .GDAXI | DAX | 14967.1 | 231.84 | 1.57 |
| .FCHI | CAC 40 Index | 7025.72 | 140.01 | 2.03 |
| .FTMIB | FTSE MIB | 25918.76 | 352.92 | 1.38 |
| .IBEX | IBEX 35 Idx | 8890.2 | 131.1 | 1.5 |
Banking stocks, which had rallied 2.6% shortly after the open Thursday morning before dropping to a loss, also ended higher, up 1.24%.
Credit Suisse shares slightly trimmed their gains and finished the session 18.8% higher as investors breathed a sigh of relief after the Swiss National Bank said it would provide a liquidity backstop to the beleaguered bank.
It follows yesterday's dramatic sell-off during which Credit Suisse dropped 24%, leading the wider European banking sector to fall 7%, its worse day since  Feb. 24, 2022.
In its announcement, the ECB said it was monitoring "current market tensions" and would provide liquidity support to the euro area financial system if needed.
"The euro area banking sector is resilient, with strong capital and liquidity positions," it added.
Asia-Pacific markets dropped on Thursday, but largely pared losses as the trading day proceeded.
U.S. stocks also moved from losses to gains throughout the morning.
European stocks close higher
Europe's Stoxx 600 index closed 1.2% higher provisionally after a choppy session.
France's CAC 40 was up 2%, the U.K.'s FTSE 100 was up 0.9% and Germany's DAX was up 1.6%.
Stock markets climbed after the European Central Bank announced it would hike rates by 50 basis points.
Banking stocks recovered 1.1% after their 7% loss on Wednesday, while Credit Suisse
climbed 18%.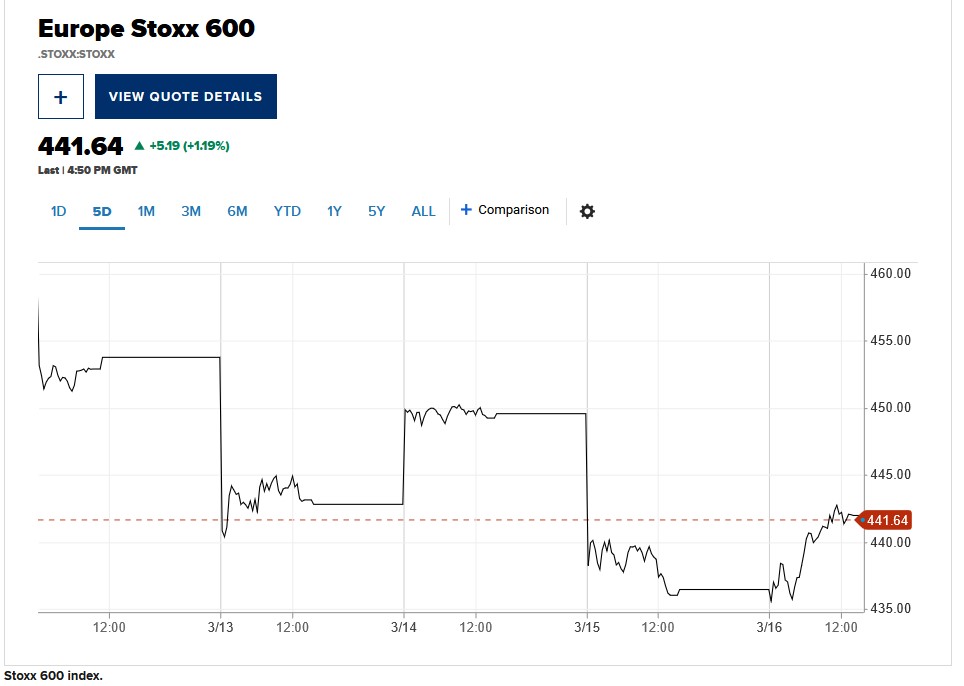 — Jenni Reid
Stocks on the move: Credit Suisse up 19%, Aroundtown Property down 11%
Beleaguered bank Credit Suisse held steady at the top of the Stoxx 600 in afternoon deals, despite paring some gains earlier in the trading session. The stock was up 18.8% by 3:30 p.m. London time.
Also trading higher were shares of U.K. pest control business Rentokil, which were up 11% after it posted a profit uplift and hiked its dividend for shareholders.
On the other end, Luxembourg-registered Aroundtown Property fell 11% after its subsidiary Grand City Properties said Thursday that it would not pay a dividend for the past fiscal year.
— Karen Gilchrist
U.S. stocks open lower
The three major U.S. indexes traded down as markets opened for Thursday's session.
The Dow and S&P 500 were both down around 0.6% in the first minutes after trading began. The Nasdaq Composite slipped 0.4%.
— Alex Harring
European Central Bank hikes by 50 basis points despite banking turmoil
The European Central Bank followed through with the 50 basis point rate hike it flagged at its prior meeting, despite ongoing volatility in the banking sector.
Markets had pared back bets on the rise after severe sell-offs in European bank stocks over the last week.
It takes the bank's main rate to 3%.
Euro zone headline inflation is running at 8.5%, well above the central bank's target of 2%.
"The elevated level of uncertainty reinforces the importance of a data-dependent approach to the Governing Council's policy rate decisions, which will be determined by its assessment of the inflation outlook in light of the incoming economic and financial data, the dynamics of underlying inflation, and the strength of monetary policy transmission," the ECB said in its decision.
— Jenni Reid
Banking stocks give up gains as caution reigns
European banks slipped into negative territory in early afternoon trade after rallying 2.6% at the start of the session.
The sector was down 0.17% at 1:07 p.m. London time despite Credit Suisse continuing to trade 21% higher.
However bank losses were minor compared with Wednesday. Societe Generale was down 1.35% while Deutsche Bank shed 1.4%.
— Jenni Reid
Euro ticks higher with ECB decision, banking drama in focus
The euro was 0.35% higher against the dollar at $1.0613 at midday London time after Wednesday's steep losses triggered by the sell-off in European banks.
It was 0.4% higher against the British pound.The Swiss franc also gained against the greenback, as investors reacted to the news the Swiss National Bank will provide financial support to embattled Credit Suisse.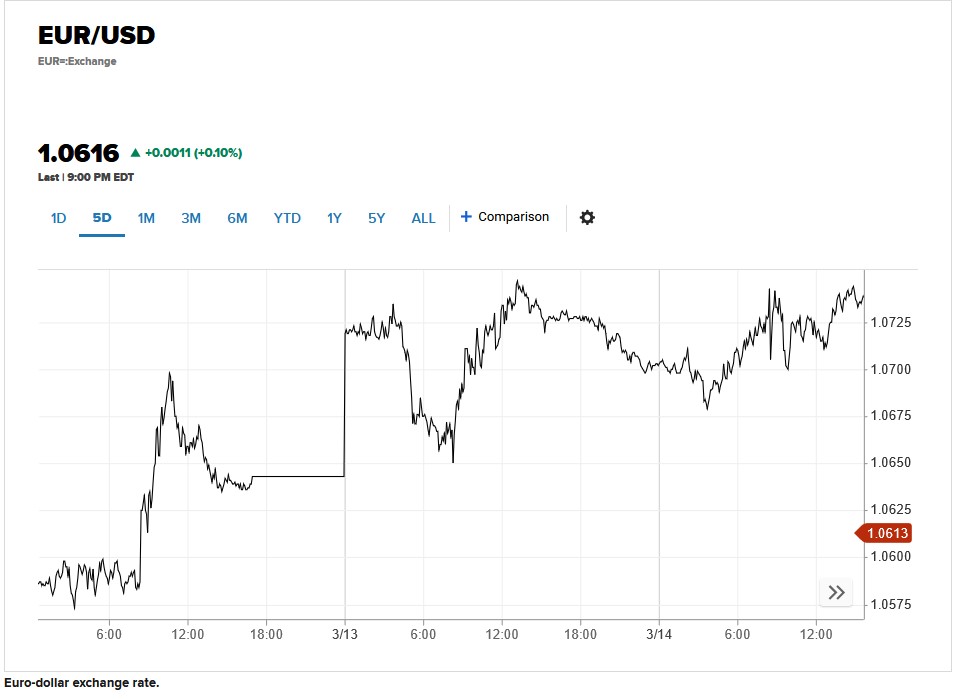 Markets will also be looking to the latest monetary policy announcement from the European Central Bank at 1:15 p.m., which will be followed by a press conference by ECB President Christine Lagarde.
A 50 basis point hike had been widely expected though recent volatility has led markets to pare back bets on its likelihood, and Lagarde's remarks will be closely-watched.
"If the ECB 50 basis point hike comes in an environment where markets are scaling back concerns on the banking sector thanks to the support from the SNB, then this may actually be read as a signal of confidence by Frankfurt on the health of the eurozone banking system, and can ultimately lift the euro," analysts at ING said.
— Jenni Reid
Credit Suisse could have a 'great turnaround' if the situation is handled well, asset manager says
Dan Scott, head of Vontobel Multi Asset, discusses the Credit Suisse crisis and says the bank "is still of the world's largest asset managers."
Stocks on the move: OSB Group up 9%, Rentokil up 7%
OBS Group, the parent company of OneSavings Bank, gained 9% in morning trade after posting positive annual results.
Underlying profit before tax was up 13% year-on-year to a record £591.1 million ($712.7 million), mostly due to loan book growth, the company's report said.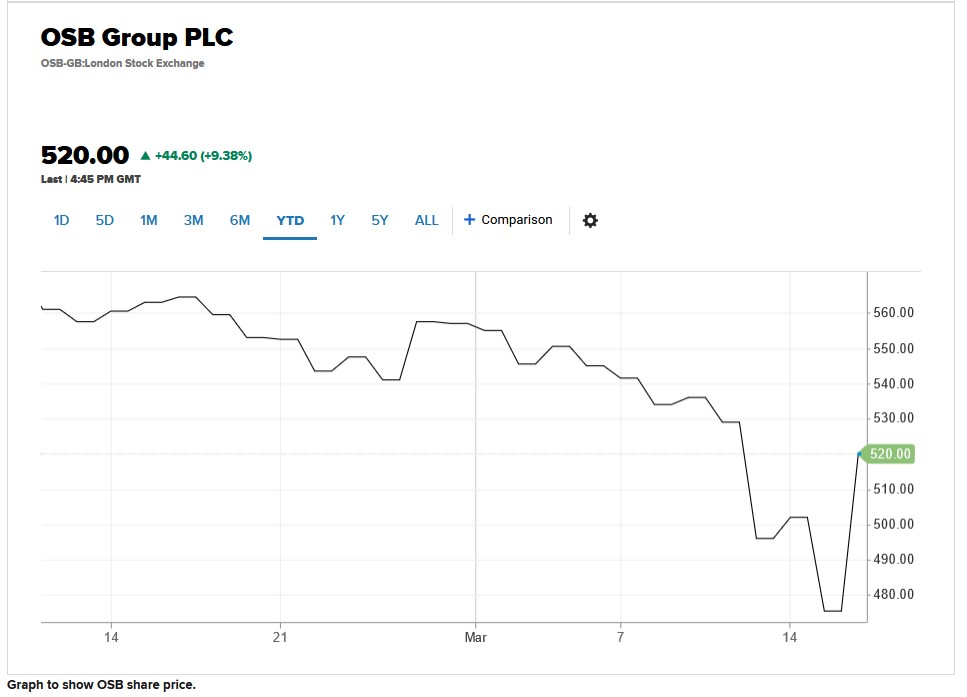 Shares of pest control company Rentokil Initial saw an uptick after revenue grew, following the firm's purchase of U.S. rival Terminix. The company also lifted its revenue and cost savings expectations for 2023, which contributed to the 7% share price increase.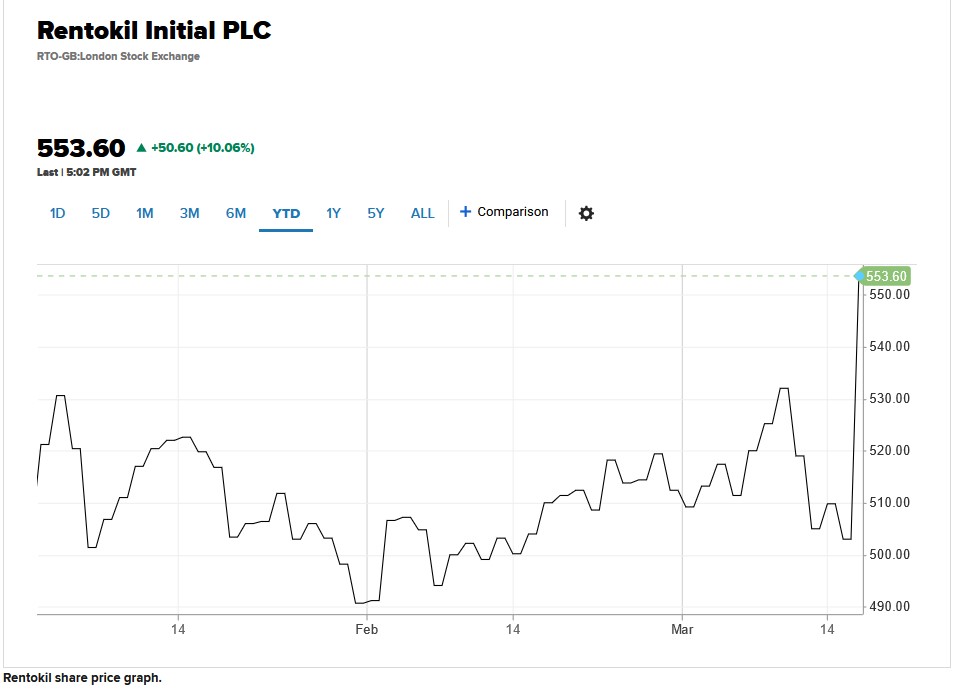 — Hannah Ward-Glenton
Credit Suisse gains narrow to 18% after 30% spike
Shares of Credit Suisse gained as much as 30% when European markets opened, but gains narrowed to 18% around 9.15 a.m. London time.
Credit Suisse shares rallied after the bank said it would borrow up to $54 million from the Swiss National Bank.
— Hannah Ward-Glenton
Banks in crisis: The weakest links are cracking, strategist says
The weakest links in the banking sector are cracking, a strategist told CNBC's "Squawk Box Europe" Thursday.
Beat Wittmann, partner at Porta Advisors, discusses the crises that Credit Suisse and Silicon Valley Bank are facing, and says "now it's really time for policymakers to restore confidence and liquidity in the system."
HSBC UK CEO discusses £1 Silicon Valley Bank acquisition
The CEO of HSBC UK, Ian Stuart, told CNBC how the bank acquired Silicon Valley Bank UK for £1.
European bank stocks rally on Credit Suisse lifeline news
European bank stocks rallied during early trade on the news that Credit Suisse had secured a $54 billion lifeline from the Swiss National Bank.
Credit Suisse shares soared 30%, before paring gains to 23% at around 8.25 a.m. London time. UBS followed, up 4.9%, Commerzbank gained 3.9%, Santander was up 3.%, shares of FinecoBank gained 3.4% and Barclays was up 3.3%.
Bank stocks as a whole were up by 1.8%.
— Hannah Ward-Glenton
Credit Suisse rallies 30% after Swiss National Bank provides liquidity backstop
Shares of Credit Suisse soared 30% just after European market open after the Swiss National Bank said it would provide a liquidity backstop for the bank as regulators tried to dampen fears of a crisis in the banking sector.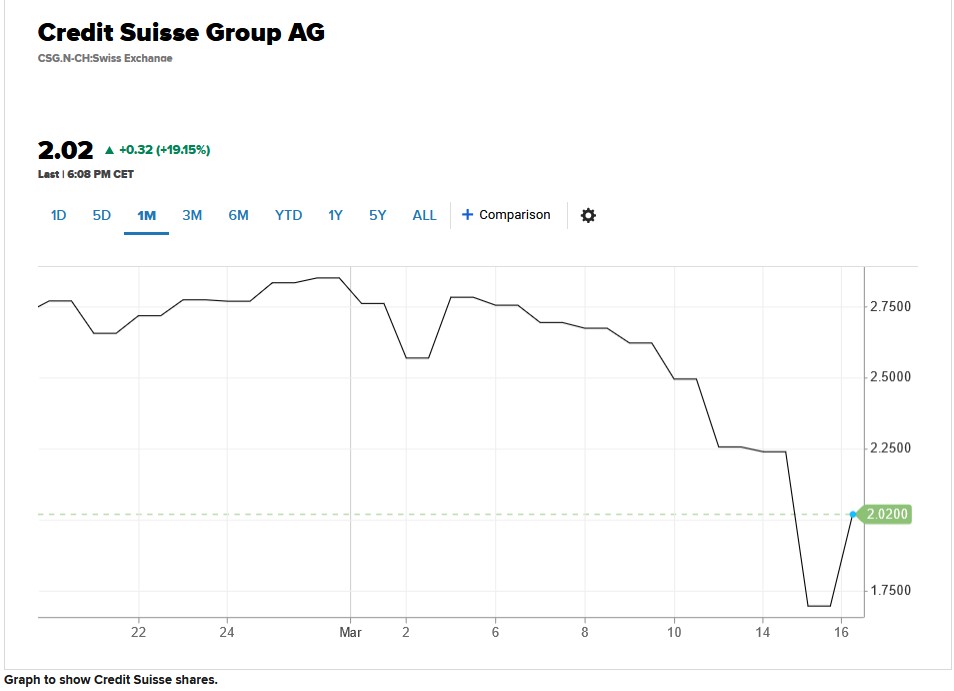 — Hannah Ward-Glenton
European markets open higher
European markets opened higher Thursday as regional investors breathed a sigh of relief after the Swiss National Bank said it would provide a liquidity backstop to beleaguered bank Credit Suisse.
The pan-European Stoxx 600 index opened 1% higher. Most sectors and major bourses opened on a positive note, with gains led by a rally in bank stocks, which were up 2.8%. Oil and gas and retail stocks were up 1.6%.
— Hannah Ward-Glenton
Saudi National Bank says panic over Credit Suisse is unwarranted
The chairman of Credit Suisse's largest shareholder, Saudi National Bank, told CNBC's Hadley Gamble that the recent market turmoil in the banking sector is "isolated" and stems from "a little bit of panic."
"If you look at how the entire banking sector has dropped, unfortunately, a lot of people were just looking for excuses … it's panic, a little bit of panic," Ammar Al Khudairy said on CNBC's "Capital Connection."
He added that Credit Suisse has not asked Saudi National Bank for financial assistance.
"There has been no discussions with Credit Suisse about providing assistance," he said. "I don't know where the word 'assistance' came from, there has been no discussions whatsoever since October," he said.
His comments come after Credit Suisse announced it will be borrowing up to 50 billion Swiss francs ($53.68 billion) from the Swiss National Bank to shore up liquidity and investor confidence after its stock plunged Wednesday.
– Jihye Lee
Swiss franc strengthens in volatile trade after Credit Suisse's announcement
The Swiss franc saw continued volatility following developments around Credit Suisse – and last strengthened 0.17% against the U.S. dollar to pare earlier weakening after the lender announced to borrow nearly $54 billion from Swiss National Bank.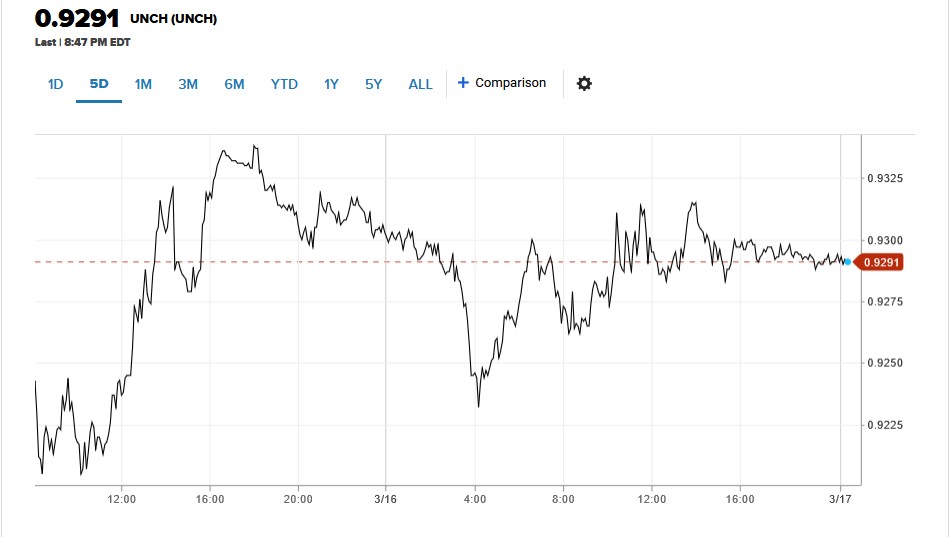 The Japanese yen also saw further strengthening to trade at 132.86 against the greenback. The Korean won strengthened 0.13% to 1,311.24 against the U.S. dollar.
– Jihye Lee
Timeline of Credit Suisse from 2022 to 2023
Credit Suisse timeline
– Kathie Low
CNBC Pro: Morgan Stanley names its favorite stocks in tech — and gives one nearly 60% upside
Some Wall Street investors may be cautious on tech right now, especially after the collapse of Silicon Valley Bank.
But others are seeing the volatility as an opportunity to snap up some tech stocks. After rallying to start the year, the Nasdaq Composite has lost more than 5% in the past month.
Morgan Stanley named its best picks in tech, giving one nearly 60% upside.
— Weizhen Tan
Credit Suisse says it will borrow up to about $54 billion from Swiss central bank
Credit Suisse announced it will be borrowing up to 50 billion Swiss francs ($53.69 billion) from the Swiss National Bank under a covered loan facility and a short-term liquidity facility.
The steps will "support Credit Suisse's core businesses and clients as Credit Suisse takes the necessary steps to create a simpler and more focused bank built around client needs," the company said in an announcement.
In addition, the bank is making a cash tender offer in relation to ten U.S. dollar denominated senior debt securities for an aggregate consideration of up to $2.5 billion – as well as a separate offer to four Euro denominated senior debt securities for up to an aggregate 500 million euros, the company said.
– Jihye Lee
CNBC Pro: Default risk indicator rises for Credit Suisse and other European banks to crisis levels
The European banking sector is experiencing a sharp increase in risk indicators following the failure of Silicon Valley Bank last week.
The jump in investors' perception of default rose after that SVB's collapse last week, the second largest bank failure in U.S. history, which has sparked "widespread concern" concerns of a contagion taking root while interest rates remain high.
— Ganesh Rao
European markets: Here are the opening calls
European markets are set to rebound Thursday after a tumultuous trading session on Wednesday that saw stocks fall sharply.
The U.K.'s FTSE 100 index is expected to open 73 points higher at 7,405, Germany's DAX 217 points higher at 14,947, France's CAC up 118 points at 6,993 and Italy's FTSE MIB up 443 points at 25,517, according to data from IG.
The European Central Bank's latest monetary policy decision is in focus for European markets Thursday. The central bank is expected to announce a 50 basis point rate hike, as signaled by ECB President Christine Lagarde previously, as inflation remains elevated.
— Holly Ellyatt
Source : cnbc