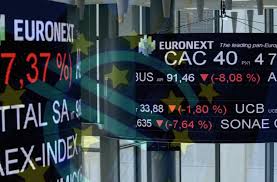 Elliot Smith and Holly Ellyatt
European stocks retreated on Wednesday as global markets turned lower on economic concerns surrounding inflation and the growth outlook.
| TICKER | COMPANY | NAME | PRICE | CHANGE | %CHANGE | VOLUME |
| --- | --- | --- | --- | --- | --- | --- |
| .FTSE | FTSE 100 | *FTSE | 6875.88 | -108.71 | -1.56 | 287427425 |
| .GDAXI | DAX | *DAX | 11955.82 | -183.86 | -1.51 | 24406203 |
| .FCHI | CAC 40 Index | CAC | 5656.99 | -96.83 | -1.68 | 22646316 |
| .FTMIB | FTSE MIB | *FTSE MIB | 20614.45 | -346.93 | -1.66 | 170556968 |
| .AEX | AEX Amsterdam Index | AEX | 627.96 | -14.76 | -2.3 | 22671477 |
| .IBEX | IBEX 35 Idx | *IBEX 35 | 7305.4 | -140.3 | -1.88 | 53476439 |
The pan-European Stoxx 600 fell 1.3% in early trade, with banks and retail stocks shedding 3.2% to lead losses while healthcare was the only sector in positive territory, adding 0.9%.
The negative trade in Europe comes after a torrid night for markets in the Asia-Pacific. Major indexes there briefly dipped 2% after the S&P 500 set a new 2022 low overnight on Wall Street.
The offshore and onshore Chinese yuan reached their weakest levels since 2008. The Indian rupee also marked a record low. U.S. stock futures were lower on Tuesday evening.
The Bank of England's position is 'almost impossible,' chief investment strategist says
The "almost unprecedented" fiscal measures announced by the British government "put the U.K. economy into a difficult situation," according to Ian Harnett, co-founder and chief investment strategist at research firm Absolute Strategy.
He also suggested that the policies make the Bank of England's position "almost impossible."
Harnett said that domestic companies – those in the FTSE 250 – "will be the ones that struggle," which is a point of concern for the U.K.
"When the markets see a crack they go for it in a big way and we see that crack being widened out in the U.K.," he told CNBC's "Squawk Box Europe."
— Hannah Ward-Glenton
Stocks on the move: Thyssenkrupp down 8%, Roche up 5%
Shares of German multinational conglomerate Thyssenkrupp fell 8% in early trade after JPMorgan reinstated its coverage of the stock with an "underweight" rating.
At the top of the Stoxx 600, Swiss pharmaceutical company Roche jumped 5.7% after a positive read-across from an Alzheimer's drug study by rivals Eisai and Biogen.
– Elliot Smith
Yields on 20-year and 30-year UK gilts top 5%
Yields on 20-year and 30-year U.K. gilts pushed past the 5% mark on Wednesday as the extraordinary sell-off in U.K. fixed income market continued.
Bond yields move inversely to prices. The new government's so-called "mini-budget" on Friday sparked a wave of selling in British fixed income markets, with gilt yields now set for their biggest monthly climb since at least 1957, according to a Reuters analysis of both Refinitiv and Bank of England data.
– Elliot Smith
IMF gives damning verdict on Britain's tax cuts
The new economic measures laid out by the U.K. government "will likely increase inequality," the International Monetary Fund said in a rare statement.
While the fiscal package — which included hefty tax cuts for Britain's highest earners — aims to help families and businesses handle the energy shock, the IMF does "not recommend large and untargeted fiscal packages at this juncture," a spokesperson said in a statement late Tuesday.
– Hannah Ward-Glenton
U.S. 10-year Treasury yield breaches 4% for the first time since 2010
The benchmark U.S. 10-year Treasury yielded breached 4% for the first time since 2010 – after topping 3.9% overnight.
The yield on the policy-sensitive 2-year Treasury was at 4.2953%. Yields and prices have an inverted relationship. One basis point is equivalent to 0.01%.
U.S. 10-year yield at highest since 2010 Chart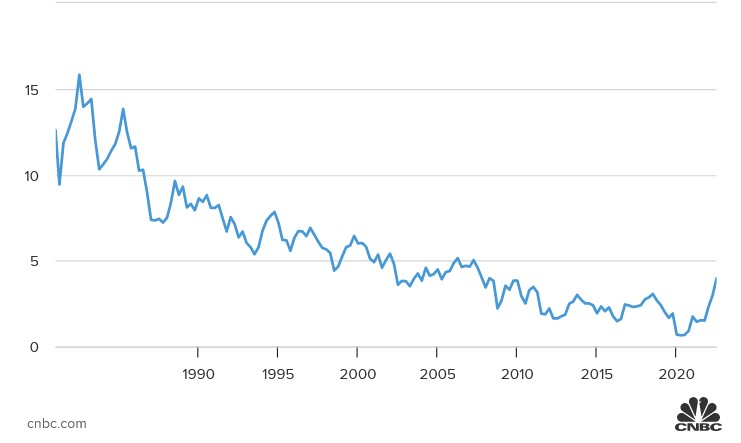 –Jihye Lee
CNBC Pro: Credit Suisse says now's the time to buy two green hydrogen stocks — and gives one over 200% upside
Credit Suisse says it's time to enter the green hydrogen sector, with a number of catalysts set to drive the clean energy powerhouse.
"Green hydrogen is a growth market — we increase our 2030 market estimates by [over] 4x," the bank said, forecasting that green hydrogen production will expand by around 40 times by 2030.
It names two stocks to play the boom — giving one upside of more than 200%.
— Weizhen Tan
CNBC Pro: Asset manager reveals what's next for stocks — and shares how he's trading the market
Neil Veitch, investment director at Edinburgh-based SVM Asset Management, says he expects the macro landscape to remain "quite difficult" for the remainder of the year.  
Speaking to CNBC Pro Talks last week, Veitch named the key drivers that could help the stock market to turn "more constructive" and shared his take on growth versus value.
— Zavier Ong
U.S. 10-year yield closes in on key 4% level
The 10-year Treasury yield is edging close to 4%, a level it has not touched since 2010.
The U.S. 10-year is the benchmark yield that sets the course for home mortgage rates and other consumer and business loans. It has bounded higher this week, as U.K. gilt yields race higher and on expectations of an aggressive Federal Reserve.
The yield was at 3.96% in afternoon trading. The 10-year yield reversed an earlier decline and gained about basis points. (A basis point equals 0.01 of a percentage point)
"It's definitely been impressive, and I just think no one is yet willing to step in and catch the falling knife," said Ben Jeffery of BMO. He added a lack of liquidity has also been pushing up yields, which move opposite price.
U.S. 10-year yield at highest since 2010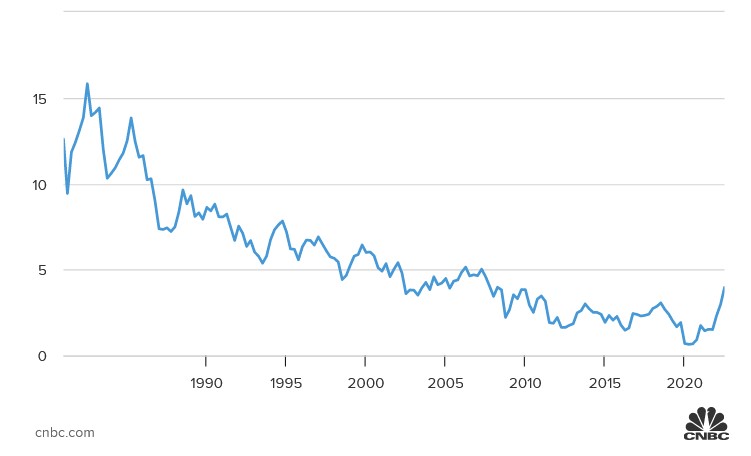 Chart
Jeffery said the yield was also moving higher ahead of the 1 p.m. auction of 5-year notes.
He said the 10-year tested the 4% level in 2010. "The last time we were sustainably above 4% was 2008. There's another technical level at 4.10% and then there's not much of note until 4.25%," he said.
— Patti Domm
European markets: Here are the opening calls
European stocks are expected to open in negative territory on Wednesday as investors react to the latest U.S. inflation data.
The U.K.'s FTSE index is expected to open 47 points lower at 7,341, Germany's DAX 86 points lower at 13,106, France's CAC 40 down 28 points and Italy's FTSE MIB 132 points lower at 22,010, according to data from IG.
Global markets have pulled back following a higher-than-expected U.S. consumer price index report for August which showed prices rose by 0.1% for the month and 8.3% annually in August, the Bureau of Labor Statistics reported Tuesday, defying economist expectations that headline inflation would fall 0.1% month-on-month.
Core CPI, which excludes volatile food and energy costs, climbed 0.6% from July and 6.3% from August 2021.
U.K. inflation figures for August are due and euro zone industrial production for July will be published.
— Holly Ellyatt
Source : CNBC