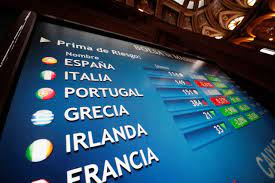 European markets are heading fell sharply on Monday as investors ponder economic risks in the region, reignited by concerns about energy supply from Russia.
| TICKER | COMPANY | NAME | PRICE | CHANGE | %CHANGE | VOLUME |
| --- | --- | --- | --- | --- | --- | --- |
| .FTSE | FTSE 100 | *FTSE | 7218.07 | -63.12 | -0.87 | 37639058 |
| .GDAXI | DAX | *DAX | 12660.66 | -389.61 | -2.99 | 9154242 |
| .FCHI | CAC 40 Index | CAC | 6042.36 | -125.15 | -2.03 | 9761279 |
The pan-European Stoxx 600 dropped 1.4% in early trade, with autos shedding 2.8% to lead losses as most sectors and major bourses slid deep into negative territory. Oil and gas stocks bucked the trend to add 1.3% as prices spiked once more.
The sharp downward moves for risk assets came after Russia's state-owned energy giant Gazprom announced that gas flows to Europe via the Nord Stream 1 pipeline would be halted indefinitely, citing additional repair requirements.
European stocks advanced on Friday to round out a bruising week, as investors reacted to a key U.S. jobs report which showed the American economy added 315,000 jobs in August. The figure was just below the Dow Jones consensus estimate of 318,000, while the unemployment rate rose to 3.7%, slightly above expectations of 3.5%.
The reading will help cool market fears that a much more buoyant labor market would give the Federal Reserve license to hike interest rates much more aggressively as it tries to rein in inflation.
Overnight in Asia-Pacific markets, shares were mixed as investors digested the results of a private survey on Chinese services activity which showed the sector grew in August.
U.S. markets are closed Monday for the Labor Day holiday.
Euro dips below $0.99 as Russia halts gas flows to Europe
The euro dropped below $0.99 for the first time in 20 years on Monday morning, after Russia announced that its main gas supply pipeline to Europe would be shut off indefinitely.
The U.S. dollar index, which measures the strength of the greenback against six other major currencies, notched a new two-decade high, while the British pound slid to a 2.5-year low.
– Elliot Smith
Dollar index marks 110, hits highest level since 2002
The U.S. dollar index hit 110.086 in Asia's morning trade, reaching a new two-decade high.
The Japanese yen weakened further to 140.3 after touching a 24-year low last week. The Korean won was at 1,370.87 against the greenback, a level not seen since April 2009.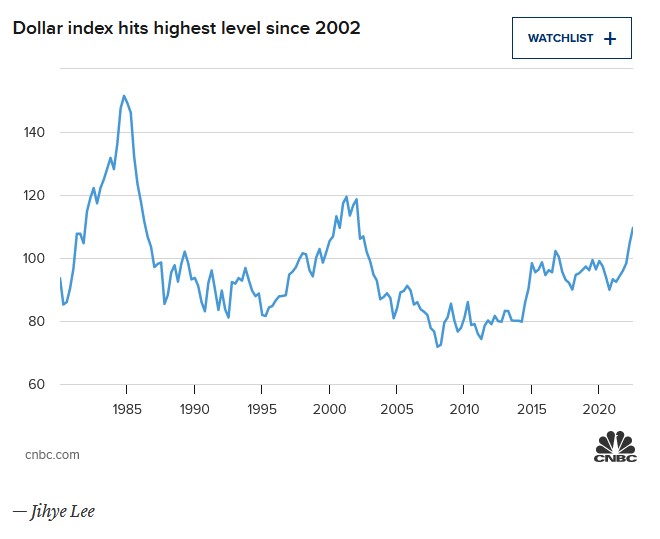 — Jihye Lee
CNBC Pro: This tech stock is up nearly 20% over the past year — and one pro says it's got further to go
Tech stocks have endured a difficult year so far, with some of the biggest names deep in the red.
But one cybersecurity firm has stood out for its relative resilience, and market veteran Nancy Tengler believes the stock is just getting started.
Tengler, who is CEO and chief investment officer of Laffer Tengler Investments, said her bullishness on the firm might be construed as a "controversial," but argued that it is in fact a safer bet within the tech space.
— Katrina Bishop
Caixin services PMI show Chinese services activity grew in August
China's Caixin Services Purchasing Managers' Index for August came in at 55.0, compared with July's print of 55.5.
The official non-manufacturing PMI for August is 52.6.
PMI readings are sequential and represent month-on-month expansion or contraction, where the 50-point mark means no change from the month before.
— Abigail Ng
CNBC Pro: Mohamed El-Erian reveals where to invest right now
With stock and bond valuations falling concurrently, investors should be looking to get out of "distorted markets," according to Mohamed El-Erian, chief economic adviser to Allianz.
"There was a time when all asset prices went up — stocks and bonds — and we forgot about correlations. Why care about correlations when you're being paid for holding both risk assets and risk mitigating assets? It's a lovely world," he told CNBC's Steve Sedgwick Friday.
″"But the first half taught us, and what we have again learned since the middle of August, [is] that they can both go down at the same time."
Investors seeking alternatives have a couple of options, El-Erian says.
— Elliot Smith and Katrina Bishop
European markets: Here are the opening calls
European stocks are expected to open cautiously higher on Wednesday with the U.K.'s FTSE index seen 18 points higher at 7,560, Germany's DAX 33 points higher at 13,944, France's CAC 40 up 18 points at 6,616 and Italy's FTSE MIB up 42 points at 23,029, according to data from IG.
Data releases include preliminary euro zone unemployment data for the second quarter as well as second quarter gross domestic product. The latest U.K. inflation numbers for July will be released as well as preliminary second quarter Dutch GDP.
Earnings come from Uniper, Carlsberg, Persimmon, Balfour Beatty, BAT and National Grid.
Source : CNBC