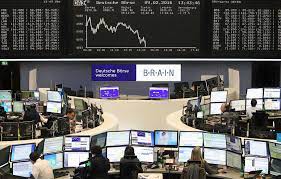 Holly Ellyatt
European markets are set for a negative start to the new trading month, having closed out August lower as traders grapple with fears of higher interest rates and a looming economic downturn.
Market jitters have been prevalent since Friday after hawkish remarks from Federal Reserve Chair Jerome Powell. On Tuesday, New York Fed President John Williams called for a "somewhat restrictive policy to slow demand."
U.S. stocks fell for a fourth-straight day on Wednesday, the last trading session of August, putting the summer market comeback in doubt as investors weighed the Federal Reserve's inflation-fighting efforts.
Meanwhile, shares in the Asia-Pacific are trading lower Thursday as investors digested the results of a private survey on China's factory activity which showed the sector slipping into contraction this month. U.S. stock futures fell slightly on Wednesday night.
CNBC Pro: Goldman Sachs says mutual funds have been on a tear this year. Here's what they're buying
"A greater share of mutual funds has outperformed their benchmarks in 2022 than in any year since 2009," according to Goldman Sachs.
What's driving the outperformance? And what are these funds buying?
— Zavier Ong
U.S. 2-year Treasury yield rises to 14-year high
U.S. Treasury yields rose further to 3.52% in Asia's morning trade, the highest since November 2007.
The yield on the short-term 2-year Treasury note
reached similar levels on Tuesday, when it hit 3.497%.
The yield on the benchmark 10-year Treasury note also rose to 3.22%, while the yield on the 30-year Treasury bond was at 3.3%.
Yields move inversely to prices, and a basis point is equal to 0.01%.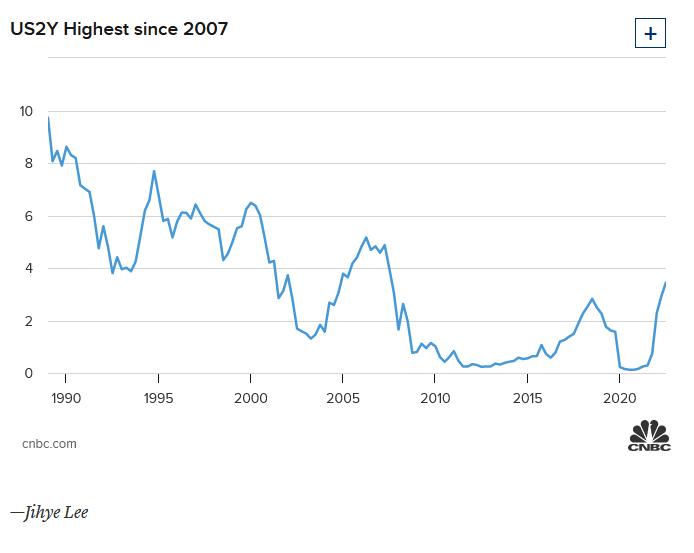 Caixin PMI shows China's factory activity shrank in August
The results of a private survey showed China's factory activitycontracted in August.
The Caixin/Markit manufacturing Purchasing Managers' Index came in at 49.5 for August, compared to 50.4 in July.
PMI readings are sequential and represent month-on-month expansion or contraction. The 50-point mark that separates growth from contraction.
China's official manufacturing PMI for August slightly beat expectations at 49.4.
— Abigail Ng
European markets: Here are the opening calls
European stocks are expected to open cautiously higher on Wednesday with the U.K.'s FTSE index seen 18 points higher at 7,560, Germany's DAX 33 points higher at 13,944, France's CAC 40 up 18 points at 6,616 and Italy's FTSE MIB up 42 points at 23,029, according to data from IG.
Data releases include preliminary euro zone unemployment data for the second quarter as well as second quarter gross domestic product. The latest U.K. inflation numbers for July will be released as well as preliminary second quarter Dutch GDP.
Earnings come from Uniper, Carlsberg, Persimmon, Balfour Beatty, BAT and National Grid.
Source : CNBC