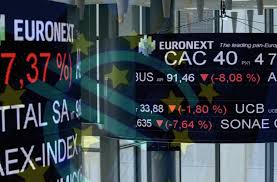 Hannah Ward-Glenton & Holly Ellyatt
European markets opened mixed Monday as global investors focus on the fallout from the Silicon Valley Bank collapse.
The pan-European Stoxx 600 index was down 0.3%, with sectors and major bourses spread across positive and negative territory. Technology stocks led minor gains, up 0.3%, while oil and gas stocks were down 0.9%
European markets
| TICKER | COMPANY | PRICE | CHANGE | %CHANGE |
| --- | --- | --- | --- | --- |
| .FTSE | FTSE 100 | 7748.35 | -131.63 | -1.67 |
| .GDAXI | DAX | 15427.97 | 0 | 0 |
| .FCHI | CAC 40 Index | 7220.67 | 0 | 0 |
| .FTMIB | FTSE MIB | 27281.96 | -428.57 | -1.55 |
| .IBEX | IBEX 35 Idx | 9285 | 0 | 0 |
HSBC announced early Monday that it would buy the British arm of the troubled U.S. tech startup-focused lender for £1. Customer deposits will be protected as part of the deal.
Meanwhile, U.S. stock futures jumped Sunday evening after regulators announced a plan to backstop all the depositors in SVB and make additional funding available for other banks.
On Friday, Silicon Valley Bank was taken over by regulators after massive withdrawals a day earlier created a bank run. All SVB depositors will have access to their money starting Monday, according to a joint statement from the Treasury Department, Federal Reserve and the FDIC.
Elsewhere Sunday, U.S. regulators shut down New York-based Signature Bank, a big lender in the crypto industry, in a bid to prevent the spreading banking crisis.
Asia-Pacific markets traded mixed on Monday as investors reacted to the latest move by U.S. regulators to stem further systemic risk.
British bank HSBC to acquire Silicon Valley Bank UK
British bank HSBC will acquire Silicon Valley Bank UK Limited, according to a statement by the Bank of England.
The Bank of England said the action was taken "to stabilise SVBUK, ensuring the continuity of banking services, minimising disruption to the UK technology sector and supporting confidence in the financial system."
Silicon Valley Bank caused turmoil for the banking sector and markets more widely when it surprised investors on Wednesday with news it needed to raise $2.25 billion to shore up its balance sheet, and that it had sold all its bonds at a $1.8 billion loss.
The bank was then closed by regulators after customers withdrew $42 billion of deposits by the end of Thursday.
HSBC said it will buy SVBUK for £1.
— Hannah Ward-Glenton and Matt Rosoff contributed to this report.
CNBC Pro: Shares of this little-known global chip firm are set to rise by 50%, Barclays says
Shares of a U.K.-based technology company that designs custom chips and semiconductors are expected to rise by more than 50% over the next 12 months, according to Barclays Equity Research.
The investment bank said a rapidly growing data center space would "drive sales and profit growth faster than other company in our coverage."
— Ganesh Rao
SVB situation is a result of easy monetary policy, Leon Cooperman says
Silicon Valley Bank went under on Friday, and investor Leon Cooperman thinks this situation is a byproduct of low interest rates from the Federal Reserve.
"This is the result of stupid monetary policy of zero-to-negative rates for a decade," Cooperman, the head of Omega Advisors, told CNBC's Scott Wapner.
The Fed cut rates to zero to stabilize the economy after the 2008 financial crisis. Rates remained low for years after until the Fed started to raise in the late 2010s. In 2020, however, the central bank brought rates back down to zero as Covid-19 spread around the world.
Over the last year, the central bank has been hiking rates to stem inflationary pressures.
— Fred Imbert
CNBC Pro: 'Unprecedented growth': Citi reveals its 4 top stocks in renewables right now
The world is going through a "rapid and transformational change" when it comes to energy, said Citi, naming four buy-rated stocks as "top picks" in the space.
— Weizhen Tan
Regulators promise access to deposits starting Monday
Regulators scrambled to avert a banking crisis over the weekend, with one key objective being "strengthening public confidence" in the U.S. banking system.
A joint statement from Treasury Secretary Janet Yellen, Federal Reserve Chair Jerome Powell and FDIC Chairman Martin Gruenberg said depositors at Silicon Valley Bank and New York's Signature Bank will have access to all of their money as soon as Monday.
"No losses associated with the resolution of Silicon Valley Bank will be borne by the taxpayer," they said.
—Christina Cheddar Berk
Futures jump after regulators announce backstop of SVB depositors
Futures extended their gains just before 6:30 p.m. ET after U.S. regulators unveiled a plan to stem the damage from Silicon Valley Bank's collapse.
Dow futures were last higher by 297 points, or 0.9%. S&P 500 futures jumped 1.1% and Nasdaq Composite futures advanced 1.2%.
— Tanaya Macheel
European markets: Here are the opening calls
European markets are heading for a higher open Monday as investors keep an eye on the fallout from the Silicon Valley Bank crisis.
The U.K.'s FTSE 100 index is expected to open 10 points higher at 7,745, Germany's DAX 82 points higher at 15,477, France's CAC up 26 points at 7,228 and Italy's FTSE MIB up 21 points at 27,312, according to data from IG.
Earnings are set to come from Direct Line and there are no major data releases.
— Holly Ellyatt
Source : cnbc