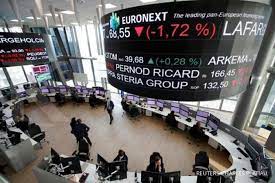 Holly Ellyatt
European markets opened lower Wednesday as investors react to the latest comments from the U.S. Federal Reserve's Chairman Jerome Powell indicating interest rates may need to go higher for longer.
European markets
| TICKER | COMPANY | PRICE | CHANGE | %CHANGE |
| --- | --- | --- | --- | --- |
| .FTSE | FTSE 100 | 7919.48 | -10.31 | -0.13 |
| .GDAXI | DAX | 15559.53 | 0 | 0 |
| .FCHI | CAC 40 Index | 7339.27 | 0 | 0 |
| .FTMIB | FTSE MIB | 27761.57 | -187.72 | -0.67 |
| .IBEX | IBEX 35 Idx | 9411.1 | 0 | 0 |
The pan-European Stoxx 600 index was 0.3% lower at market open, with most sectors and major bourses trading in negative territory.
Travel and leisure and financial services led the modest losses, both down 0.8%.
Powell spoke before the Senate Banking, Housing and Urban Affairs Committee on Tuesday and cautioned lawmakers that the central bank's terminal rate will likely be higher than previously anticipated because of stubbornly high economic data in recent weeks. Major stock indexes fell following Powell's comments
On Wednesday, investors will be closely watching Powell speak before the House Financial Services Committee. U.S. stock futures were mixed on Wednesday's morning, while in Asia-Pacific markets, Hong Kong shares dropped more than 2%.
German industrial output rose more than expected in January
Industrial production in Germany rose more than expected in January, increasing by 3.5% from December. Reuters analysts had expected a 1.4% increase for the month.
Retail sales fell unexpectedly and were down 0.3%, a big move from the 2% rise forecast by Reuters analysts. The figure is an improvement on December, however, when retail sales were down 5.3%
Manufacturing output was up 1.9% on the month, while construction output was up 12.6%.
— Hannah Ward-Glenton
CNBC Pro: This ETF only invests in women-led companies — and is expected to rise 20% this year
A U.S.-listed ETF is only investing in companies that are led by women, with the belief that the "female factor" outperforms.
The ETF was created after its fund manager, who has a background in investment banking and private equity, observed that institutional barriers to female candidates for top positions have meant that those who do succeed have had to perform at a higher level, resulting in better overall performance.
The ETF is based on an index that has outperformed its benchmark by over 20% over the past five years.
— Ganesh Rao
Key Powell remarks for the market
There were two key quotes in the Congressional testimony of Federal Reserve Chairman Jerome Powell as far as markets were concerned.
"The latest economic data have come in stronger than expected, which suggests that the ultimate level of interest rates is likely to be higher than previously anticipated," Powell said in prepared remarks.
This means the Fed may keep raising for longer than the market anticipated. Many wanted the Fed to stop hiking soon.
"If the totality of the data were to indicate that faster tightening is warranted, we would be prepared to increase the pace of rate hikes," Powell also said.
The Fed's last hike was just a quarter point as it slowed the pace. Powell is hinting here the Fed may need to speed back up, which is a big fear of the markets.
— John Melloy
CNBC Pro: Tesla a 'screaming buy' or bellwether for zombie stocks? The bulls and bears state their case
All eyes were on Tesla last week as it held its investor day, where it unveiled its plans ahead.
The company is going all out to stoke consumer demand, continuing to cut prices and teasing a cheaper, next-generation model.
Over the year so far, Tesla shares are up around 57%, but looking ahead, analysts are divided on the company's prospects.
Here's what the bulls and the bears are saying about the world's biggest EV maker.
— Weizhen Tan
There's still a path to a soft landing, Morgan Stanley's global chief economist says
There's still a path to a soft landing in spite of Federal Reserve Chair Jerome Powell's comments suggesting rates could go higher for longer, according to Morgan Stanley's global chief economist Seth Carpenter.
Of course, there will need to be a cooling in the labor market for the Fed to meet its own inflation projections, he said in a Tuesday appearance on CNBC's "Closing Bell: Overtime."
Carpenter expects that nonfarm payrolls will need to ease below 100,000 per month to accomplish that goal. Investors are anticipating the February jobs report this week to see whether the economy is continuing to heat up, or if January's blockbuster report was an aberration.
"If we're staying at 500,000 nonfarm payrolls per month, that's clearly not doing it. We need to see it slow, get down to, say, below 100,000 per month," Carpenter said. "But if it stays positive, then I think that kind of trajectory, that's the path for a soft landing. We still think it's possible."
— Sarah Min
CNBC Pro: Strategists say it's a stock picker's market right now — and name their top picks
Stocks have broadly rallied from their 2022 lows this year, but veteran investor Nancy Tengler believes "there's still plenty of places" to find high-quality stocks with rising dividends and reliable earnings growth.
She says investors should be careful about where they put their money to work — a view echoed by several market pros.
— Zavier Ong
Gundlach says the Fed is 'very likely' to hike rates by half point this month
DoubleLine Capital CEO Jeffrey Gundlach said it's "very likely" that the Federal Reserve will raise interest rates by half a percentage point at its next policy meeting.
"We've had a very large increase in short-term interest rates and a further inversion of the yield curve," Gundlach said Tuesday during a DoubleLine investor webcast. "We don't need the Fed. All we need is the 2-year Treasury."
The yield on the 2-year U.S. Treasury note jumped over 12 basis points to top 5% on Tuesday, reaching its highest level since 2007. The sharp move higher followed Fed Chairman Jerome Powell, who said interest rates are "likely to be higher" than previously anticipated.
The so-called bond king said the Fed funds rate has almost perfectly mirrored the 2-year Treasury yield over the years.
"It's now corroborating the idea that the Fed will probably take the Fed funds rate up to 5% at the upcoming meeting," Gundlach said.
— Yun Li
European markets: Here are the opening calls
European markets are heading for a lower open Wednesday as investors reacted to the latest comments from the Federal Reserve's Chairman Jerome Powell indicating interest rates may need to go higher for longer.
The U.K.'s FTSE 100 index is expected to open 22 points lower at 7,890, Germany's DAX 40 points lower at 15,513, France's CAC down 13 points at 7,320 and Italy's FTSE MIB down 95 points at 27,679, according to data from IG.
Data releases include revised euro zone gross domestic product figures for the fourth quarter, while earnings come from Gatwick, Adidas, Continental and Italgas.
— Holly Ellyatt
Source : cnbc