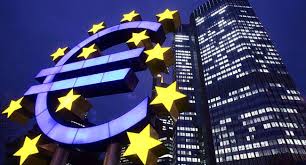 Jenni Reid & Holly Ellyatt
European stock markets opened higher Monday as investors look ahead to a major earnings week on Wall Street that will shed more light on the state of the U.S. economy.
The pan-European Stoxx 600 index was up 0.2% shortly after the open, with most sectors gaining. Mining stocks climbed 1% and industrials were up 0.6%, while tech stocks shed 0.5%.
European markets
| TICKER | COMPANY | PRICE | CHANGE | %CHANGE |
| --- | --- | --- | --- | --- |
| .FTSE | FTSE 100 | 7907.45 | 35.54 | 0.45 |
| .GDAXI | DAX | 15877.52 | 70.02 | 0.44 |
| .FCHI | CAC 40 Index | 7540.29 | 20.68 | 0.28 |
| .FTMIB | FTSE MIB | 27995.15 | 122.91 | 0.44 |
| .IBEX | IBEX 35 Idx | 9380.7 | 17.8 | 0.19 |
The benchmark index climbed 1.74% last week, according to Eikon data, with a boost on Friday coming from banking stocks after U.S. big bank earnings from the likes of JPMorgan Chase and Wells Fargo beat estimates.
U.S. financials continue to be in focus at the start of the week, with Charles Schwab reporting quarterly earnings on Monday, Bank of America on Tuesday and Morgan Stanley on Wednesday. Investors have been keeping a close eye on the banking sector after the collapse of Silicon Valley Bank last month spurred a liquidity crisis.
Attention will also be on China's gross domestic product report on Tuesday.
Wall Street futures ticked higher on Sunday, while Asia-Pacific traded mixed overnight.
Europe stocks open higher
Europe's Stoxx 600 index was up 0.3% early Monday, as it looks for a fifth straight positive session.
Mining stocks jumped 1.8% and oil and gas stocks rose 1%, leading the U.K.'s FTSE 100 0.5% higher.
Germany's DAX was up 0.4% and France's CAC 40 was up 0.3%.
Tech stocks posted the sharpest sector losses, down 0.7%.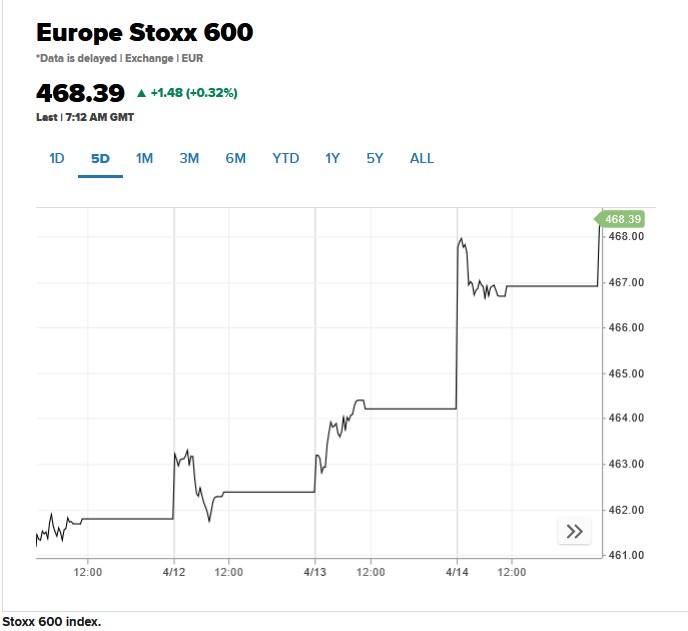 — Jenni Reid
ECB's job on inflation not done, policymakers say
European Central Bank policymakers told CNBC they remain data-dependent regarding future rate hikes but stressed their fight against inflation is not over, with core inflation a particular concern.
The ECB must "carry on and act consistently" with interest rate hikes, governor of the Bank of Finland Olli Rehn told Joumanna Bercetche at the International Monetary Forum's spring meeting in Washington, D.C., last week.
Rehn said he expects the peak rate to be reached over the summer, and it would need to be kept there "at a stable level for a sufficient period of time to see that core inflation is genuinely in a sustained decline."
Boris Vujčić, governor of the Croatian National Bank, said the choice between a 25 basis point and 50 basis point hike at its May 4 meeting would be a "close call.".
— Jenni Reid
CNBC Pro: Analysts love these 15 cheap stocks — and give one 250% upside
Stocks are climbing, and tech stocks in particular have been a bright spot despite the market volatility brought on by the banking crisis, with the Nasdaq up around 16% so far this year — beating the S&P 500 and the Dow Jones Industrial Average.
But investors still have to contend with uncertainty as analysts warn of a recession this year.
But there's opportunity in the chaos, with a number of companies trading at steeper discounts on a price-to-earnings basis than they have in recent history. CNBC Pro screened for such stocks with big upside.
— Weizhen Tan
Chicago Fed President: Latest economic data shows inflation moving in 'right direction,' but there's still ways to go
While the latest batch of economic data shows positive developments on the inflation front, Chicago Federal Reserve President Austan Goolsbee said the central bank's job is not over just yet.
"When you see the producer prices coming in as big negative numbers and you see these negatives on retail sales, you don't want to overreact to short-run news, but it feels like that's moving in the right direction," he said on CNBC's "Squawk Box" Friday to Steve Liesman.
Goolsbee, who succeeded Charles Evans in the president role earlier this year, is a member of the Federal Open Market Committee, which sets the federal funds rate.
— Alex Harring
CNBC Pro: Should investors buy regional bank stocks? A bull and a bear weigh in — and share 3 top picks
U.S. regional banks largely sold off after the collapse of Silicon Valley Bank in March.
Should you buy the dip or steer clear of the uncertainty?
A bull and a bear on U.S. regional banks faced off on CNBC's "Street Signs Asia" on Thursday and shared their stock picks — including one big bank stock and two regional names.
— Weizhen Tan
European markets: Here are the opening calls
European markets are heading for a broadly higher open Monday.
The U.K.'s FTSE 100 index is expected to open 15 points higher at 7,889, Germany's DAX 25 points higher at 15,817, France's CAC up 16 points at 7,526 and Italy's FTSE MIB 47 points higher at 27,401, according to data from IG.
No major earnings are set to be released on Monday. On the data front, preliminary first quarter German gross domestic product data is due.
— Holly Ellyatt
Source : cnbc