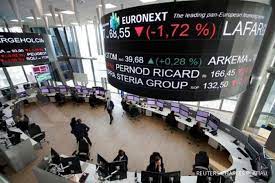 Hannah Ward-Glenton & Holly Ellyatt
European markets were mixed Tuesday, with investors awaiting the start of the U.S. Federal Reserve's latest monetary policy meeting.
The pan-European Stoxx 600 index opened modestly lower, before slipping into marginally positive territory. Oil and gas stocks led losses, with a 1.9% drop, after BP released first-quarter results. Profits were lower than the exceptional levels of 2022, when fossil fuel prices soared in response to Russia's full-scale invasion of Ukraine.
Shares of BP were down 5% as traders digested the report.
European markets
| TICKER | COMPANY | PRICE | CHANGE | %CHANGE |
| --- | --- | --- | --- | --- |
| .FTSE | FTSE 100 | 7866.52 | -4.05 | -0.05 |
| .GDAXI | DAX | 15865.17 | -57.21 | -0.36 |
| .FCHI | CAC 40 Index | 7459.36 | -32.14 | -0.43 |
| .FTMIB | FTSE MIB | 27105.07 | 27.63 | 0.1 |
| .IBEX | IBEX 35 Idx | 9165.8 | -75.2 | -0.81 |
Banking stocks saw a 0.6% uptick, recovering some of the drop experienced at the end of last week.
European traders are also looking ahead to euro zone inflation data expected later in the day.
Members of the Federal Open Market Committee will begin their policy meeting Tuesday, with an announcement on interest rates and a subsequent press conference expected Wednesday. U.S. stock futures were modestly lower Monday night as investors prepared for the Fed's May meeting to kick off.
Asia-Pacific markets were trading mixed on Tuesday as most markets returned after the long Labor Day weekend.
Stocks on the move: BP down 5%, Ams-Osram down 7%
Shares of BP dropped 5% as traders digested the energy giant's latest earnings report. First-quarter profits were better than expected, but failed to match the exceptional levels reached in 2022 as oil and gas prices fluctuated in response to Russia's full-scale invasion of Ukraine.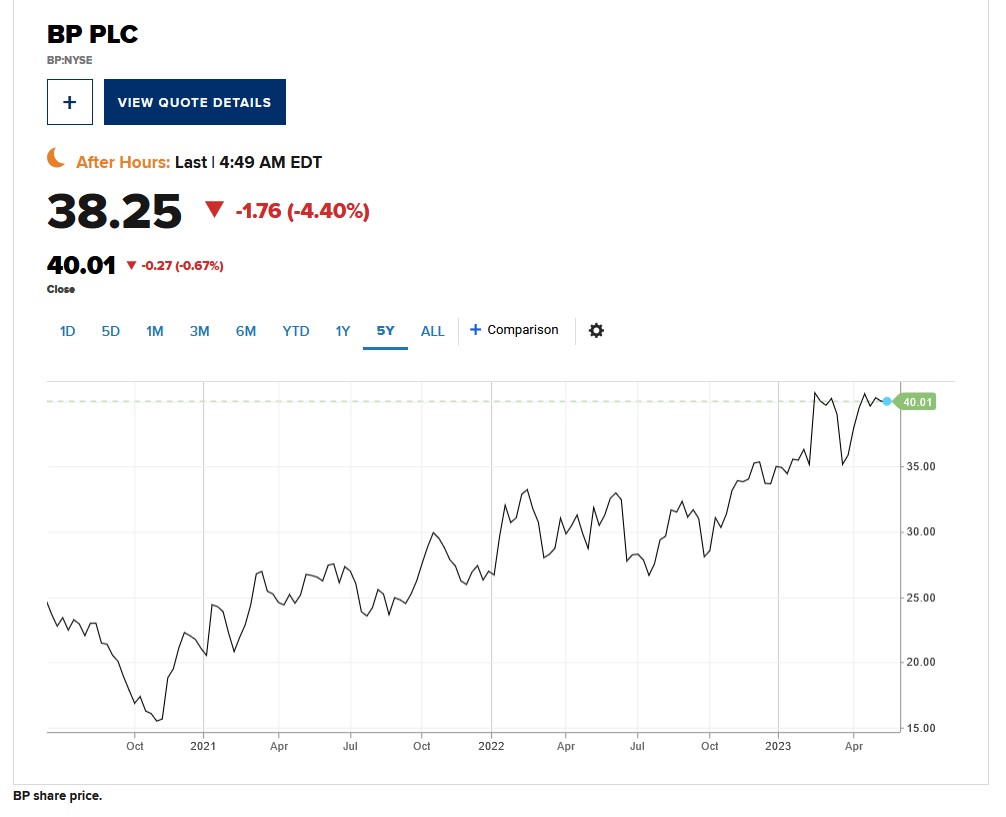 BP share price.
Optical company Ams-Osram fell to the bottom of the Stoxx 600 index after shares dropped by around 7%.
Ams-Osram share price.
The manufacturer published lower first-quarter results and presented a bleak outlook for the second quarter.
— Hannah Ward-Glenton
BP beats first-quarter earnings expectations on strong oil and gas trading
British energy giant BP posted stronger-than-anticipated first-quarter earnings on robust oil and gas trading. Its results rose from the previous three months but were down from the exceptional levels seen throughout a blockbuster 2022.
The oil major posted first-quarter underlying replacement cost profit, used as a proxy for net profit, of $4.96 billion.
That compared with a profit of $4.8 billion in the fourth quarter and $6.2 billion for the first quarter of 2022. Analysts had expected BP to report first-quarter profit of $4.3 billion, according to Refinitiv.
"This has been a quarter of strong performance and strategic delivery as we continue to focus on safe and reliable operations," BP CEO Bernard Looney said.
— Sam Meredith
HSBC reports pre-tax profit jumped to $13 billion in the first quarter
HSBC's pre-tax profit jumped by $8.7 billion to $12.9 billion in the first quarter, the bank said in an earnings release.
The bank said that included a $2.1 billion reversal of an impairment related to a planned sale of its retail banking operations in France and a provisional gain of $1.5 billion on its acquisition of Silicon Valley Bank's U.K. arm.
"We remain focused on continuing to improve our performance and maintaining tight cost discipline, but we also saw an opportunity to invest in SVB UK to accelerate our growth plans," CEO Noel Quinn said in the release, calling Silicon Valley Bank UK a "natural fit" for the bank.
Hong Kong-listed shares of HSBC rose 2.7% Tuesday afternoon.
– Jihye Lee
CNBC Pro: Analyst Mark Mahaney shares his top two tech stock picks, giving one 152% upside
While other markets have been volatile this year, tech has rallied — the Nasdaq is up 16% in the year to date.
Top tech analyst Mark Mahaney of Evercore ISI is giving one tech stock further upside of almost 50%, saying it has a "super attractive" valuation.
He gave his No. 2 pick further upside of 152%.
CNBC Pro subscribers can read more here.
— Weizhen Tan
ARM's IPO filing raises speculation about buyout of SoftBank
SoftBank's chipmaker Arm confidentially filed for a U.S. stock market listing, rekindling speculation about a management buyout of SoftBank, Nikkei reported.
The report added that SoftBank Group raised billions of dollars using its shareholdings, including its stake in Alibaba as collateral – and that the Japanese firm could use shares of Arm instead, which would enable a renewed investment push by the Vision Fund.
Nikkei also reported that SoftBank could go private if it sells about half of its stock portfolio, and a high valuation for Arm would further widen the gap between SoftBank Group's valuation and that of its assets, making a buyout look that much more likely.
Shares of SoftBank rose 0.7% on Tuesday's morning session in Tokyo.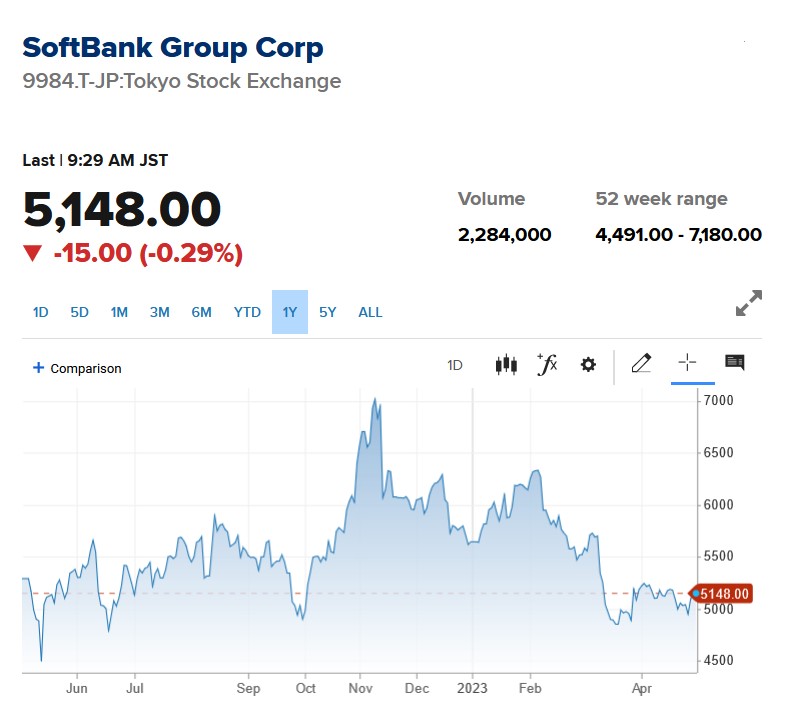 – Jihye Lee
Dimon calls 'this part of the crisis' over after JPMorgan acquires First Republic
JPMorgan Chase CEO Jamie Dimon views the crisis that contributed to the collapse of three banks in recent weeks as largely over after the banking giant acquired First Republic.
"There may be another smaller one, but this pretty much resolves them all," he said during a call with analysts after the deal was announced. "This part of the crisis is over."
The comments from Dimon come after the Federal Deposit Insurance Corporation took over the bank that's fallen victim to deposit flight in recent weeks in the wake of Silicon Valley Banks' collapse. JPMorgan will acquire most of the embattled company's assets and assume control of its deposits.
— Hugh Son, Samantha Subin
European markets: Here are the opening calls
European markets are heading for a mixed open Tuesday ahead of the U.S. Federal Reserve's monetary policy meeting.
The U.K.'s FTSE 100 index is expected to open 4 points higher at 7,873, Germany's DAX 12 points lower at 15,930, France's CAC up 4 points at 7,484 and Italy's FTSE MIB 33 points lower at 26,898, according to data from IG.
Earnings are set to come from BP and HSBC. On the data front, preliminary inflation data for the euro zone in April is due.
— Holly Ellyatt
Source : cnbc