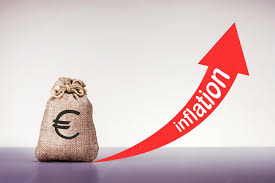 Jenni Reid & Holly Ellyatt
European stock markets fell early Thursday, with investors focused on the release of preliminary euro zone inflation data for February.
The pan-European Stoxx 600 index was down 0.6% before trimming losses to 0.1% by 9:00 a.m. London time, with most sectors posting declines. Travel stocks fell 1.7% while tech was down 1.2% and construction stocks managed a 0.5% gain.
European markets
| TICKER | COMPANY | PRICE | CHANGE | %CHANGE |
| --- | --- | --- | --- | --- |
| .FTSE | FTSE 100 | 7891.09 | -23.84 | -0.3 |
| .GDAXI | DAX | 15231.51 | -73.51 | -0.48 |
| .FCHI | CAC 40 Index | 7203.23 | -31.02 | -0.43 |
| .FTMIB | FTSE MIB | 27224.84 | -90.24 | -0.33 |
| .IBEX | IBEX 35 Idx | 9285.1 | -37.8 | -0.41 |
Regional markets closed lower Wednesday, with economic data released this week giving investors pause for thought. On Tuesday, data showed inflation in France and Spain accelerated unexpectedly in February.
A German flash estimate put the inflation rate harmonized with the rest of the EU at 9.3% in February, which would be an increase from 9.2% in January.
Asia-Pacific stock markets were mostly lower, with concerns over further Federal Reserve rate hikes back in focus following Wednesday's boost from strong a Chinese manufacturing Purchasing managers' index reading.
Europe markets open lower
Europe's Stoxx 600 index dropped 0.62% in early trade as investors braced themselves for the release of euro zone inflation data at 10:00 a.m. London time.
It follows inflation figures from France, Spain and Germany all coming in hotter than expected for February and showing increases on the previous month.
Germany's DAX was down 0.8%, France's CAC 40 down 0.7% and the U.K.'s FTSE 100 down 0.25%.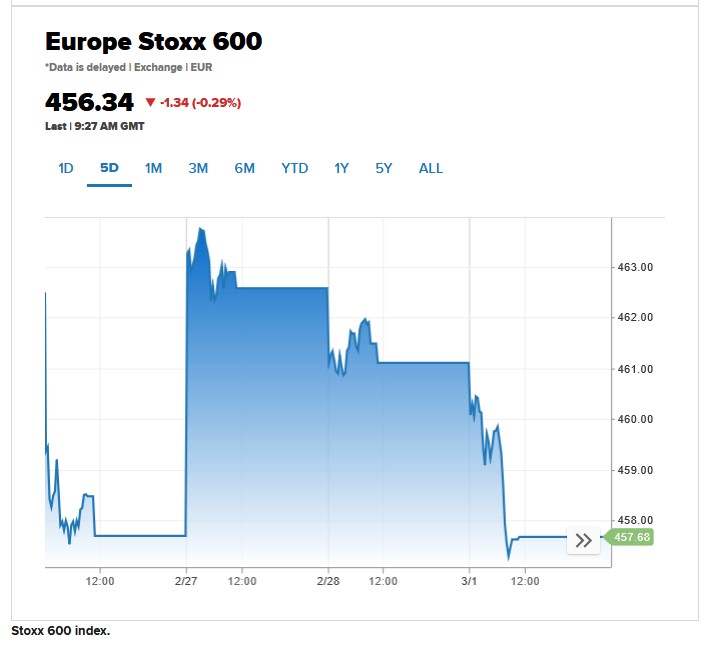 — Jenni Reid
CNBC Pro: Looking for higher yields? These short-term bond ETFs come out on top
The surge in Treasury yields is taking markets by storm, and investors are now looking to bonds for yield — particularly short-term ones.
Want to cash in on funds with the highest yields? CNBC Pro screened for top-rated, ultra-short term bond funds and ETFs using Morningstar data.
— Weizhen Tan
Slowing growth is still a significant downside risk to stocks, Morgan Stanley says
Andrew Sheets, chief cross-asset strategist at Morgan Stanley, discusses recent economic data out of the U.K., Europe and the U.S., and the potential risks to stock markets.
CNBC Pro: Is the traditional 60/40 portfolio dead? Morgan Stanley's Jim Caron has a theory about that
The 60/40 model, in which investors put 60% of their money in stocks and 40% in bonds, was once the linchpin of a typical investment portfolio. Morgan Stanley's Jim Caron tells CNBC if he's still convinced now that rates are higher for longer.
— Zavier Ong
German inflation higher than expected in February
German inflation is expected to have risen to 8.7% in February, according to the German Federal Statistics Office.
The rate would sit 0.8% higher than in January, according to the preliminary data.
February's EU-harmonized rate for consumer prices increased to 9.3% year-on-year, above the 9% forecast by economists polled by Reuters. Harmonized inflation was at 9.2% in January.
The rate remains well above the European Central Bank's 2% target and follows the hotter-than-expected February inflation figures from France and Spain.
"It seems to be the case that inflation is very stubborn, so it looks like that inflation will remain on a very high level," Joachim Nagel, President of Deutsche Bundesbank told CNBC's Annette Weisbach Wednesday.
The pan-European Stoxx 600 index eased slightly on the announcement, but was flat by 1.30 p.m. London time.
— Hannah Ward-Glenton
European markets: Here are the opening calls
European markets are heading for a slightly higher open Thursday as investors reflect on the latest economic data from the region.
The U.K.'s FTSE 100 index is expected to open 14 points higher at 7,907, Germany's DAX 3 points higher at 15,290, France's CAC up 5 points at 7,232 and Italy's FTSE MIB up 16 points at 27,355, according to data from IG.
Earnings are set to come from London Stock Exchange, Metro Bank, Taylor WImpey and Anheuser-Busch InBev and data releases are focused on flash inflation figures for the euro zone for February.
— Holly Ellyatt
Source : cnbc