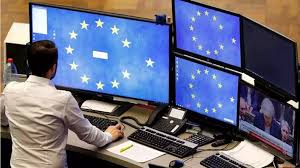 Hannah Ward-Glenton & Elliot Smith
European markets were lower Friday as investors assess the economic outlook and the potential for further monetary policy tightening from the U.S. Federal Reserve.
The pan-European Stoxx 600 index was down 0.6%. Most sectors and major bourses were in the red, with retail stocks leading losses, down 2%.
The index closed higher on Thursday with the economic outlook and corporate earnings high on the agenda.
European markets
| TICKER | COMPANY | PRICE | CHANGE | %CHANGE |
| --- | --- | --- | --- | --- |
| .FTSE | FTSE 100 | 7885.78 | -25.37 | -0.32 |
| .GDAXI | DAX | 15382.41 | -141.01 | -0.91 |
| .FCHI | CAC 40 Index | 7148.05 | -40.31 | -0.56 |
| .FTMIB | FTSE MIB | 27439.22 | -64.53 | -0.23 |
| .IBEX | IBEX 35 Idx | 9164 | -79.5 | -0.86 |
U.K. preliminary fourth-quarter GDP figures on Friday morning showed that the economy flatlined in the fourth quarter to narrowly avoid recession, in line with consensus forecasts. The Bank of England last week projected that the country would enter a shallow but lengthy recession in the first quarter of 2023.
Fed Chair Jerome Powell said earlier this week that although U.S. inflation is easing, rates could still rise, while several Fed speakers reiterated that the hiking cycle could have further to run.
Fed Governor Christopher Waller and Philadelphia Fed President Patrick Harker are both slated to speak on Friday afternoon, Eastern time, and investors will be listening for clues as to the central bank's policy trajectory.
Stocks on the move: Thule down 15%, Saab up 9%
Shares of Thule Group dropped 15% following the company's fourth-quarter earnings report.
The outdoor equipment conglomerate's net sales dropped 21% in the last quarter, when adjusted for exchange rate fluctuations, while net income amounted to a loss of 16 million Swedish krona ($1.6 million).
The group also announced Mattias Ankarberg would take over as president and CEO no later than Aug. 9.
Saab reported a strong operating profit for the fourth quarter, prompting shares to increase by 9% in early trading.
The Swedish defense company's earnings have been bolstered by the ongoing war in Ukraine encouraging countries to ramp up military spending. Sales increased 16% from the previous quarter while operating income increased 22% to 1.3 billion Swedish krona.
— Hannah Ward-Glenton
Breaking: UK economy flatlines in fourth quarter, narrowly avoiding recession
The U.K. economy posted zero growth for the fourth quarter of 2023, according to preliminary figures from the Office for National Statistics.
In December, however, gross domestic product shrank by a larger-than-expected 0.5% month on month after two months of unexpected growth.
The Bank of England last week forecast that the British economy would enter a shallow five-quarter recession in the first quarter of 2023.
"While the numbers may appear positive for now, overall the economy is flatlining and it is difficult to see that changing in the short-term," said Richard Carter, head of fixed interest research at Quilter Cheviot.
"We are still likely to be in a recession at some point during 2023 – which is still expected to be long and shallow – so these figures do not provide a huge amount of comfort."
— Elliot Smith
Here are the opening calls
Britain's FTSE 100 is set to slip around 23 points lower to 7,888, Germany's DAX is seen around 105 points lower at 15,418 and France's CAC 40 is expected to shed around 23 points to 7,163.
CNBC Pro: Morgan Stanley says EU and U.S. subsidies to boost this global green hydrogen stock that is up 35% this year already
Morgan Stanley has said shares of a green hydrogen producer are expected to rise thanks to the latest set of green subsidies in both the U.S. and Europe.
The investment bank said the company would benefit as green hydrogen is set to become a "key beneficiary" of cleantech stimulus plans on both sides of the Atlantic.
The push for green energy has gained fresh impetus after the U.S. unveiled its $365 billion subsidy program through the Inflation Reduction Act last year. In response, the European Union announced its Green Deal Industrial Plan earlier this year.
— Ganesh Rao
CNBC Pro: Emerging markets are getting attention. Morgan Stanley names the 'highest quality' stocks to play it
Emerging markets could be a big winner for investors this year, according to Wall Street analysts. CNBC Pro takes a look at eight of Morgan Stanley's top picks.
— Zavier Ong
Source : cnbc