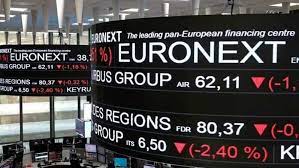 Jenni Reid
European markets were higher Friday, as investors chew over data releases and more company earnings.
The pan-European Stoxx 600 index was up 0.35% in early trade, with nearly all sectors in the green. Energy stocks led gains, adding 0.9%.
European markets
| TICKER | COMPANY | PRICE | CHANGE | %CHANGE |
| --- | --- | --- | --- | --- |
| .FTSE | FTSE 100 | 7935.56 | 27.84 | 0.35 |
| .GDAXI | DAX | 15503.15 | 27.46 | 0.18 |
| .FCHI | CAC 40 Index | 7342.02 | 24.59 | 0.34 |
| .FTMIB | FTSE MIB | 27397.09 | 119.47 | 0.44 |
| .IBEX | IBEX 35 Idx | 9310.7 | 79.1 | 0.86 |
Figures published in the morning showed the German economy contracted by 0.4% in the fourth quarter last year, with a previous flash estimate showing a 0.2% decline.
A survey found British consumers have turned slightly more optimistic on their personal finances and the economic outlook. French consumer confidence data is also due.
Releases later in the day will include U.S. data on personal income, new home sales and consumer spending.
This week, investors have been digesting a slew of corporate earnings as well as minutes from the Federal Reserve's latest meeting, which stated that recent signs of inflation coming down did not offset the need for more interest rate increases.
On Thursday, a massive earnings beat by Rolls-Royce propelled shares of the British engine-maker 22% higher. There were also positive signs from the likes of hotel group Accor, which hailed the return of travel in most of its markets to 2019 levels.
However, many companies have also struck a note of caution over uncertainty ahead.
Meanwhile, fears of continued interest hikes with no cutting by central banks continue to loom, thanks to persistent inflation and signs that economies are proving resilient as labor markets remain tight. A poll of equity analysts published by Reuters on Thursday suggested global stock markets will continue to be volatile as market interest rate pricing moves higher.
Asia-Pacific markets were mixed on Friday, with Chinese and Hong Kong indexes falling but Japan's Nikkei 225 climbing.
Incoming Bank of Japan Governor Kazuo Ueda said in a confirmation hearing that despite side effects such as the sharply weaker yen, the country's ultra-loose monetary policy was a "necessary, appropriate means to achieve 2% inflation."
U.S. stock futures were flat overnight after snapping their four-session losing streak Thursday.
Stocks on the move: Elekta up 9%, BASF down 5.5%
Swedish medical company Elekta led stocks in morning trade, up 9.1% after its third-quarter results showed higher sales and profits.
Compagnie de Saint-Gobain and Rolls-Royce also continued to gain after beating analyst expectations in results yesterday.
At the bottom of European stocks, chemicals giant BASF slid 5.5% on an announcement that it will cut 2,600 jobs and halt share buybacks amid earnings declines.
— Jenni Reid
European markets open higher
European markets had a solid start to Friday, with the Stoxx 600 index up 0.4% shortly after the open.
France's CAC 40 was up 0.6% as Germany's DAX and the U.K.'s FTSE 100 both added around 0.3%. Construction stocks led sector gains, up 0.9%.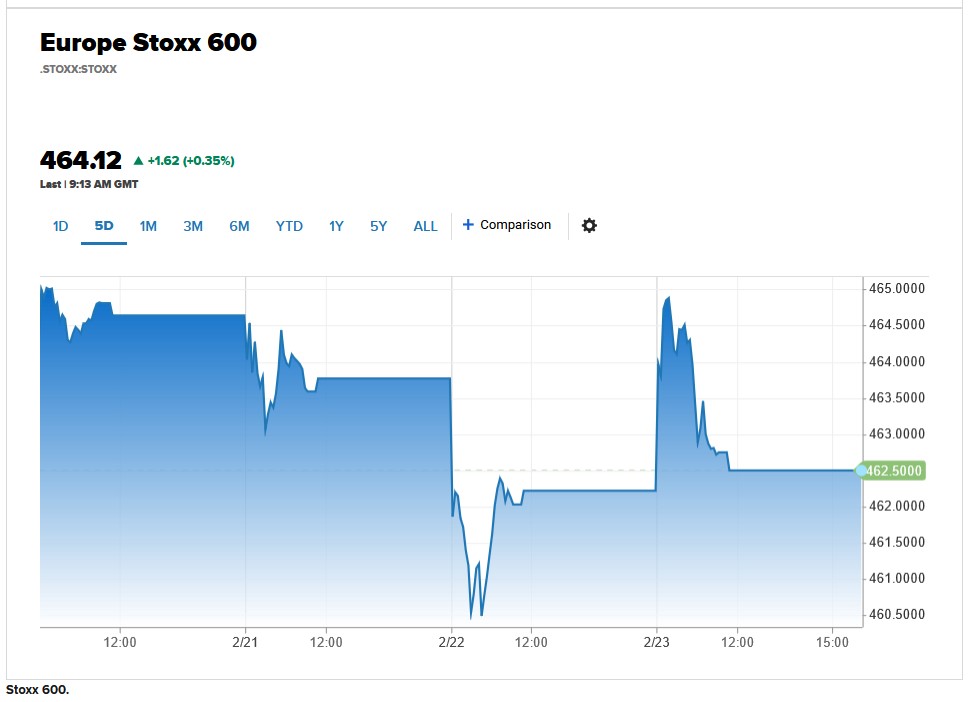 — Jenni Reid
Europe markets set to open higher
European markets were seen opening slightly higher Friday.
The FTSE 100 was due to gain 15 points, France's CAC 40 to gain 29.7 points, Germany's DAX to gain 28 points and Italy's MIB to gain 142.5 points.
After struggling earlier in the week, the Stoxx 600 index closed 0.1% higher on Thursday.
— Jenni Reid
'Without a doubt our favorite mega cap': Investor names the stock to buy for the next 10 years
Mark Hawtin, investment director at Zurich-based GAM Investments, said one Big Tech company's dominant position and critical role in the enterprise software ecosystem make it ideal to own through a downturn in the global economy.
— Ganesh Rao
Asia tech is back, Bernstein says, naming Alibaba and 5 more top picks
China's reopening is seen as a major tailwind for stock markets this year, and Bernstein has shared a list of stock picks to cash in — which it says also provide downside protection.
"We collaborate with our sector analysts to highlight 30 stocks which look well positioned to capture the China reopening tailwind, benefit from risk-on sentiment while not losing sight of the looming global recession risk," Bernstein's analysts, led by Jay Huang, wrote in a note on Feb. 20.
The bank said it favors "laggards" —beaten down stocks of last year — as providing the "best exposure" this quarter in Asia. But it also urged investors to have some "defensive exposure" by holding high-yielding stocks to protect the downside in the event the market turns more risk-off.
— Zavier Ong
Source : cnbc