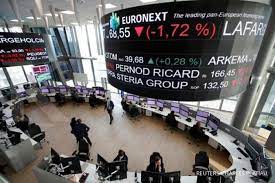 Hannah Ward-Glenton
European markets were higher Thursday after a record day for the U.K. FTSE 100 on Wednesday.
The pan-European Stoxx 600 index was up 0.4% early morning with most major bourses and sectors trading in the positive. Media stocks led gains with a 1.5% increase, followed by a 1.3% increase in telecoms.
European markets
| TICKER | COMPANY | PRICE | CHANGE | %CHANGE |
| --- | --- | --- | --- | --- |
| .FTSE | FTSE 100 | 8016.04 | 18.21 | 0.23 |
| .GDAXI | DAX | 15582.3 | 75.96 | 0.49 |
| .FCHI | CAC 40 Index | 7356.11 | 55.25 | 0.76 |
| .FTMIB | FTSE MIB | 27672.2 | 138.51 | 0.5 |
| .IBEX | IBEX 35 Idx | 9329.8 | 35 | 0.38 |
The FTSE 100 surpassed the 8,000 points threshold for the first time Wednesday and closed 0.55% higher, despite global markets seeing a decline.
U.K. CPI data published Wednesday put inflation for January at 10.1%, the third consecutive monthly dip. Reuters economists had expected the rate to fall to 10.3%.
Across the Atlantic U.S. inflation grew slightly more than anticipated Tuesday, which pushed Asia-Pacific markets lower.
6 Min Ago
Standard Chartered 'absolutely not' for sale, bank CEO says
Standard Chartered is "absolutely not" for sale according to the bank's CEO.
Bill Winters told CNBC's Geoff Cutmore Thursday that a potential sale is not what the company is focused on.
Standard Chartered CEO says the bank has not engaged with prospective bidders
"On the right terms, somebody wants to come and thinks that they can so something, I would encourage engagement rather than … speculation through the press," he said on CNBC's "Squawk Box Europe."
The comments come after First Abu Dhabi Bank said Friday that it was not evaluating an offer for Standard Chartered.
— Hannah Ward-Glenton
Centrica up 6% after extending buyback program
Shares of Centrica were up 6% in early trade after the British energy company announced it was extending its share buyback program by £300 million ($361 million).
The company's annual profit more than tripled as energy prices soared and gas production levels were hiked against a backdrop of higher commodity prices.
Centrica also owns a 20% stake in Britain's nuclear fleet, which boosted production and profited from higher electricity prices.
The results reflected the bumper oil earnings reported by the likes of BP and Shell.
The £300 million buyback program comes on top of the £250 million worth of buybacks already announced. The buybacks now amount to around 10% of Centrica's capital, according to the company.
— Hannah Ward-Glenton
4 Hours Ago
Standard Chartered shares jump as it raises forecast, announces $1 billion share buyback
Hong Kong-listed shares of Standard Chartered rose nearly 4% shortly after the firm raised its forecasts and announced a $1 billion share buyback in its fourth quarter results.
The bank saw a 28% jump in profits for the fourth quarter of 2022 and 18% for the full-year of 2022, the release said.
"We expect most of the markets in which we operate to continue their recent momentum with GDP growth in the Asian economies at above 5% over the next two years being pivotal to progressive global recovery," the company said in its earnings statement.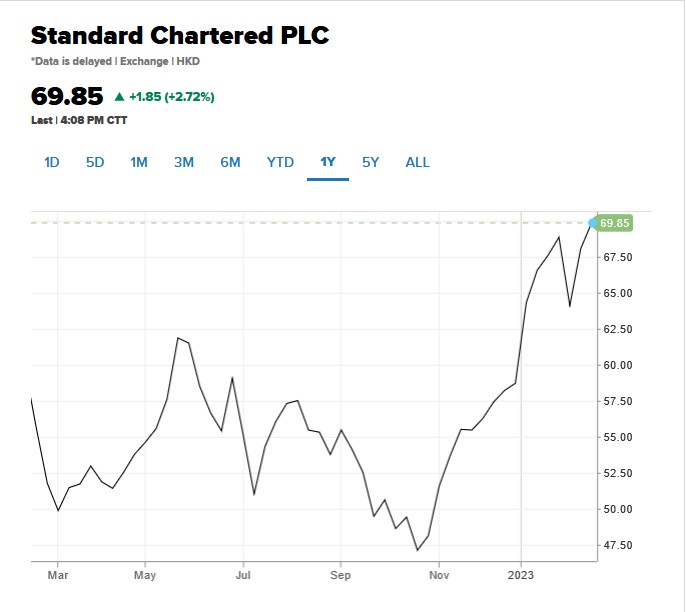 – Jihye Lee
We could be in the 'early innings of a bull market,' investor Victoria Greene says
There could be some strength in this stock rally, according to Victoria Greene, chief investment officer at G Squared Private Wealth.
"It's ignoring the bond market, it's ignoring the Fed, it's ignoring fundamentals and it's ignoring some of the economic data. All it's focused on is rising on technicals," Greene said Wednesday on CNBC's "Closing Bell: Overtime."
"And this does happen — early innings of a bull market, you always see the market run without any fundamental reason why," she continued.
The investor made her remarks following a positive day for the major averages. Traders shook off a stronger-than-expected January retail sales report that could point to further tightening from the Federal Reserve. According to Greene, that suggests the rally "does have some legs."
"The Fed is saying that they're going to be hawkish, but the technicals are saying this rally is in, and I really don't think we're going to retest those October lows anymore, because we've hit some really important technical supports," Greene said.
— Sarah Min
Japan trade deficit widens to almost $26 billion in January
Japan's trade deficit has expanded to 3.5 trillion yen ($26 billion) for January, widening by 59% compared to the 2.2 trillion recorded in the same period a year ago, government data showed.
On an annualized basis, exports rose 3.5% higher at 6.55 trillion yen, while imports surged 17.8% to just over $10 trillion .
Following the announcement, the Japanese yen strengthened slightly against the US dollar, trading at 133.84.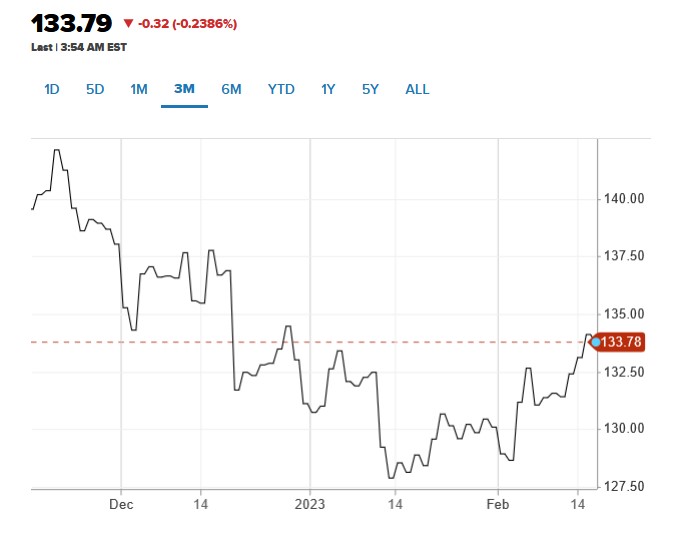 — Lim Hui Jie
Stock futures open flat
U.S. stock futures were little changed on Wednesday night after strong retail sales data suggested a resilient U.S. economy.
Dow Jones Industrial Average futures fell by 24 points, or 0.07%. S&P 500 futures dipped 0.03%, and Nasdaq 100 futures climbed 0.06%, respectively.
— Sarah Min
Here are the opening calls
European markets are expected to open higher across the board Thursday, according to IG data. The U.K.'s FTSE 100 is set to be up 19 points to 8,020, France's CAC will gain 26 points to 7,336, Germany's DAX will be up 61 points to hit 15,579, and Italy's MIB will gain 102 points to 27,671.
— Hannah Ward-Glenton
Source : cnbc