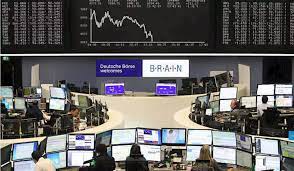 Holly Ellyatt
European markets are expected to open higher as global investors gear up for the December reading of U.S. consumer prices on Thursday.
U.S. stock futures were little changed in overnight trading Wednesday and Asia-Pacific shares were mixed as investors awaited the key inflation report to gauge the outlook for the U.S. Federal Reserve's rate-hiking campaign.
Economists expect the U.S. consumer price index to dip 0.1% for December but rise 6.5% year over year, compared with a 0.1% monthly gain in November and an annual pace of 7.1%, according to Dow Jones. The CPI is well off the 9.1% peak rate in June.
China's consumer price index rises 1.8% in December
Inflation in China accelerated 1.8% in December compared with a year ago as food prices rose, data from the National Bureau of Statistics showed.
"The prices of fresh vegetables and fresh fruits rose by 7.0% and 4.7%, respectively," the report said.
The CPI figure was in line with Reuters' expectations and higher than the previous month's reading of 1.6%.
The reading was also flat with November's, improving from a 0.2% decline.
China's producer price index dipped 0.7% in December versus last year, worse than expectations of a 0.1% drop.
— Lee Ying Shan
CNBC Pro: Morgan Stanley names its 'top pick' in Chinese tech — and gives it over 70% upside
China's tech sector has come under pressure in recent years, thanks to a regulatory crackdown and the fallout from the country's zero-Covid policy.
But Wall Street is giving Chinese tech stocks some love again, and Morgan Stanley has named its "top pick" in the sector.
— Zavier Ong
CNBC Pro: Morgan Stanley says these 3 firms take sustainability seriously — and have upside
As investments in sustainability take off, companies, too, are increasingly adopting sustainable practices.
Morgan Stanley has three European stock picks to help sustainability-focused investors. Those companies not only have solid ESG credentials, but also financial performance to boot.
— Zavier Ong
Stocks close higher as investors gear up for Thursday's inflation reading
Stocks finished higher Wednesday as investors optimistically positioned ahead of Thursday's CPI report.
The Nasdaq Composite gained 1.8%, notching a four-day streak. A rally with that length has not been seen in the tech-heavy index since September.
The Dow ended up more than 260 points, or 0.8%.
The S&P 500 added 1.3%. All 11 of the broad index's sectors ended the day up, led by real estate with a 3.6% gain.
— Alex Harring
European markets: Here are the opening calls
European markets are heading for a higher open Thursday as investors gear up for U.S. consumer price data for December.
The U.K.'s FTSE 100 index is expected to open 21 points higher at 7,746, Germany's DAX 37 points higher at 14,985, France's CAC up 22 points at 6,946 and Italy's FTSE MIB up 36 points at 25,583, according to data from IG.
Earnings are set to come from Tesco, Marks & Spencer, ASOS and Persimmon. There are no major data releases in Europe.
— Holly Ellyatt
Source : cnbc