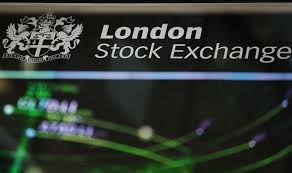 Holly Ellyatt
European markets are heading for a higher open as investors gear up for more inflation data this week, with U.S. consumer price data for December due Thursday.
U.S. Federal Reserve Chairman Jerome Powell on Tuesday emphasized the need for the central bank to be free of political influence while it tackles persistently high inflation.
In a speech delivered to Sweden's Riksbank, Powell noted that stabilizing prices requires making tough decisions that can be politically unpopular. The speech did not contain any direct clues about where policy is headed for a Fed that raised interest rates seven times in 2022, and has indicated that more increases are likely this year.
CNBC Pro: This global ETF is the only fund that's posted gains every year for the past decade
The only stock ETF to have had a positive return every year over the past decade has been revealed by CNBC Pro.
It is the sole fund of almost 7,000 equities ETFs worldwide screened by CNBC Pro not to have a single year of negative returns between Jan. 1, 2013, and Dec. 31, 2022.
It has also offered investors a 14% compounded annual growth rate over the same period, which is significantly more than broader index tracking funds, according to Koyfin data.
— Ganesh Rao
Cryptocurrencies trade higher even as Coinbase announce layoffs
Cryptocurrencies inched higher after crypto company Coinbase announced plans to trim 20% of its workforce as it looks to preserve cash during the crypto market downturn.
Bitcoin last traded higher by 1.55% at $17,459.63 according to Coin Metrics. Ether gained 1% to $1,337.85.
Other digital coins like Cronos and Cardano also advanced gains.
CEO Brian Armstrong said there was "no way" to reduce expenses and increase its chances of "doing well in every scenario" without reducing head count.
—Lee Ying Shan, Kate Rooney
CNBC Pro: 'An expensive mistake: Citi says stop hoarding cash — and reveals two areas to invest in
Investors endured a tough 2022, as stocks and bonds fell amid broader market turmoil.
While many sought refuge in the relative safety of cash, Citi says it's now time to put it to work and named two ways to deploy it for higher returns.
— Zavier Ong
Coinbase to layoff 20% of workforce
Coinbase's stock gained 6% after the crypto exchange operator announced plans to slash 20% of its workforce in an attempt to trim costs.
The layoffs will impact 950 jobs and marks the second round of cuts from the company in recent months. Coinbase laid off 18% of its workforce in June in preparation for a potential recession and crypto winter, saying that it had grown "too quickly" during the bull market.
Crypto markets have come under pressure following the collapse of FTX, one of the industry's largest operators.
Coinbase said the new round of layoffs will bring down its operating expenses by 25% for the quarter ending in March, according to a new regulatory filing.
— Kate Rooney, Samantha Subin
European markets: Here are the opening calls
European markets are heading for a higher open as investors gear up for more inflation data later this week, with U.S. consumer price data for December due Thursday.
The U.K.'s FTSE 100 index is expected to open 26 points higher at 7,720, Germany's DAX 73 points higher at 14,848, France's CAC up 29 points at 6,898 and Italy's FTSE MIB up 109 points at 25,474, according to data from IG.
Data releases will include Russian inflation data for December and earnings from British supermarket Sainsbury's.
— Holly Ellyatt
Source : cnbc