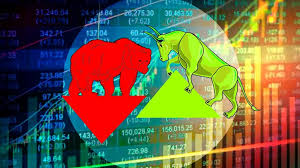 Holly Ellyatt
European markets are heading for a mixed open Wednesday as investors continue to assess inflation, interest rates and the health of the global economy.
Asia-Pacific markets were mixed overnight as investors digested China's industrial data and Australia's inflation figures. U.S. stock futures traded near the flatline Tuesday night. 
All three major U.S. indexes saw a sell-off Tuesday after the latest home sales and consumer confidence reports missed expectations, stoking concern over the state of the U.S. economy.
CNBC Pro: This cutting-edge British chip designer's shares are set to soar over 100%, says Jefferies
Shares of a British chip designer are set to soar by over 100% over the next 12 months, according to Jefferies
The investment bank believes the company is designing chips for American Big Tech firms, which is expected to increase its profit margins.
The chip stock is also seen as "one of the key potential beneficiaries" of the growing trend in artificial intelligence applications.
— Ganesh Rao
CNBC Pro: 'I believe in the sector': Investing in K-pop? Bernstein is a fan of this stock
K-pop is a music phenomenon that stretches far beyond South Korea — and for investors wanting to cash in, there are just a few major agencies behind its more than 300 groups.
Bokyung Suh, director and senior research analyst at Bernstein, is bullish on one of them in particular and shares a key reason behind his outperform rating on the stock.
— Lim Hui Jie
CNBC Pro: Forget India: One portfolio manager bucks the trend, says another market offers 'great value'
India's growth prospects have seen many investors and big-name banks turn bullish on the country, but portfolio manager Kamil Dimmich says he's steering clear.
"We are probably in the minority in here [and] we don't mind being in the minority," Dimmich from North of South Capital told CNBC Pro Talks last week.
Instead, he revealed an emerging market he says offers "great value," with two of his favorite stocks.
— Amala Balakrishner
European markets: Here are the opening calls
European markets are expected to open in mixed territory Wednesday.
The U.K.'s FTSE 100 index is expected to open 15 points lower at 7,613, Germany's DAX down 17 points at 15,234, France's CAC up 1 point at 7,072 and Italy's FTSE MIB down 34 points at 28,072, according to data from IG. 
Data releases include Russian industrial output, unemployment and retail sales for August, French consumer confidence figures for September and Swedish consumer confidence for the same month.
— Holly Ellyatt
Source : cnbc