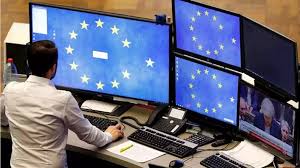 Holly Ellyatt
uropean markets are heading for a lukewarm open Wednesday, with European stocks expected to be in mixed territory.
That comes despite buoyant trade in Asia-Pacific markets overnight and on Wall Street Tuesday, where U.S. bank stocks rebounded on optimism that the contagion risk from Silicon Valley Bank's collapse was contained. U.S. stock futures were flat early Wednesday morning.
The U.K. is gearing up for Chancellor Jeremy Hunt's "Spring Budget" today in which he's expected to announce key pension and child-care reforms as the country continues to battle a cost of living crisis.
CNBC Pro: UBS says buy these 4 stocks if U.S.-China geopolitical fears continue to rise
UBS has named a number of Chinese stocks it says have remained "resilient" during periods of heightened geopolitical tensions between the United States and China.
In a note to clients on March 13, the Swiss bank said that more market volatility is expected when a potential U.S. ban on investment in some Chinese sectors is announced.
— Ganesh Rao
China's industrial output, retail sales rise in January to February period
China's industrial output rose 2.4% in the January to February period, official data showed.
Retail sales rose 3.55% for the same period, in line with expectations.
China's fixed asset investment in the first two months of the year saw a rise of 5.5%, higher than expectations from economists polled by Reuters that predicted to see growth of 4.4%.
China's onshore yuan weakened after the data was released and traded at 6.8822 against the U.S. dollar.
The People's Bank of China kept the rate on 481 billion yuan of one-year medium-term lending facility loans at 2.75%.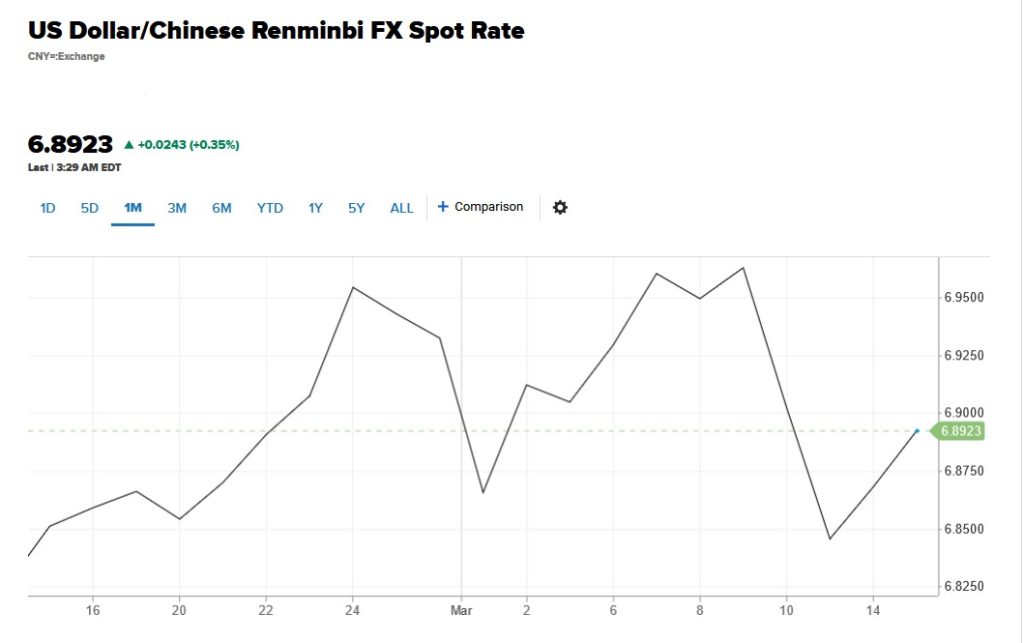 – Jihye Lee
CNBC Pro: 'Chaos creates opportunities': Strategist says to look beyond the SVB fallout — and names his top picks
Worried about contagion from the collapse of Silicon Valley Bank? Veteran strategist Kenny Polcari believes the impact from SVB's failure will be fairly limited.
While investors are mostly shunning the banking sector in the short term, Polcari sees "some very interesting opportunities" in the space, as well as in other segments of the market.
— Zavier Ong
CNBC Pro: As markets turn rocky, these global stocks look resilient and are expected to rally
Markets have had a rocky March so far, as inflation fears returned and the collapse of Silicon Valley Bank sent investors into a risk-off mode.
Against this backdrop, CNBC Pro used FactSet to screen for stocks on the MSCI World index and S&P 500 that look well positioned to withstand the volatility and are expected to do well looking ahead.
— Weizhen Tan
Moody's cuts outlook to negative on U.S. banking system
Moody's Investors Service moved its view on the U.S. banking system to negative from stable on Monday, citing a "rapidly deteriorating operating environment."
The move comes as the sectors reels following the closure of Silicon Valley Bank and Signature Bank. Banking stocks have mounted a comeback Tuesday after sliding over the past few sessions as concerns of contagion from the closures swirled.
"We have changed to negative from stable our outlook on the US banking system to reflect the rapid deterioration in the operating environment following deposit runs at Silicon Valley Bank (SVB), Silvergate Bank, and Signature Bank (SNY) and the failures of SVB and SNY," Moody's said in a report.
— Alex Harring, Jeff Cox
U.S. inflation data comes in line with expectations
The consumer price index rose 0.4% in February from the prior month, matching a Dow Jones estimate. The year-over-year increase of 6% was also in line with expectations.
— Fred Imbert
European markets: Here are the opening calls
European markets are heading for a mixed open Wednesday.
The U.K.'s FTSE 100 index is expected to open 7 points higher at 7,636, Germany's DAX 21 points higher at 15,242, France's CAC up 6 points at 7,144 and Italy's FTSE MIB down 20 points at 26,312, according to data from IG.
Earnings are set to come from Prudential, Balfour Beatty, Lanxess, E.On, Inditex and H&M. On the data front, euro zone industrial production figures for January are set to be released.
— Holly Ellyatt
Source : cnbc