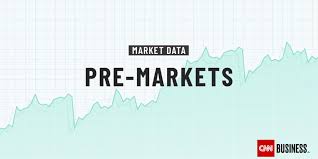 Holly Ellyatt
European markets are heading for a lower open Thursday as investors digested more comments from U.S. Federal Reserve Chairman Jerome Powell.
Powell reiterated his warning message to lawmakers that the central bank may raise interest rates higher than previously anticipated. However, he said he hasn't made up his mind about what the central bank will do regarding interest rates when it meets later in March.
U.S. stock futures were flat on Wednesday night, while Asia-Pacific shares were mixed on Thursday as the Bank of Japan kicked off its two-day monetary policy meeting, with investors looking out for any policy changes that could accompany BOJ governor Haruhiko Kuroda's final meeting.
CNBC Pro: Bonds yields are soaring. But this strategist says she's still a fan of these 'compelling' stocks
Higher bond yields are usually bad news for stock investors. But that's not the case for these stocks, given their innovative business models, strategist Amy Kong says.
"We continue to be constructive on stocks relative to bonds and cash but recognize risks have escalated," Kong, who is chief investment officer at CI Barrett Private Wealth, told CNBC's "Street Signs Asia" on Wednesday.
— Zavier Ong
China's consumer inflation eases in February
China's consumer price index for February came in at 1% year on year, coming off from an annual increase of 2.1% in January.
The figure is lower than Reuters' forecast of a 1.9% increase. Prices of food, alcohol and tobacco increased by 2.1% year on year.
China's producer price index for February declined 1.4% compared to a year ago, deepening a contraction of 0.8% in January.
— Lee Ying Shan
7 Hours Ago
CNBC Pro: Investors share strategies to beat interest rate fears — including one that trumped the 60/40 model
Markets are jittery now that fears that interest rates will stay higher for longer have been reignited.
Stocks tumbled on Tuesday and the 2-year Treasury yield jumped to its highest level since 2007 as Federal Reserve Chair Jerome Powell suggested that rates may need to go higher for longer.
How should investors trade in such an uncertain market? Here's what BlackRock and other pros say.
— Weizhen Tan
Major cryptos drop 2% following Silvergate shutdown
Major cryptocurrencies bitcoin and ether sank in early Asia trade after the central lender to the crypto industry, Silvergate Capital, said it will shutdown its operations.
"In light of recent industry and regulatory developments, Silvergate believes that an orderly wind down of Bank operations and a voluntary liquidation of the Bank is the best path forward," the company said in a statement. Bankrupt crypto exchange FTX was a major Silvergate customer.
Bitcoin was down 2.31% to trade at $21,711.8 while Ether fell 2.15% to $1,532.98 according to CoinDesk data.
— Lee Ying Shan
European markets: Here are the opening calls
European markets are heading for a lower open on Thursday as investors gauge the regional and global economic outlook.
The U.K.'s FTSE 100 index is expected to open 24 points lower at 7,909, Germany's DAX 27 points lower at 15,623, France's CAC down 14 points at 7,316 and Italy's FTSE MIB down 2 points at 27,902, according to data from IG.
Earnings come from Aviva, Domino's Pizza, Hugo Boss and Deutsche Post.
— Holly Ellyatt
Source : cnbc