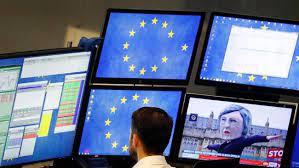 Holly Ellyatt
European markets are set to follow the positive trend set in markets in Asia-Pacific overnight, with stocks expected to open higher, buoyed by cooling inflation data in the U.S. last week which has lifted investor sentiment.
The World Economic Forum in Switzerland is a key focus for European markets this week. Heads of state and business leaders mingle with academics and innovators in Davos. The key themes for delegates to debate and discuss are the war in Ukraine, economic instability and uncertainty and climate change, among other things.
This year's WEF takes place against a cost-of-living crisis for many, and some leaders are not attending the annual meeting as crises continue at home. German Chancellor Olaf Scholz is the only Group of Seven leader set to attend the forum this year.
CNBC Pro: Want a Tesla alternative? Analysts and fund managers reveal their top EV stocks
Once an investor favorite to play the electric vehicle boom, Elon Musk's Tesla has had a tough time of it of late. On Thursday, the EV maker cut prices in the U.S. and throughout Europe in what's being viewed as an effort to boost sales volumes.    
— Zavier Ong
CNBC Pro: Analysts love these 12 cheap stocks — and give one 70% upside
2022 was a bad year for many investors, with most stocks — especially tech — plummeting to levels not seen since 2008.
But there could be some opportunities in the chaos, with a number of companies trading at steeper discounts on a price-to-earnings basis than they have in recent history.
CNBC Pro screened for these names that are also Wall Street favorites.
— Weizhen Tan
Inflation outlook softens again, traders fully price in quarter-point rate hike
Declining inflation expectations from consumers is coinciding with expectations that the Federal Reserve is likely to step down the level of interest rate increases in a few weeks, and end them altogether soon.
The University of Michigan consumer sentiment survey on Friday showed the one-year inflation outlook down to 4%, the third straight monthly decrease and the lowest level since April 2021.
At the same time, traders assigned a 94.2% chance of a 0.25 percentage point interest rate increase on Feb. 1, when the Fed's next two-day meeting concludes. That marks another a smaller move than the 0.5 percentage point hike in December, which itself was a deceleration from four straight 0.75 percentage point increases.
"Inflation expectations are well-anchored and improving as pricing pressures are weakening across many sectors. The Fed will likely hike by 0.25% at the upcoming meeting later this month," LPL Financial chief economist Jeffrey Roach said. "We shouldn't be surprised if the Fed starts talking about pausing in the near future."
—Jeff Cox
European markets: Here are the opening calls
European markets are heading for a higher open Monday as investors gauge the inflation outlook globally after positive signs from U.S. data last week.
The U.K.'s FTSE 100 index is expected to open 10 points higher at 7,856, Germany's DAX 84 points higher at 15,174, France's CAC up 43 points at 7,063 and Italy's FTSE MIB up 142 points at 25,895, according to data from IG.
Data releases include Germany's ZEW survey of economic sentiment for January and preliminary Italian inflation figures for January. The World Economic Forum begins in Davos, Switzerland, on Monday.
— Holly Ellyatt
Source : cnbc