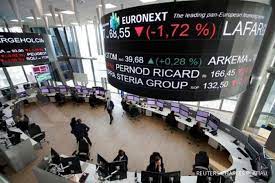 Holly Ellyatt
European markets are heading for a higher open at the start of the new trading week, with the region's banks under scrutiny.
Last Friday, Deutsche Bank saw a sell-off of its U.S.-listed shares after the German lender's credit default swaps jumped, adding to lingering fears of contagion from turmoil seen in banking sector.
Asia-Pacific markets were mixed overnight as investors continue to assess the impact of the banking troubles in the U.S and Europe. Meanwhile, U.S. stock futures edged higher Sunday evening as Wall Street came off a winning week and investors continued to follow the latest from the bank sector.
First Citizens to buy parts of Silicon Valley Bank
First Citizens Bank agreed to buy Silicon Valley Bank's deposits and loans, the U.S. Federal Deposit Insurance Corporation announced early Monday.
"The 17 former branches of Silicon Valley Bridge Bank, National Association, will open as First–Citizens Bank & Trust Company on Monday, March 27, 2023," the FDIC said in the release.
"Customers of Silicon Valley Bridge Bank, National Association, should continue to use their current branch until they receive notice from First–Citizens Bank & Trust Company that systems conversions have been completed to allow full–service banking at all of its other branch locations."
— Elliot Smith
Fed's Kashkari says banking stress brings U.S. closer to recession
The recent banking turmoil could bring the U.S. closer to a recession, Minneapolis Fed president Neel Kashkari said in an interview with CBS' Face The Nation.
"It definitely brings us closer right now, what's unclear for us is how much of these banking stresses are leading to a widespread credit crunch," he said when asked if the banking crisis with the mid-sized banks may have a real impact on the economy. "And then that credit crunch, just as you said, would then slow down the economy."
He said Fed officials are monitoring the impact from the fallout of the banking sector "very, very closely," and the current system has the "full support" of the Federal Reserve.
"The U.S. banking system is resilient, and it's sound," he said when asked about the stability of the banking system and its ability to control further risks seen in California and New York.
"The banking system has a strong capital position and a lot of liquidity and has the full support of the Federal Reserve and other regulators standing behind it," said Kashkari.
"I'm not saying that all of the stresses are behind us, I expect this process will take some time. But fundamentally, the banking system is sound," he said.
— Jihye Lee
CNBC Pro: Rivian shares keep hitting lows. Here's where Wall Street sees it going next.
Most electric vehicle stocks are up this year, but Rivian is one exception.
Its shares keep hitting lows recently. Is Rivian just a cash-burning company, or does Wall Street see significant upside for the stock ahead? Here's what they say.
— Weizhen Tan
CNBC Pro: "Sell into rallies": Morgan Stanley says European banks sector "not as attractive as it was"
In the wake of the recent banking stresses, Morgan Stanley has cautioned that the European banking sector is "not as attractive as it was" last week despite recent share price drops.
Strategists at the Wall Street bank also recommend 10 defensive stocks to own right now while selling European bank stocks "into any material rally".
— Ganesh Rao
European markets: Here are the opening calls
European markets are heading for a positive open Monday morning.
The U.K.'s FTSE 100 index is expected to open 53 points higher at 7,458, Germany's DAX 154 points higher at 15,111, France's CAC up 68 points at 7,083 and Italy's FTSE MIB 197 points higher at 26,089, according to data from IG.
Germany's Ifo survey of current economic sentiment is released Monday.
— Holly Ellyatt
Source : cnbc